March 27, 2018
Omar Gandhi's Minimalist House in Nova Scotia Immerses Its Residents in a Serene Coastline
Located in Nova Scotia, the low-slung residence is clad in locally-sourced cedar and floor-to-ceiling glass windows and doors.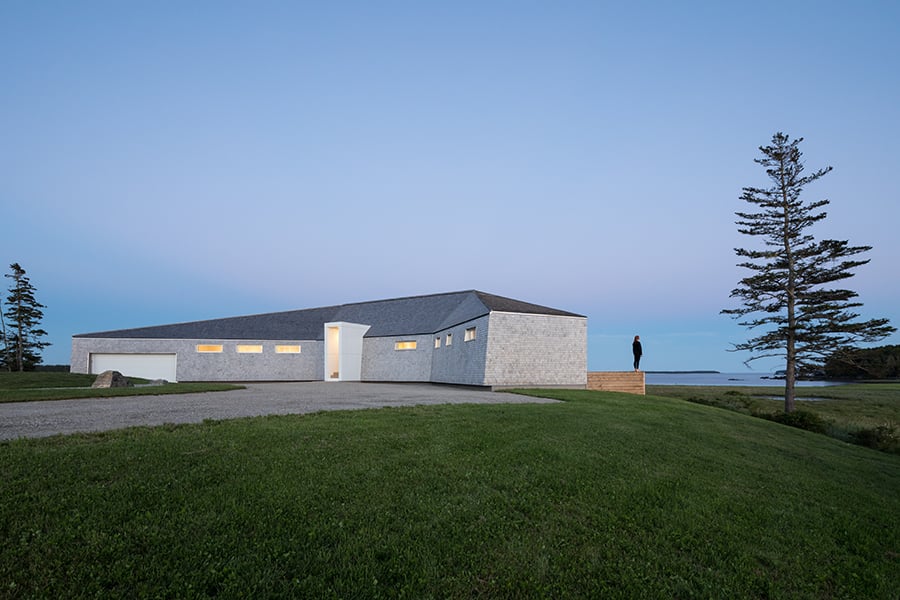 When architect Omar Gandhi—founder of his eponymous Canadian firm—was approached to design a house on the southern tip of Yarmouth County, Nova Scotia, where the Tusket River empties into the Atlantic Ocean, he knew the project required a sensitive, pragmatic approach. "From the initial site visit, it was clear that any proposed building would need to be respectful," Gandhi tells Metropolis. "It was [also] crucial that the space be durable, rugged, and easily maintained."
The site, a forested high point overlooking the river, was chosen by a Swiss couple who desired a residence for seasonal outdoor activities like fishing and hiking. The adjacent coastline featured a scattering of cottages and salt haystacks (a Nova Scotian way of protecting hay from surrounding salt marshes by elevating it on platforms), so Gandhi opted for a horizontal form that sat low to the ground to maintain sweeping views of the landscape. "The materiality, form, and siting are all intrinsically connected to the local condition," Gandhi says.
The couple also played a role in shaping certain rooms and details. "The [clients] had several requirements that we were able to integrate into the early stages of design," says Gandhi. The house's nucleus is its great room, which features local clear spruce surfacing, birch millwork, and floor-to-ceiling glass doors. "The great room space was to be open…and free from distraction [to emphasize] the exterior view."
---
More from Metropolis
---
As for the residence's exterior, the roof and walls are both covered in locally-sourced eastern white cedar. "The monolithic look has a feeling of the space being carved from the wood exterior form," Gandhi says. The volume is only broken by a pronounced white entrance in the house's center. This entryway briefly hides the great room's sweeping views, creating a pleasant surprise for visitors when they enter.
You may also enjoy "Bates Masi Designs a WWII Lookout-Inspired Lookout For This Long Island House."