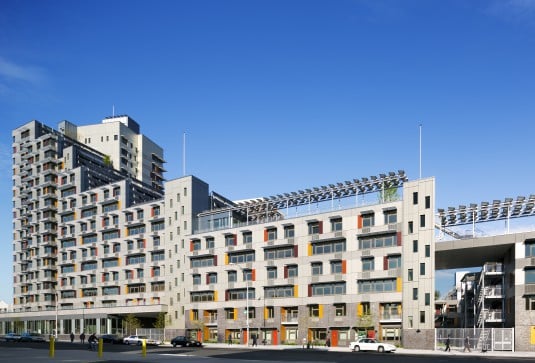 April 11, 2013
On the Road with the Rudy Bruner Award: Via Verde – Bronx, NY
Via Verde, affordable housing and sustainable development
Following our site visit to Congo Street Initiative in Dallas, the Bruner Foundation team headed to New York City to our next 2013 Rudy Bruner Award finalist site, Via Verde. Submitted by Jonathan Rose Companies and Phipps Houses, Via Verde (the "Green Way") is a 222-unit affordable housing development in the Melrose section of the South Bronx. The project, completed in 2012, was designed as a model for healthy and sustainable urban living.
We spent two cold, windy days on site, touring the project with the design and development team, taking photographs, as well as meeting with people involved in its development, design, and operation in the Bronx and Manhattan. Like the Congo Street Initiative, Via Verde illustrates another approach to designing affordable, sustainable housing, albeit at a larger scale and catalyzed by a different set of circumstances.
Via Verde grew out of two international design competitions that were part of the New Housing New York (NHNY) Legacy Project, which sought to create a new standard for affordable housing and development. The first, the 2004 NHNY Design Ideas Competition, was sponsored by AIA New York (AIANY) in partnership with New York City Council and the City University of New York and solicited design concepts for three sites. Powerhouse: New Housing New York, an exhibit and public programming supported by the National Endowment for the Arts, showcased selected entries at AIANY's Center for Architecture.
---
More from Metropolis
---
Response to this initiative sparked the subsequent New Housing New York Legacy Project, the first juried architect-developer design competition for affordable housing and sustainable development in the city, which focused solely on a difficult 60,000-square-foot triangular brownfield site a block south of the South Bronx's Third Avenue commercial corridor. A steering committee of architects, developers, educators, and representatives of city agencies led the project in partnership with AIANY, the NYC Department of Housing Preservation and Development, the New York State Energy Research Development Authority (NYSERDA), and Enterprise Community Partners. An initial request for qualifications generated 32 submissions, five of which–including the eventual winning team of Phipps/Rose/Dattner/Grimshaw–were invited to submit more detailed designs. Criteria for final selection included innovative design, economic and environmental sustainability, replicable financing and ownership models and effective public private partnerships.
The final design by Dattner Architects and Grimshaw Architects closely follows their competition entry. It includes 151 units of affordable rental housing, 71 units of co-op housing, and 7,500 square feet of ground level commercial retail and community space. Housing is divided into three linked structures that rise from 6 to 20 stories and wrap around a central, landscaped courtyard. An entrance on one side provides a secure point of access to the complex and gated courtyard.
Brook Avenue facade
Courtesy ©David Sundberg/Esto
Building entrance on Brook Avenue
Courtesy Bruner Foundation
The complex features 40,000 square feet of green roof space designed by Lee Weintraub Landscape Architects. A series of interconnected, cascading rooftop terraces step up from the courtyard and include a grove of evergreen trees, an apple orchard, and raised vegetable gardens. While the gardens are still dormant, Grow NYC is coordinating a tenant gardening club that meets monthly and offers classes on healthy cooking using produce grown in the garden.
Roof plan illustrating gardens and landscaping
Courtesy Dattner Architects
Raised beds in vegetable garden
Courtesy Bruner Foundation
The LEED Gold certified project includes photovoltaic solar panels on the rooftops. Residential units have large windows, ceiling fans, and multiple exposures for cross ventilation, as air conditioning is not supplied by the building. Day-lit stairways, created using NYC Active Design Guidelines, a fitness center, and exterior gardens encourage physical activity. A Living Green Guide with information on energy optimization and healthy living is given to residents when they move into the building. Tenants are participating in a study funded by the Department of Housing Preservation and Development and the MacArthur Foundation that will evaluate the health impact on the complex's new low-income family residents.
Rooftop solar panels
Courtesy Bruner Foundation
Via Verde is part of Mayor Michael Bloomberg's New Housing Marketplace Plan and complements other city investment along the Third Avenue commercial corridor. The city's administration helped the development team overcome complex development challenges and fund construction costs. The city convened a joint review committee including key agency representatives that met monthly to address and resolve issues associated with development review and approvals.
Financing for the $98 million project was provided by multiple tax bonds and subsidies that supported its sizeable construction costs and enable the rental units to be affordable to households earning 40% to 60% of average median income (AMI) and the coops to be affordable to households earning 70% to 100% AMI.
Via Verde, with its cascading roof gardens and facade of fiber-cement, aluminum, and wood panels and perpendicular sun screens stands out among the other brick buildings and towers in the neighborhood. It is also an example of a creative approach to the process of affordable housing design and development in New York, one that as many hope, will portend well for the future.
View of Via Verde from Third Avenue corridor
Courtesy Bruner Foundation
View of rooftops from tower
Courtesy Bruner Foundation
Next, we move on to Chicago to our next finalist site, Inspiration Kitchens – Garfield Park.
Anne-Marie Lubenau, AIA, is director of the Rudy Bruner Award for Urban Excellence (RBA) for the Bruner Foundation in Cambridge, Massachusetts. An architect and advocate for educating and engaging people in design of the built environment, she is a graduate of Carnegie Mellon University and was a 2012 Loeb Fellow at the Harvard Graduate School of Design.
This post is part of a series written and curated by RBA that focus on placemaking in American cities. Upcoming blogs will offer a detailed look at the 2013 award selection process and site visits, case studies from past award winners, and highlights from events such as the Bruner-Loeb Forum.