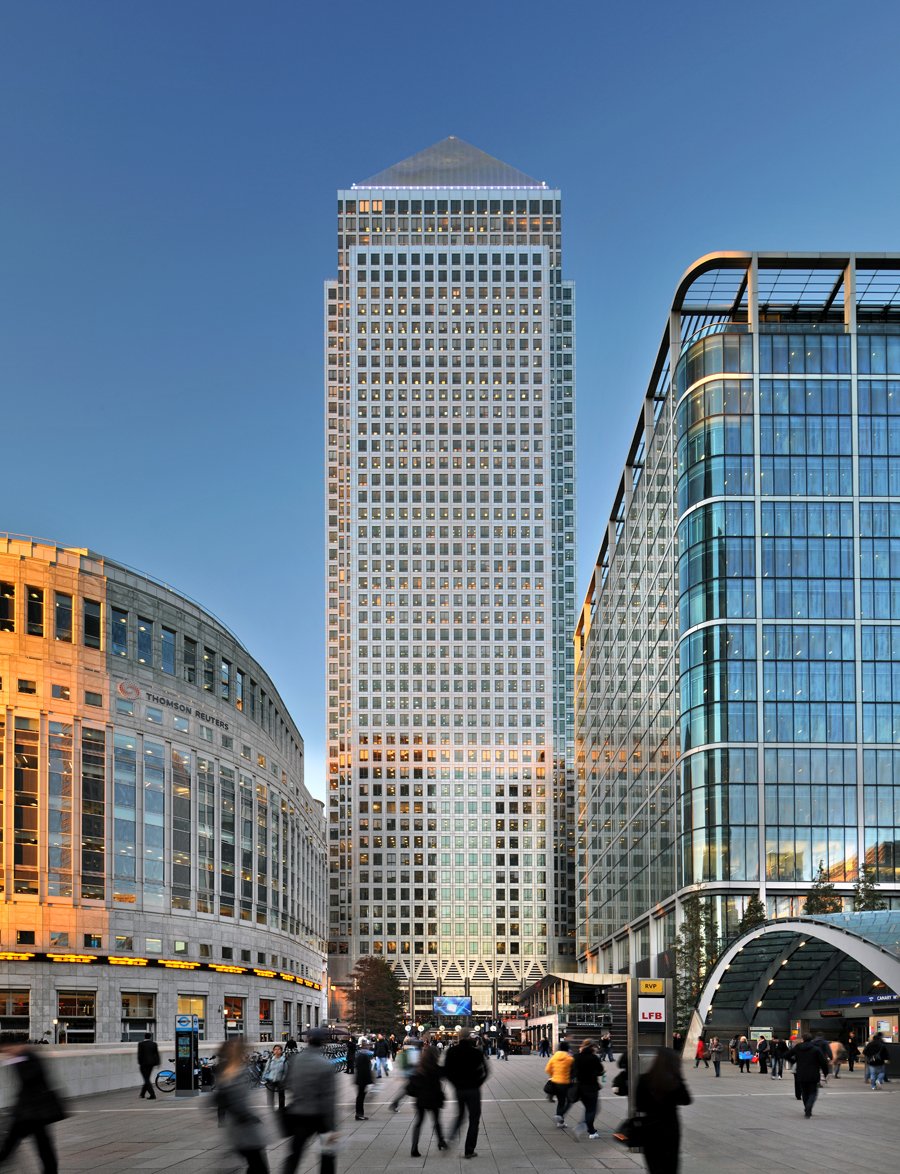 February 26, 2020
Cesar Pelli's Only Building in the U.K. Is Now Home to a Coworking Space
The iconic One Canada Square in Canary Wharf has three floors filled with rich materials and an overall '70s chic courtesy of local firm dMFK.
If there is one building that defines London's Canary Wharf, it's the pyramid-topped One Canada Square. Designed by Cesar Pelli and completed in 1991, the skyscraper—the U.K.'s tallest for 22 years until being overtaken by the Shard—represents London's eastward economic lurch, rising out of the Docklands' Enterprise Zone set up under Thatcher's reign.
But that was more than a quarter of a century ago. London is changing; so is Canary Wharf and so is One Canada Square. Perhaps an indicator of further economic shifts, a new coworking space has occupied the seventh, eighth, and ninth floors of the skyscraper, replacing global bank, HSBC.
The new space is owned by The Office Group (TOG) and marks the coworking company's 39th location in the U.K. It has been designed by London-based de Metz Forbes Knight (dMFK), which has blended sapele timber paneling, pastel-colored soft furnishings, and a salmon terrazzo reception to kit out the space in '70s-style chic.
---
More from Metropolis
---
Entrance to the coworking space is gained from the middle (eighth) floor, where a reception, café, and gym are situated along with a new staircase that connects the three levels, occupying a structural void in the tower once used by the original construction crane.
The reception area also serves as an orientation device. When Pelli's tower went up in a context of financial deregulation, the tower, like others surrounding it, used expansive floorplates able to act as wide, open trading floors which weren't then available in the City of London—the capital's historic center and primary business district. As a result, the deep plans of One Canada Square are filled with disorientating, monotonous corridors and huge, open plan offices—both of which dMFK wanted to avoid. Instead, a main "avenue," as dMFK associate director Joshua Scott describes, opens up views around the building.
In terms of offerings, TOG Canary Wharf contains 47 spaces, ranging from 130-square-foot studios (for three people) to 4,251-square-foot suites able to host 110 employees.
Coworking and breakout spaces such as meeting rooms, personal booths, and podcast rooms, meanwhile, provide spatial and programmatic variation within the plan. "You get lots of pockets of different types of space," Scott tells Metropolis. "You're not always in a coworking pit."
As defined by the likes of WeWork, coworking spaces are also typically filled with free-flowing prosecco and beer taps. That luxury, however, is amiss at TOG. "A space for work is a place to work," said Scott, who agrees with TOG's decision—dMFK has designed nine TOG offices, soon to be ten. But as WeWork implodes and TOG continues to grow, perhaps this is a decision that's paying off.
You may also enjoy "Fort Point in San Francisco's Mission District Redefines the Brewery Aesthetic."
Would you like to comment on this article? Send your thoughts to: [email protected]