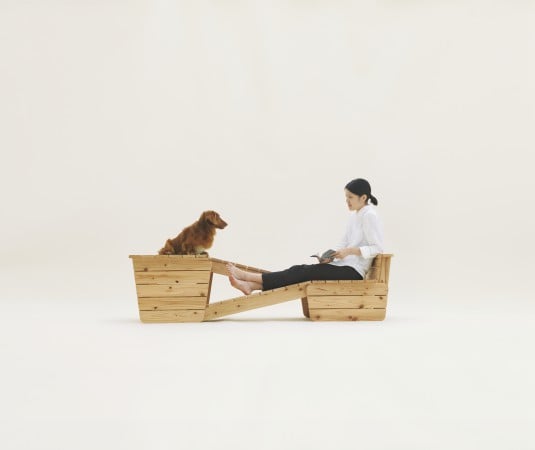 November 15, 2012
Out of the Doghouse
In this month's issue, we profiled Muji creative director Kenya Hara's design venture, Architecture for Dogs. Hara paired big-name architects and designers like Kazuyo Sejima (of SANAA fame), Konstantic Grcic, and Toyo Ito with a dog breed, and challenged them to build something that puts pets and their owners on a more equal footing. But Hara […]
In this month's issue, we profiled Muji creative director Kenya Hara's design venture, Architecture for Dogs. Hara paired big-name architects and designers like Kazuyo Sejima (of SANAA fame), Konstantic Grcic, and Toyo Ito with a dog breed, and challenged them to build something that puts pets and their owners on a more equal footing. But Hara had much more in mind for the initiative than a fun exercise in creating at canine scale. Today, at Design Miami 2012, Architecture for Dogs formally launched as part exhibition contest, part commercial company and part crowdsourced online project. Part one, the exhibition concept, begins with the thirteen initial designs in the collection. Part two is provided by Imprint Venture Lab, a business incubator and partner in the project, which will develop the concepts for the market, bringing flat-packed versions of the designs to retail outlets around the world in spring 2013. For part three, check out Architecture for Dogs, the project website that launched this morning.
Designed by ace interaction designer Yugo Nakamura, the site has entirely free, downloadable blueprints for all thirteen designs in the collection. Each blueprint also comes with a video and in-depth instructions, but Hara is more interested in users who will tweak, adjust, and hack the designs into something tailor-made for their own dogs. Users can upload images of their work on the website, or share it with the team through social media. These will also become part of the project and will be exhibited at a final show at Tokyo's Toto Gallery in October 2013.
---
More from Metropolis
---
Architecture for Long-bodied-short-legged Dog, designed by Atelier Bow-Wow
In this month's story, Edward Lifson asked Hara if Architecture for Cats will be next, but the designer said that was not on the cards. Something like Architecture for Traveling would be more likely, he told Lifson. But until then, some dogs around the world are in for a well-designed treat.