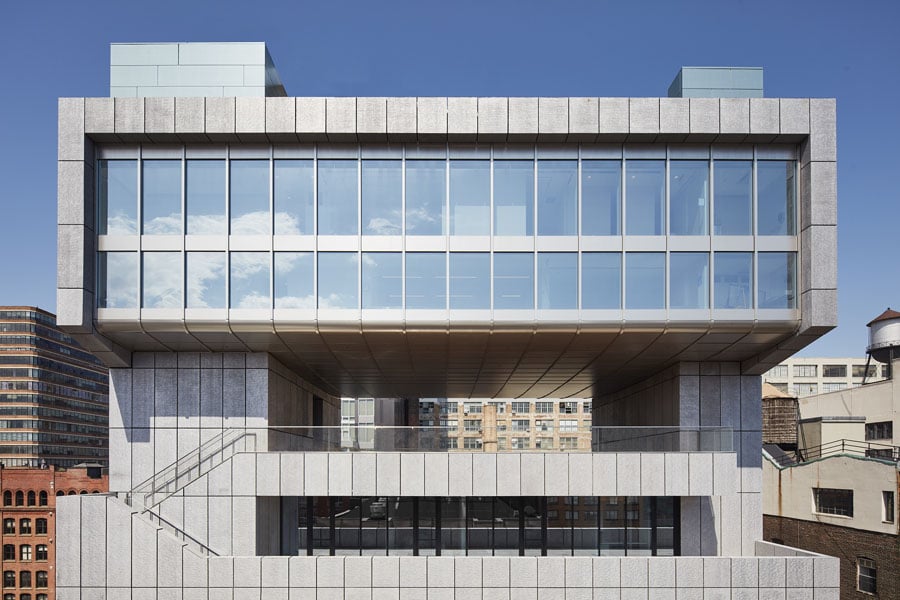 October 17, 2019
The Pace Gallery's New Flagship Typifies the Contemporary Art Experience
The most forward-thinking aspect of the mega-Pace isn't the art it holds, but rather, the fabulous terrace built for schmoozing and selfies.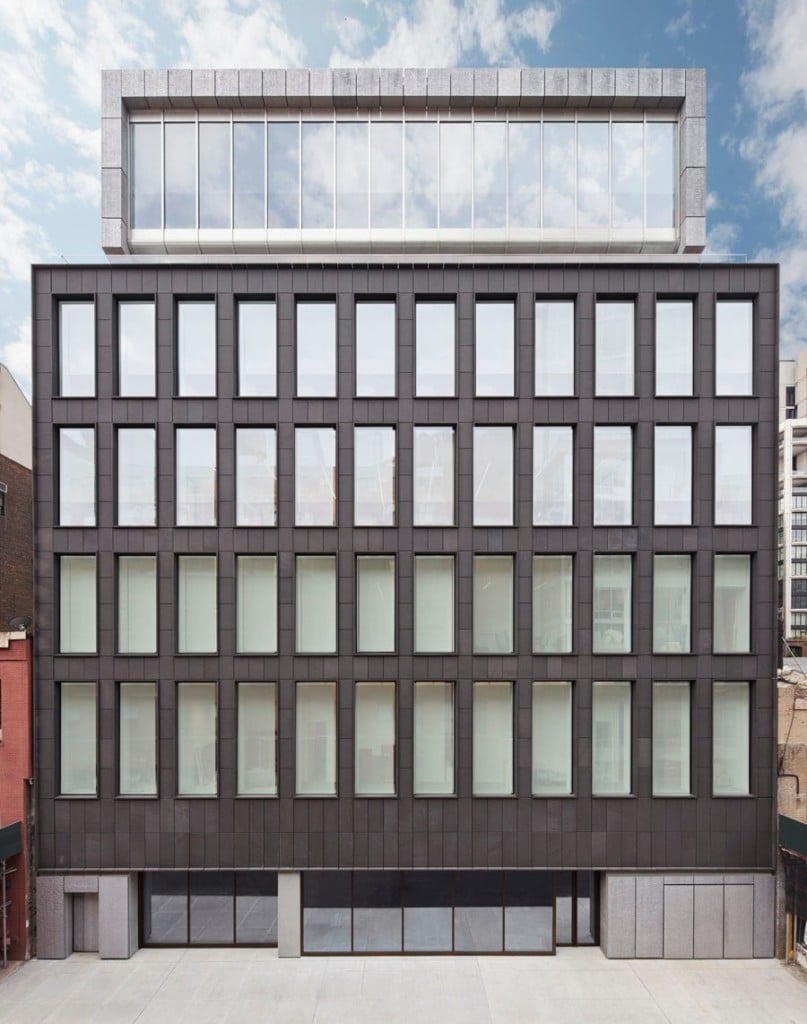 ---
Along with foliage and darker afternoons, autumn brings a crop of new exhibitions for those who enjoy art-peeping. This fall, though, fall brings to New York not just new art to see, but new approaches and venues in which to see it. There's Diller Scofido + Renfro's MoMA rethink, bigger in scale and ambition and expectations than ever, a place engineered to make visitors think they're part of something big themselves. There are also small private galleries, like those ostensibly public viewing spaces at ODA's citadel/apartment complexes in deep Bushwick, which make visitors feel like they're in on a small little something that's only just begun.
And now there's a new Pace Gallery global headquarters near the High Line, which feels like something in-between. Designed by Bonetti/Kozerski Architecture, the new flagship is massive, with eight stories and 75,000 square feet of galleries, a library, and event and performance spaces. It's also intimate, with little light-filled nooks to consider, for example, the intimate portraits Peter Hujar took of cult personalities who, in their heyday, would likely not be welcome in any of these places. The building's opening coincided with Pace's 60th anniversary, in a Chelsea utterly transformed from the days when Arnold Glimcher left the Boston gallery he'd co-founded with his mother, the Columbus collector Eva Glimcher, and moved to Manhattan. Back then, of course, a gallery was a somewhere to buy art, and maybe to see it. Now, it's a good place for a date. (At the Pace HQ, there are first-Thursday cocktail party boites. These are, inevitably, selfie sets.)
"We hope that our new building encourages other cultural spaces and galleries to join us in strengthening this dynamic and thriving arts hub," says Arnold's son, Pace Gallery president and CEO Marc Glimcher, of Chelsea, still in a luxurious flux of developments. Join the party, in other words.
---
More from Metropolis
---
Other institutions would do well to follow Pace's architectural lead. The building, developed by Weinberg Properties, avoids both the corporate, if tasteful, anonymity of the new MoMA and the faceted zaniness of OMA's forthcoming New Museum addition, instead settling on Brutalism without the menace—a kind of minimalism that's just a little more jooshed up than it might be, if only to demonstrate some nerve (and wealth). On its north façade, 900 custom "mega panels" of volcanic stone clad the first six stories; the other sides swap the stone for aluminum, and all were pre-assembled and then installed onsite.
---
"We were looking for a durable dark stone that could be machined to create the deep shaded solid stone window frames," says Bonetti/Kozerski co-founder Enrico Bonetti. "It was sourced in Sicily at a quarry near the Etna volcano." Finished in ovens heated to the same temperature as erupting lava, he says, "results in a natural dark charcoal color whilst preserving the natural variations in the texture of the stone." It no doubt also resulted in a hefty chunk of the reported $80 million budget for the building's shell.
According to reports, an additional $18.2 million went to the interiors, including a dining room for fundraising and enough open storage to store half a thousand or so works. All are illuminated by lighting designer Arnold Chan of Isometrix, who previously lit Pace's Hong Kong gallery, along with dining hotspots like Nobu. "Hidden lighting fixtures deliver ambient light that can be fully adjusted in terms of intensity and color temperature," Kozerski says. "A sophisticated system of spot and flood lights are also fully adjustable with the same parameters, allows an extremely high level of flexibility and customization."
Artists will have full control, therefore, of how their work will look in the entirely column-free galleries that start on the street level, then contract and expand in size as the building rises. A ground-floor library offers 10,000 volumes for researchers to delve into the history of artists in the Pace orbit, surrounded by smaller revolving exhibitions. "It's a narrow, cozy, and hushed place," says senior director and curator Andria Hickey. "You can sit there in total peace. You get the sense that art is open to a variety of voices and interpretations, that history is never finished or set, and that this cultural legacy is right there, present and available to anyone to grapple with and rethink." Anyone with credentials and an appointment, that is.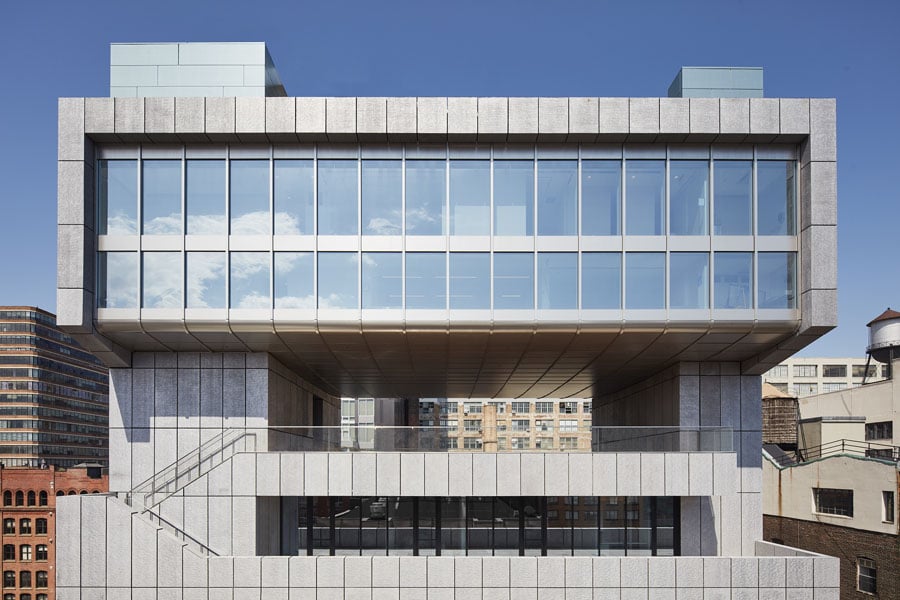 ---
Amateurs can instead ogle artworks alternating from story to story. Polished concrete covers the floors of the massive 3,600-square-foot ground-floor gallery, while solid white oak shines across the smaller and squatter second and third floors, both defined by south walls of glass. The ample natural light does a fair job of making the rooms seem to brightly disappear around the art; galleries without windows feel, at the moment, ad hoc, unlike the highly determined, multidisciplinary jewel-box of the seventh floor. Its 2,200 square feet are bounded by 17-foot-tall windows with views of the neighboring buildings that, as one wanders around, become a show of their own, all light and shade and office goings-on. The inaugural show of Fred Wilson's Chandeliers could barely compete.
Those windows, thankfully, can also be blacked out to allow performers to do their thing free of competition. "We introduced a three-step change in level to help create a 'stage' type of experience," Bonetti says; new curator Mark Beasley will fill that "stage" with programming under the rubric of Pace Live. "Performance and live arts programs are fast becoming a fixture of museums and galleries, largely in response to contemporary artists' renewed, and, now public, engagement with the experiential," Beasley says. He's perhaps hinting at that shift from seeing to being seen.
The experience is everything, at least for now, which is why the most forward-thinking aspect of the new mega-Pace isn't the (lovely) Loie Hollowell painting show on the second floor. It is, inevitably, the rather fabulous terrace, complete with a Pace food truck and, at some point in the future, a sculpture garden. With 4,800 square feet below and beyond a shimmering stainless steel ceiling, and with glorious views of Manhattan's changing skyline, the terrace is a fusion of the High Line and Boom Boom Room. Unlike, say, the Whitney Museum's outdoor spaces, Pace's terrace is both free of charge and built for schmoozing, for selfies, for scoring an invite to be seen perched among whatever art (or whichever art stars) will arrive there.
"The floor is composed of solid wood blocks of Black Locust wood set on the 'end grain,' and installed on a bed of sand," says co-founder Dominic Kozerski. While solid blocks set on sand might be a bit on-the-nose as a metaphor for today's art market, the material choice was deliberate: It allows the terrace to take large point loads. It also makes it comfy to stand on and pose, even in the fanciest high heels.
You may also enjoy  "Ottoman Architecture Inspires Kengo Kuma's Contemporary Art Museum in Turkey"
Would you like to comment on this article? Send your thoughts to: [email protected]