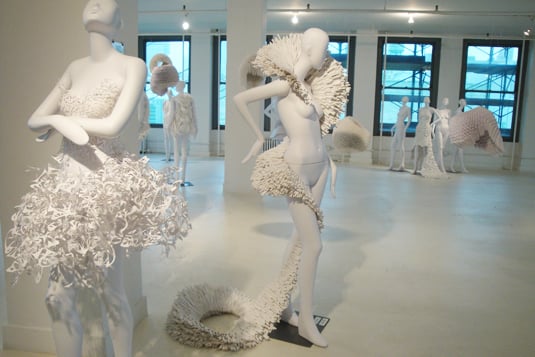 December 13, 2010
Paper, Pratt and Pucci
Photo: Antoine BootzIt's all très chic and very, very white. When veteran mannequin maker and exhibitor of fine furniture Ralph Pucci got a bunch of design students from Pratt to dress up his latest line of mannequins, he knew what he was doing. Their fantastic paper garments and sculptures briefly transformed the white interior of […]
Photo: Antoine Bootz
It's all très chic and very, very white. When veteran mannequin maker and exhibitor of fine furniture Ralph Pucci got a bunch of design students from Pratt to dress up his latest line of mannequins, he knew what he was doing. Their fantastic paper garments and sculptures briefly transformed the white interior of his New York City showroom into a weird winter wonderland.
The semester-long project had graduate and undergraduate students of industrial design, interior design, fine arts and fashion work solely with white paper to create a showcase for Pucci's GIRL 2 mannequins. The project was intended to be a study in texture and form, and the students seem to have risen to the challenge admirably.
---
More from Metropolis
---
Garment designs by Dana Otto (left) and Thom Forsyth (center).
Pucci selected twenty dress designs and four sculptural installations to be exhibited in his showroom last week. Of these, industrial design student Dana Otto's garment, a froth of finely laser-cut paper, won first place. Beatrice Weiland and Meredith Lyon's science fictional spine and head dress placed second; and third place went to Thom Forsyth for what looked like an oversize fur boa, only made of hundreds of paper quills.
The sharp contrast between all that paper intricacy and the soft, tweeny bodies of the mannequins was somehow very provocative – I left with the distinct impression of having been in a room full of frozen monochromatic Lady Gagas.
Winning sculpture design by Su Ting Chen and Samantha Johnson; Second-place garment design by Beatrice Weiland and Meredith Lyon, Photo: Antoine Bootz.