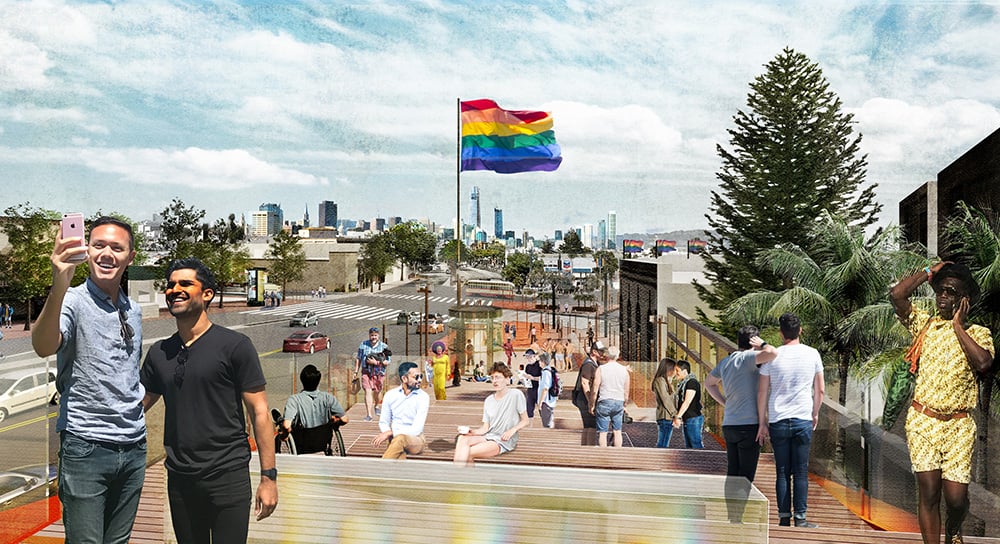 June 5, 2018
Participatory Design Revitalizes Harvey Milk Plaza
Honoring the LGBT activist, the participatory design project went above and beyond to include input from citizens.
The outdated, 20th century approaches to architecture and urban planning were essentially top-down: centralized authorities making and implementing decisions that will impact populations who are deemed under-qualified to contribute.
But a different practice of engaging the public in the development of the built environment has emerged. Most frequently referred to as participatory design, this approach aims to reposition the power dynamics between authorized planners and community members. Participatory design calls on architects to recognize and implement the input of impacted citizens, even if they might not be the primary users of a project.
It is with this spirit of engagement that the community of the Castro District in San Francisco got involved in the design of a popular public space. When plans were put forward by the San Francisco Municipal Transportation Agency (SFMTA) to make ADA improvements to the Castro Muni Metro station, some community members, with support from the neighborhood group Castro CBD, saw an opportunity to revitalize the nearby Harvey Milk Plaza. The site honors Harvey Milk, a civil rights advocate and California's first openly gay elected official, who in the '70s fought for LGBT acceptance and was tragically assassinated in 1978. In recent years the plaza had fallen into disrepair and, according to Friends of Harvey Milk Plaza, no longer lives up to Milk's legacy of activism on behalf of the marginalized. Needless to say, with a location so freighted with cultural and historical significance, any proposed changes were likely to face scrutiny from the community.
---
More from Metropolis
---
After soliciting considerable input from Castro residents, Friends partnered with AIASF and organized a design competition seeking design proposals for the station. The winning entry by Perkins Eastman (shown in the video above) subsequently became the starting point for another round of community engagement.
To get a closer look at this project, we caught up with some of the folks involved to have them reflect on the process. With insights from Friends of Harvey Milk Plaza's Andrea Aiello, Perkins Eastman's Erich Burkhart, and local advocacy group SPUR's Allison Arieff, the video above briefly outlines the community participation-led project.
As the CBD continued to solicit input from the community, the designs also continued to evolve. See the slideshow below for the current, semi-final renderings and sketches, as per feedback from the most recent community meetings. Moving forward, Friends will begin to seek approval and permits from the city, while embarking on a fundraising effort for the memorial.
What do you think? Is bringing community input into different kinds of projects worthwhile? Let us know in the comments section below.