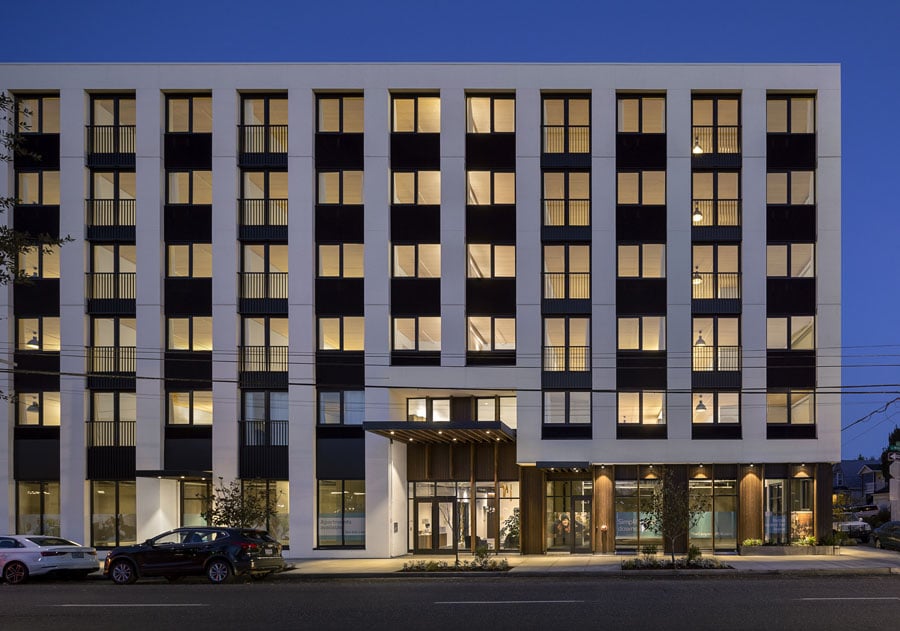 June 25, 2021
Path Architecture Builds a Modern, Mass Timber Answer to Assisted Living
A 70-unit apartment complex in Portland combines barrier-free design, eco-friendly construction, and a focus on human connections for active seniors.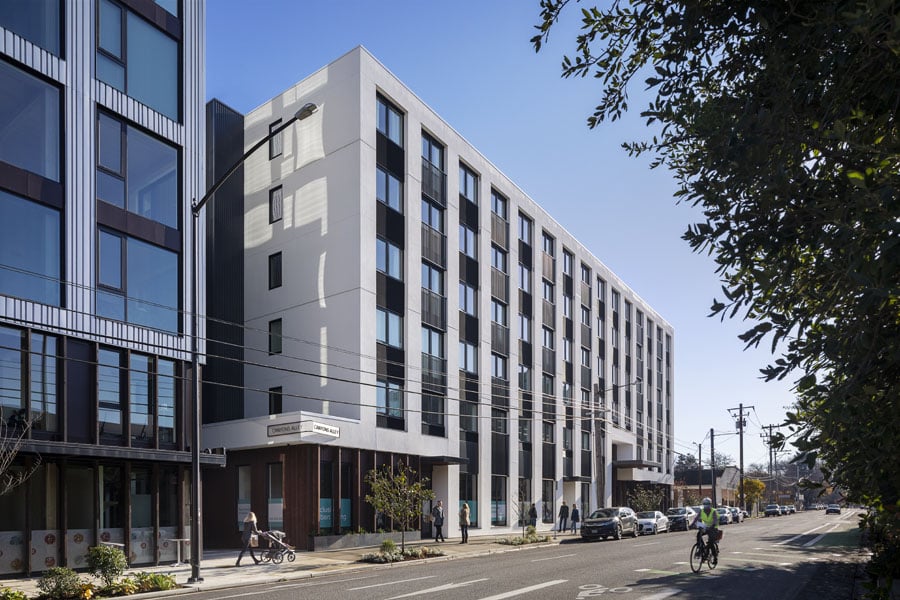 ---
Four years ago, Portland developer and architect Ben Kaiser's elderly father fell, necessitating a move to an assisted living facility years before it was otherwise necessary. Frustrated, Kaiser resolved to build a solution.
"For aging folks who aren't wealthy, there aren't many options," he says. "Assisted living is insanely expensive, and a lot of that assisting, I think, comes prematurely. People are often relatively healthy and agile until they take that fall in the bathtub. They all of a sudden have to jump ahead 15 years in terms of the care they receive."
Designed by Kaiser and his firm Kaiser Group + Path Architecture, The Canyons, a 70-unit apartment complex, goes beyond compliance with the Americans with Disabilities Act (ADA). Interiors throughout the six-story building and an adjacent retail complex, completed late last year, are 100 percent barrier-free—from curb-less showers and height-adjustable kitchen counters to expansive, wheelchair-friendly areas in all the common spaces. "In this building," Kaiser says, "the bathtubs and the stairs won't send you tumbling."
---
More from Metropolis
---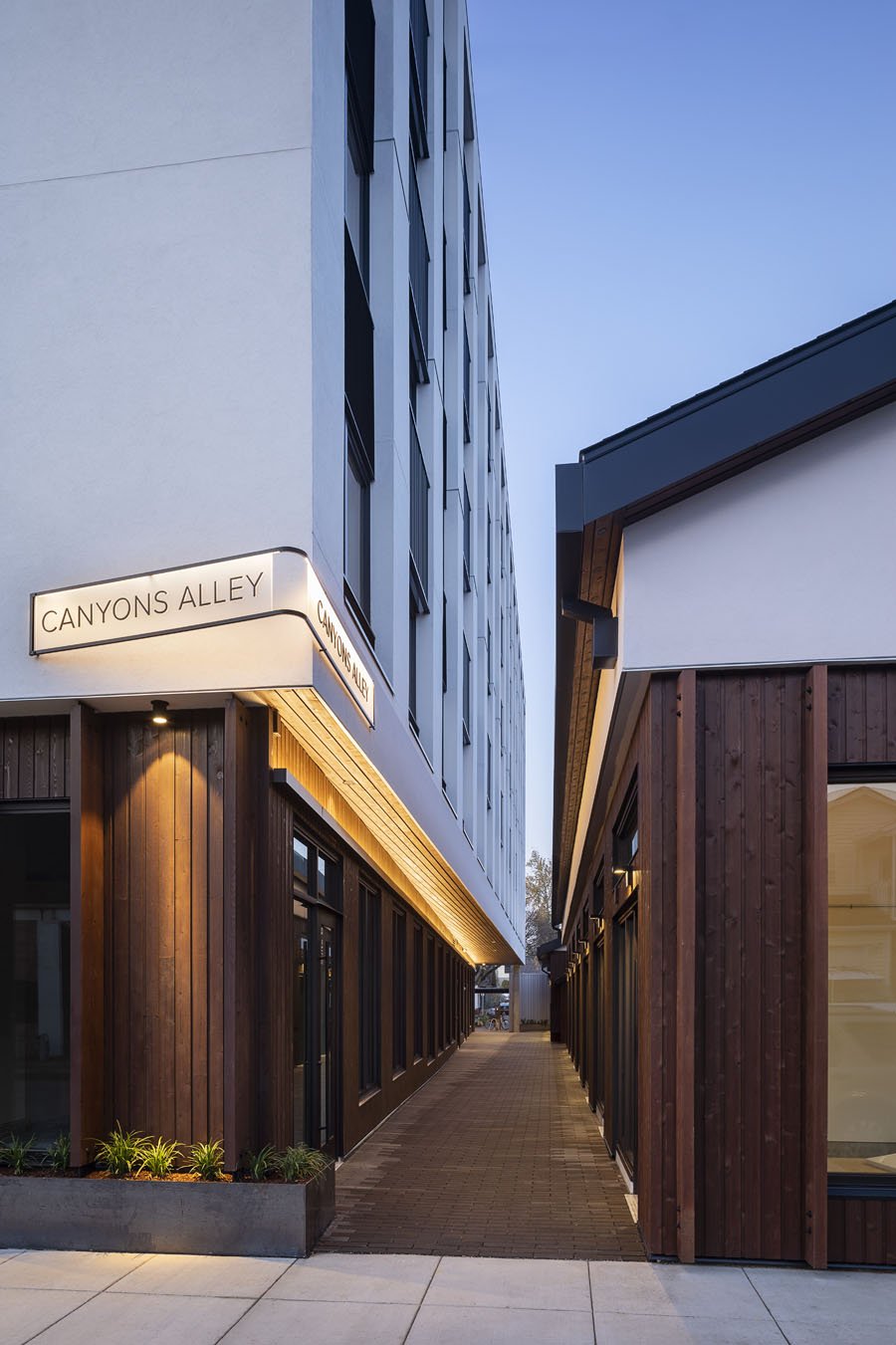 ---
Such universal design concepts date to the early 1960s, and national accessible-design standards were established as part of the ADA in 1990. With a largely retired Baby Boom generation, making such adaptations to single-family homes is now common practice. But barrier-free apartments have remained scarce.
The Canyons continues Kaiser's embrace of mass-timber construction. Like his Carbon12 building next door, the tallest wood-framed residential building in America (at 85 feet), The Canyons was built with cross-laminated timber, which reduced construction time and labor (an important factor as work continued during the pandemic), while substantially reducing the project's carbon footprint.
If barrier-free design gives tenants greater independence and mobility, the project's communal spaces encourage social connections and placemaking. Canyons tenants enter their homes via an open-air atrium that circulates air through the covered structure.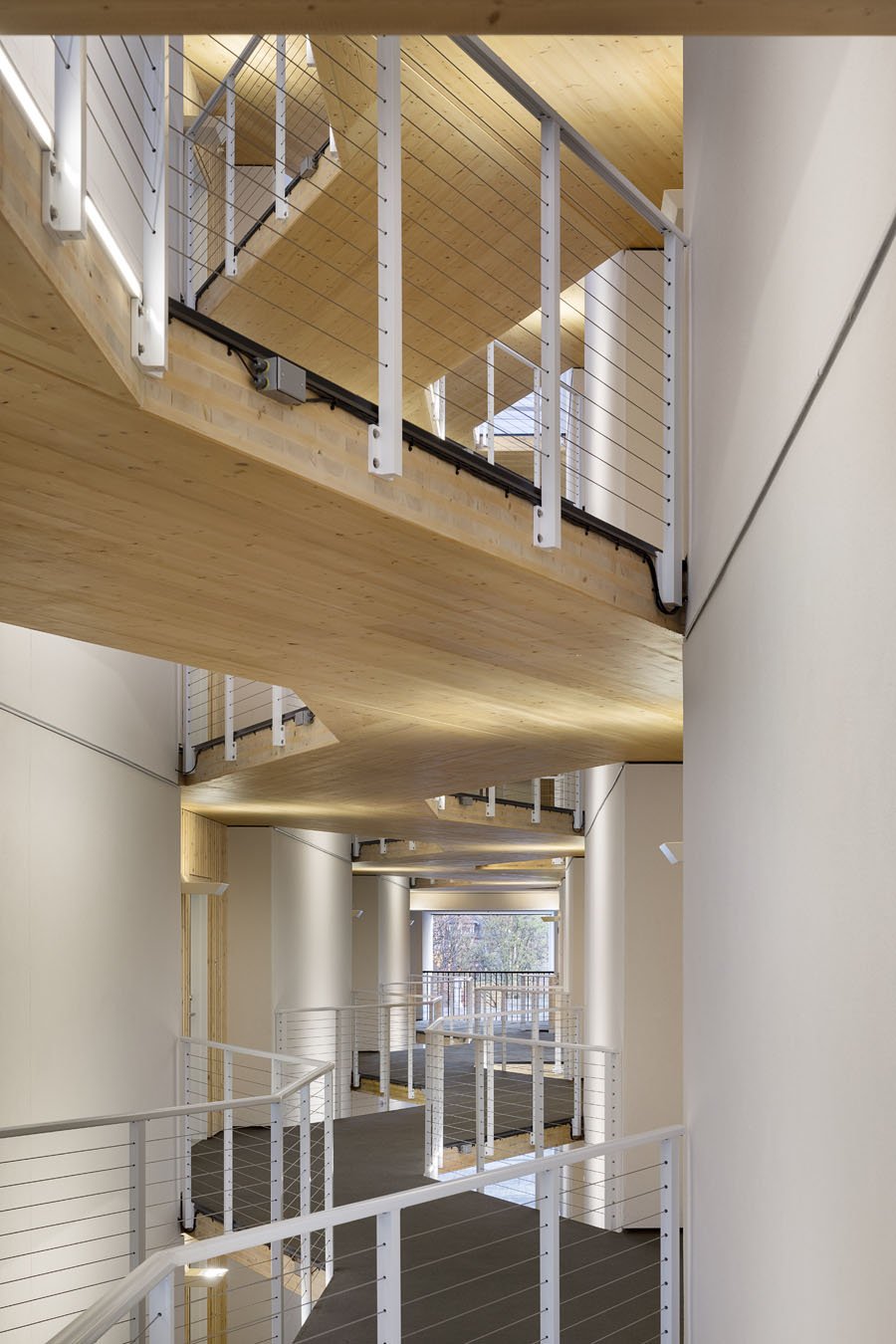 ---
Situated beside The Canyons is The Alley, a single-story row of micro-retail establishments that will feature boutiques, restaurants, and wellness practitioners. The Alley was inspired by traditional Japanese yokocho, alleyway retail areas, which Kaiser and architect Kristin Slavin (then of Path) had seen in Kyoto and Tokyo.
"They often have a long history in the neighborhoods they are in, with generations of the same ownership and shop keepers," Slavin explains. "We wanted to bring that vibrancy and human-scaled space to the neighborhood in The Canyons. But stepping down in scale to the neighborhood also allowed for a transition from the larger apartment building to the single-family houses adjacent, as well as a transition away from the busy street to a pedestrian-friendly, car-free neighborhood commercial area, inviting the public into the site in a unique way."
Yet the attractor at The Canyons is it's still barrier-free living: an opportunity for people like Kaiser's father to maintain their independence. "It was the first one we looked at with a shower I felt safe getting into," explains Ila Craig, who moved to The Canyons after breaking a bone in her foot last year. "To step over the tub into a wet surface is kind of intimidating when you've slipped and fallen."
You may also enjoy "A Colorful Portland Prototype Reinvents the SRO"
Would you like to comment on this article? Send your thoughts to: [email protected]
---
Register here for Metropolis's Think Tank Thursdays and hear what leading firms across North America are thinking and working on today.