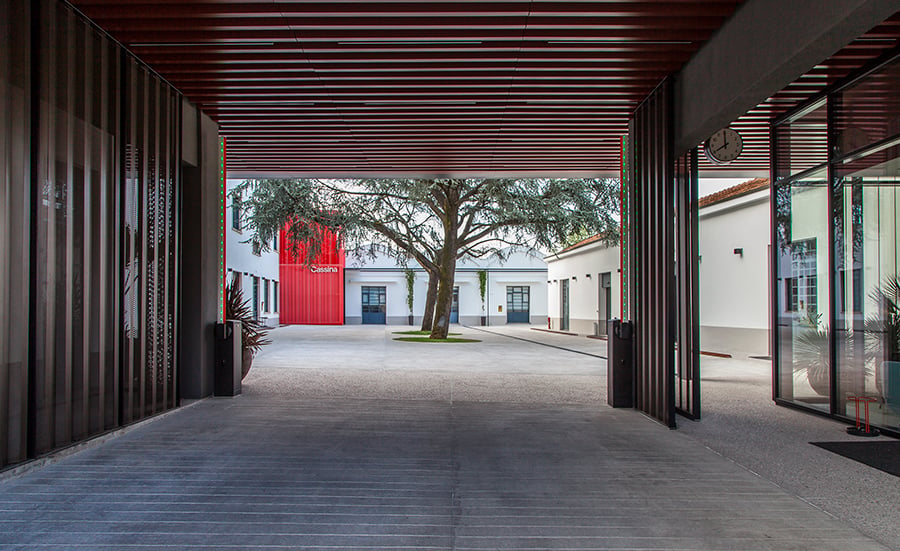 January 23, 2018
How Patricia Urquiola Is Redesigning the Cassina Campus
In updating the Cassina headquarters, Patricia Urquiola honors the company's Modernist legacy while investing in unexpected and revelatory design flourishes.
"When you reach 90," says architect Patricia Urquiola of Cassina, the Italian furniture company whose artistic direction she oversees, "you can enter a second youth." It's a poetic and counterintuitive thought—that with advanced age come "many possibilities for finding new solutions and new joys."
Founded in 1927, the brand boasts 600 pieces in its archives from architects and designers such as Le Corbusier, Gio Ponti, and Franco Albini. Cassina's back catalog is effulgent with the symbols of Modernist iconography, but this fact shouldn't be confused with piety. Since she joined the company in 2015, at its Brianza headquarters, 15 miles north of Milan, Urquiola has made gentle incursions into the Cassina identity. Thus far, her influence has been felt in colorful reinterpretations of classics like the LC2—Le Corbusier, Pierre Jeanneret, and Charlotte Perriand's marvelously supple, down-cushioned ode to the machine-à-habiter. The design's monochromatic purism has given way to pastels, eclectically combined in ways at first incongruous and then pleasant.
Urquiola says her directive is to reveal "the experimental side of the company in a modern way": If it's difficult to be a Modernist in today's world, it's easy at Cassina. Its headquarters are a mix of production and office spaces set within old, evocative factory buildings, which Urquiola has begun transforming in piecemeal fashion. A new entrance and a dramatic reception space, along with revitalized offices and even a gallery, opened in mid-2017, with additional upgrades—planned over the next few years.
---
More from Metropolis
---
The project is ambitious. Urquiola is set on reorganizing the meandering 215,000-square-foot campus in a way that will benefit both the 300 full-time employees who work on-site and the thousands of visitors who pass through annually. She began by clarifying the entry sequence, which she has invested with a quiet élan. A threshold of perforated metal screens opens onto a courtyard framed by a pair of single-story factory structures and a larger office block. The stony expanse lacks seating, but is pleasingly sparse, featuring two mature cedars of Lebanon in round, grassy pods. Wedged into the far left corner is a bright-red extrusion wrapped in more of that metal screen and bearing the company signage.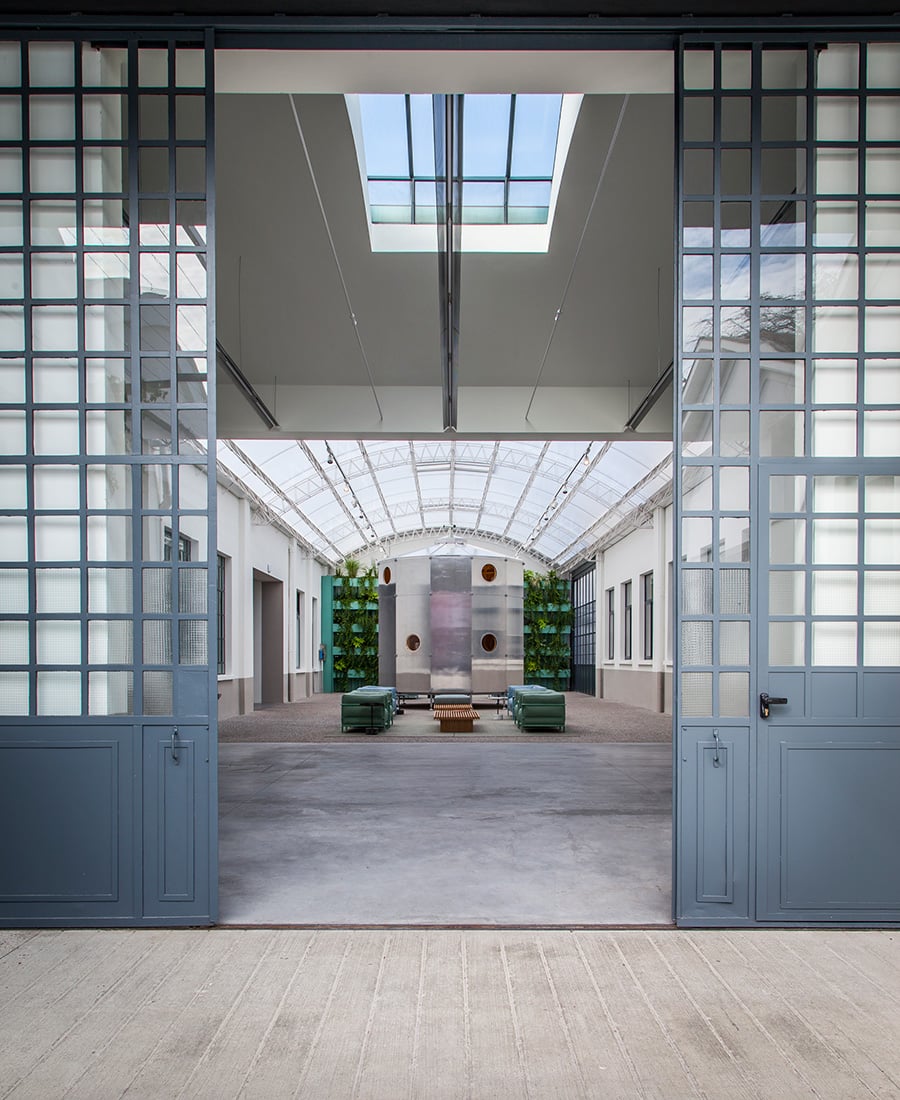 A minimalist trellis emerges from the side of this monolith and draws the eye across the soft peaks of the low-slung shed toward an open corner of the courtyard. This gap extends into the new reception area, evenly lit by the arched glass ceiling and containing a curious tinny object at its center. Several LC2s, done up in lime-green and sky-blue fabrics, are arranged in two neat rows, while the back wall is textured with plants.
It turns out that the toylike sentinel is a reproduction of a modular living prototype designed by Jeanneret and Perriand in 1938. An obscure item, the Refuge Tonneau was handpicked from the archives by Urquiola and Cassina archivist Barbara Lehmann, who seem to have been attracted to its peculiar silhouette (it resembles a primitive spacecraft) and the way it anchors the room, not to mention its intriguing backstory. The capsule—deceptively roomy, with space for eight—was conceived as a portable shelter for use in extreme environments, or as Lehmann says, a "Spartan oasis complete with all the necessities." Employees take their coffee breaks inside or pop in for a phone call.
The curatorial deployment of the Refuge Tonneau is prefigurative. "Patricia had the most original idea to have a campus of miniature architecture within a professional production site," recalls brand director Gianluca Armento. "We are still looking to build our own museum, but in this way, we diffuse that museum across the campus. So in the cafeteria, at reception, in offices and training rooms, you will find surprisingly important and unique pieces that have a story to tell you about Cassina's past."
With the product refreshes and the new campus flourishes, Cassina appears to be loosening up. That's what age will do to you, says Armento: "Cassina has a tendency to be aloof and distanced. We wanted the first impression the visitor gets to be a feeling of friendliness and embrace."
You may also enjoy "Patricia Urquiola's Diverse Designs Go on View at the Philadelphia Museum of Art."