March 28, 2018
See Patricia Urquiola's Colorful Refresh of Haworth's Michigan Headquarters
Haworth's refurbished headquarters by the Spanish designer is a truer reflection of the multi-brand company as it stands now, in its 70th year.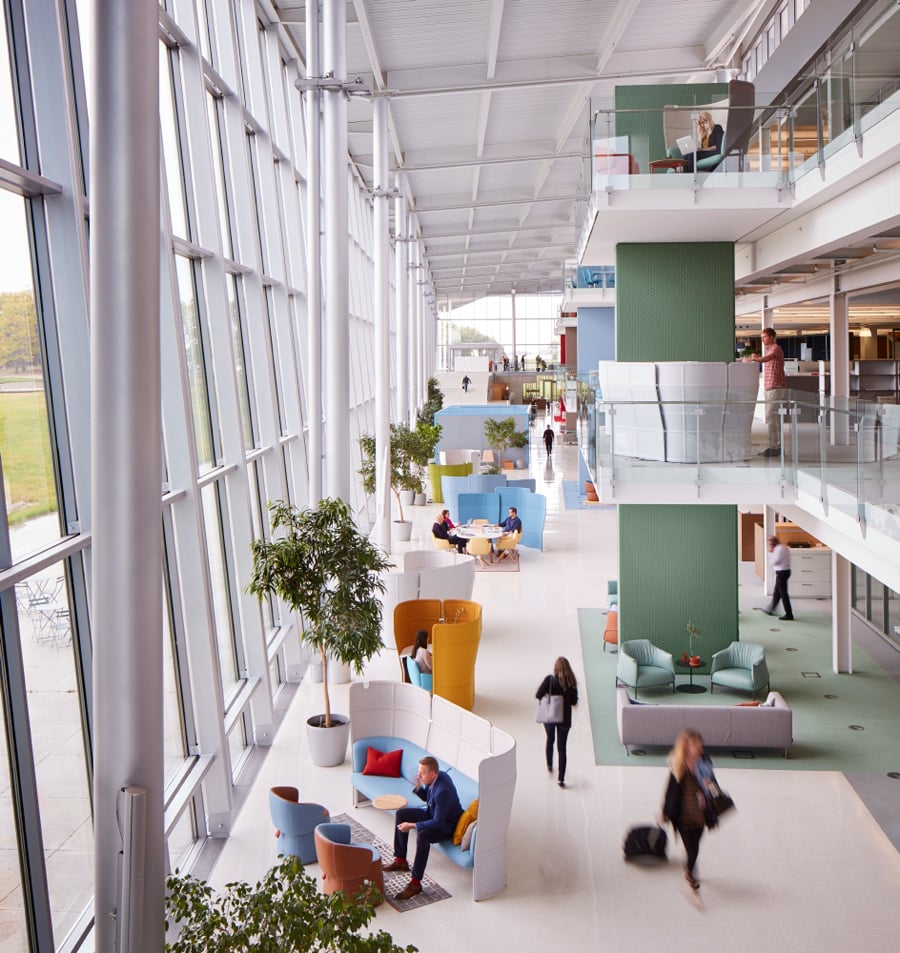 ---
It may be already a decade old, but One Haworth Center—the Haworth corporate headquarters and manufacturing facility in Holland, Michigan—still seems new. Sunlight cascades through the soaring atrium that spans the building's north flank, flooding 300,000 square feet of office space, spilling down the sprawling entryway staircase into the ground-floor café. The structure's three stories of glass and steel and its green roof engage in a seamless dialogue with 225 acres of western Michigan nature, connecting employees (Haworth calls them members) with the grasslands and marshes that surround the LEED Gold building. "I've been coming here for ten years," says Dick Haworth, chairman emeritus of the privately held office-furniture company. "And I still smile each time I step inside."
Haworth's corporate headquarters has been looking even fresher since 2017, with its interiors redone by Patricia Urquiola. A Haworth collaborator since 2013—she co-designed that year's Haworth showroom at NeoCon in Chicago—the Spanish designer has brought life and movement to the building's common spaces. Not that the original interiors were insipid. Created by Ralph Johnson and Eva Maddox of Perkins+Will—the firm that also designed the building—the 2008 interiors were linear and smart, Raymond Kennedy, an industry veteran and Haworth's director of North American marketing says. "Patricia has made the spaces more inviting."
One Haworth Center's makeover is the latest in a long string of evolutionary changes that Haworth has undergone since founder G.W. Haworth—a former high school shop teacher—began making wooden retail display racks in his garage just after World War II. In the 1970s, chairman Dick Haworth (G.W.'s son) sold off parts of Haworth's very profitable partition and wall business to fund research on new products. One of those products, the patented prewired panel that the company introduced in 1976, would become synonymous with Haworth and, more importantly, drive revenues from a few million to more than $2 billion by the year 2000.
---
More from Metropolis
---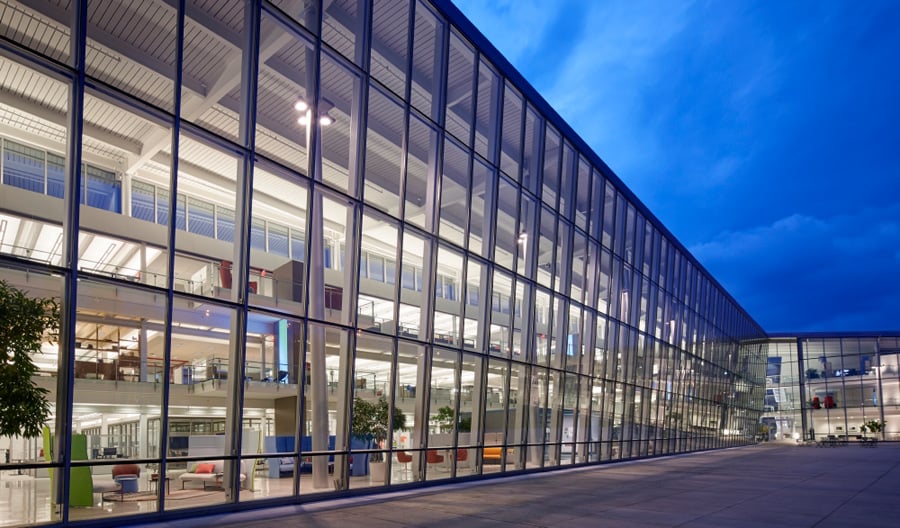 ---
The 2004 NeoCon show in Chicago signaled a turning point for Haworth. The venerable Michigan company, which celebrates its 70th anniversary this May, had made a solid name—and handsome profits—selling traditional office systems built around its prewired panel. In 2004, it unveiled a set of timely office interiors framed by sleek raised floors and complemented by sharp acoustics and crisp lighting. There was even a tiled reflecting pool in the showroom. "I saw people step outside so they could check the name on the door," says Kurt Vander Schuur, global brand director at the company. "They couldn't believe that this was Haworth."
While widespread, the disbelief was somewhat undeserved. Haworth had been quietly but decisively expanding its palette with a series of smart acquisitions that added key elements and global capacity to its portfolio. The 2004 showroom, which won NeoCon's Best of Show award in that year's Showroom and Booth Design competition, was more a declaration of intent—the company's way of saying it was ready and able for any and all design jobs.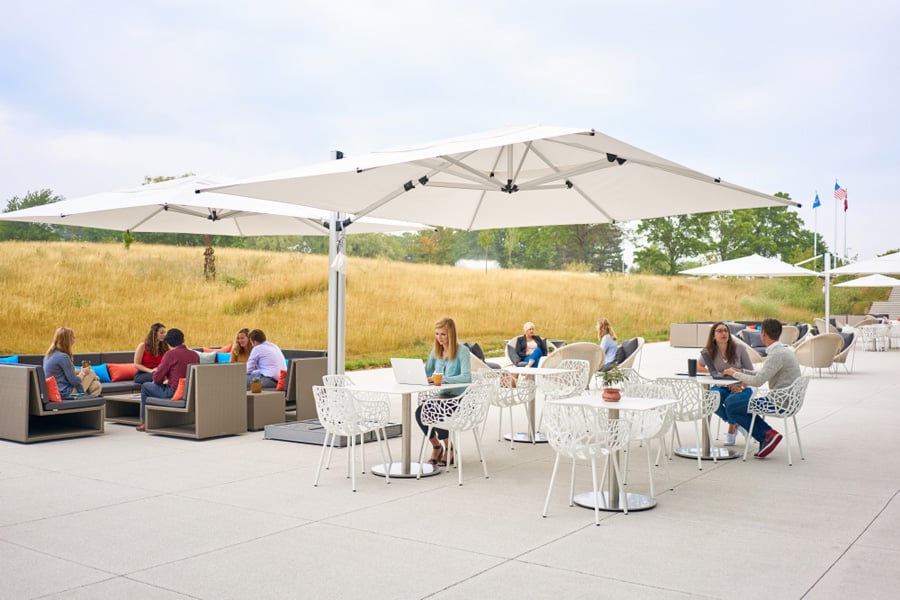 ---
Haworth's transformation continued when it took a controlling interest in Italy's Poltrona Frau Group and, more recently, entered into partnerships with GAN and Pablo Lighting. The once-drab midwestern cubicle company and its brands now build out high-end hotel interiors, aircraft seating, and even cruise ships for customers including Nvidia, Google, Michael Kors, and the New York Mets. Haworth employs social scientists— and uses its own race car simulator— to study focus and distraction in the workplace. "Our clients are not only the biggest companies in the world," says Mike Warsaw, global vice president of design and innovation. "They're also the most progressive in terms of workers and workspaces. And this is a time when the war for talent is raging."
Haworth has even entered the software business, launching Bluescape, a cloud-based visual collaboration program that won the company the Best in Show award at the 2013 NeoCon. (Urquiola's Openest took top honors there the following year.) "I've been here since 1981," says Jeff Reuschel, Haworth's director of design and innovation, and principal author of Bluescape. "And it feels like I've worked for five different companies."
The evolutionary strategy seems to be paying off. In 2017, Haworth's revenues returned to $2 billion for the first time since 2000. Furthermore, the company is more agile and versatile than ever, with a broad global footprint, a suddenly intriguing brand, and—supported by its refurbished headquarters—a culture eager and ready to embrace change. "To be honest, I didn't think it would take this long," Bianchi says. "And the company still doesn't look exactly the way I'd imagined it might. But it is beginning to smell like it."
You might also like, "HOK's Tom Polucci on the Forces Reshaping Workplace Design"