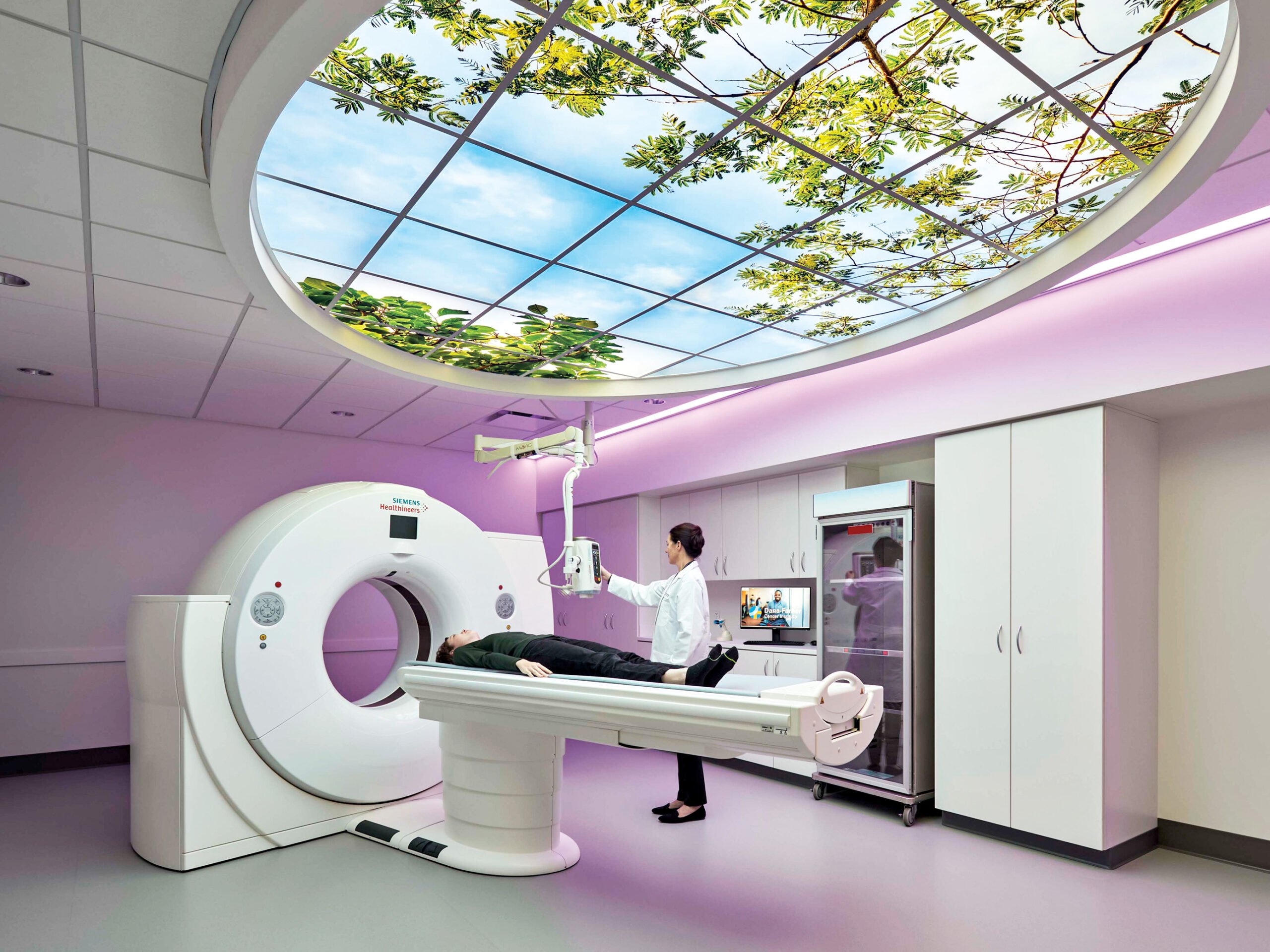 July 12, 2023
The Dana-Farber Cancer Institute Puts Patients at Ease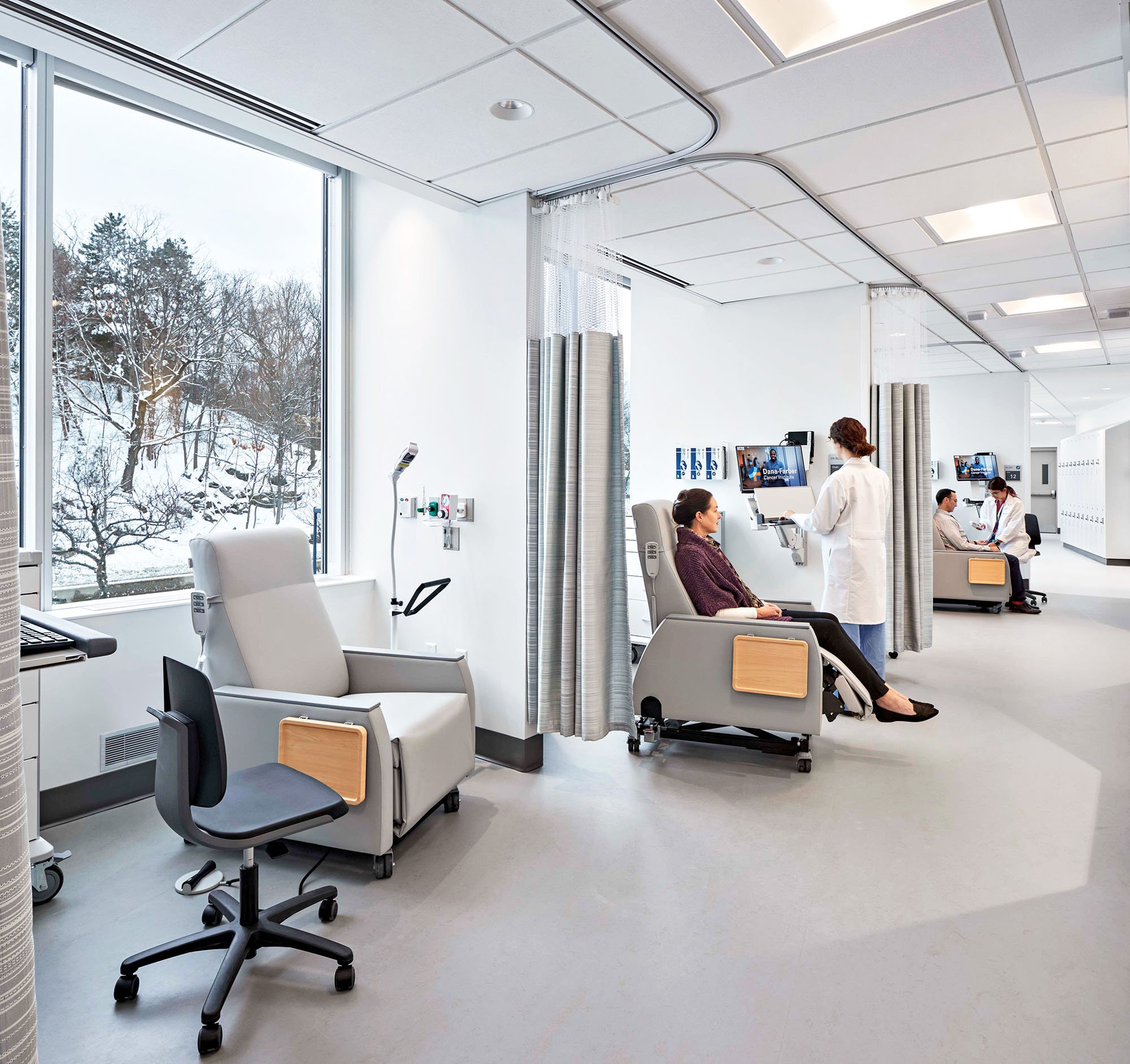 Prioritizing Patient Experience
"When Dana-Farber first approached us about this project, it was under the auspices of collaboration, the idea of working closely with their caregiving team and members of their patient and family advisory councils," says Payette principal and project lead Michael Hinchcliffe. "The aim was not to create a signature space but one where all those involved in the day-to-day could work together in synergy to treat cancer."
With different stakeholders playing an integral role in the design team's assessment, his team conceived a design that accommodates a range of requirements set out by the medical professionals on staff, patients, and their caregivers and families. Overwhelming feedback from the latter was that they wanted spaces that felt more like home. For doctors and nurses, it was about administering care with fewer spatial obstacles. "Everyone had an equal voice," Hinchcliffe adds. "Through multiple conversations, we were able to determine what needed to be accomplished and identified shelter, connectivity, and light as the hallmarks of the project."
---
More from Metropolis
---
With a program that incorporates spaces for exams, infusion therapy, imaging, pharmaceuticals, support services, and patient facilities, circulation at DFCI revolves around a repurposed and expanded atrium and a sweeping stairwell constructed of reclaimed white oak. Reflecting an organic design vocabulary expressed throughout the facility, this central element curves into benches that afford patients with limited mobility the chance to move around independently.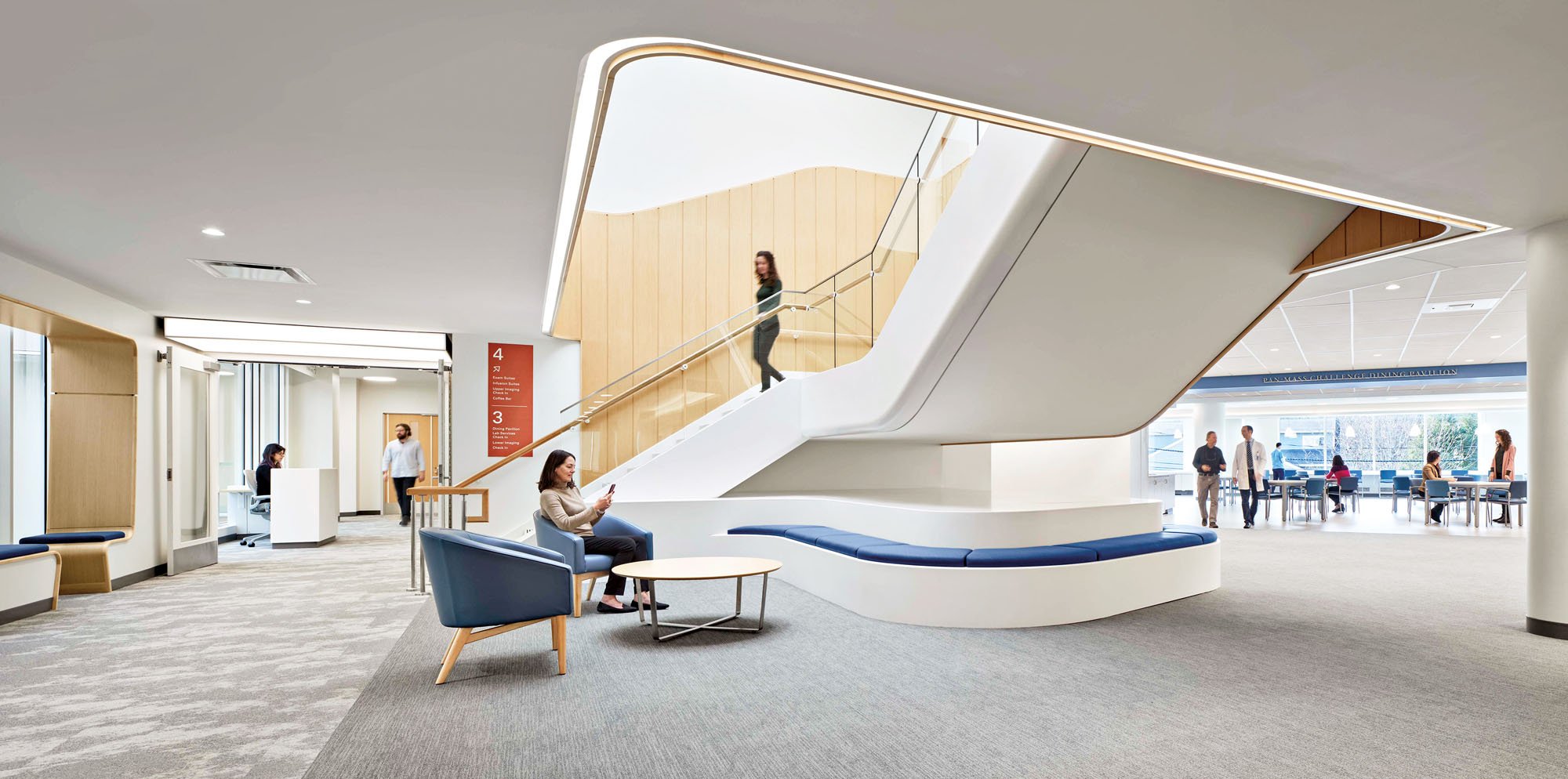 Providing Peace and Privacy
The two-story atrium not only filters ample natural light into zones dedicated to examination, imaging, patient resources, and a pharmacy, but especially a series of intimate infusion therapy pods. Each of these modular bays contains a nurse station and a bathroom. Inside each room-within-a-room, curved wood soffits instill a sense of privacy without obstructing vital sight lines that ensure nurses can monitor their patients. Waiting rooms are only a stone's throw away, rather than being concealed behind locked doors and through an endless maze of hallways.
To understand how the design concept's advantages would work in practice, the Payette team erected a series of full-scale mock-ups in its office to test out different scenarios. This also allowed the designers to carefully gauge the best wayfinding patterns. "While patients and their families can move through the atrium and the passageways that loop around the core, the staff's offstage circulation—a matrix of behind-the-scenes hallways—wraps the perimeter of the building," Hinchcliffe explains. "With this configuration, the patient's experience is smooth and straightforward while the care team can efficiently move between the different pods."
This transposable scheme was also engineered so that DFCI can grow in capacity over time, adding pods to new floors or even new buildings as needed. Hinchcliffe hopes that the strategy employed here can also be replicated on future projects: "The ability to work closely with stakeholders from the outset and create life-size prototypes minimizes the need for changes in the design process or even during post-occupancy implementation."
Would you like to comment on this article? Send your thoughts to: [email protected]