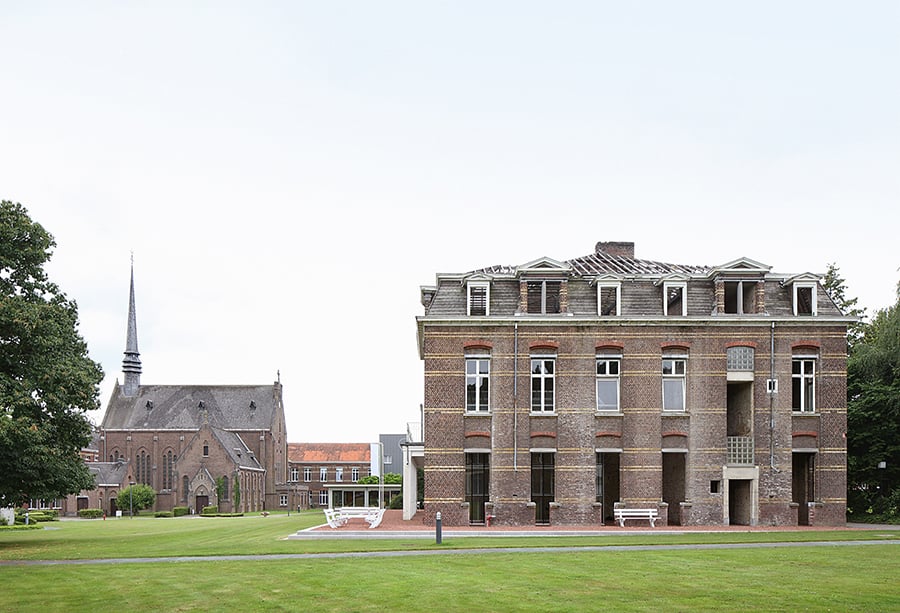 April 12, 2019
In the Heart of a Hospital Campus, a Ruin-Turned-Gathering Place Helps Patients Heal
Ghent-based Architecten dVVT only made light interventions to create a new multi-use common area within this early 20th century structure in the Belgian town of Melle.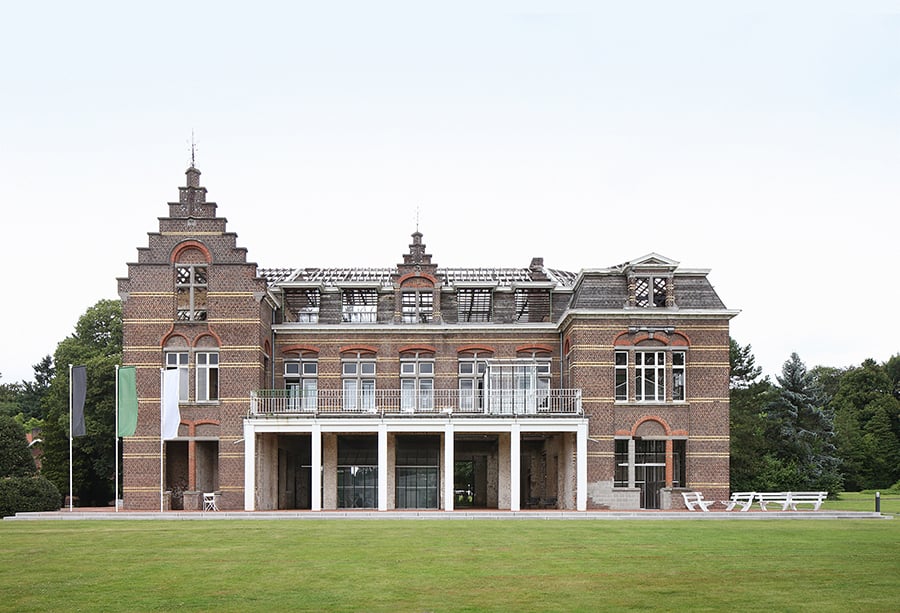 ---
"What is important to know, is that it's a square," explains Inge Vinck, partner of the Ghent-based architects Architecten dVVT, as she ascends a short lawn in front of PC Caritas. With its three stories, doorways, banded brickwork, arched window frames, and stepped parapet, the PC Caritas project looks a lot like a building. "It's not a building," she asserts. It's a new public space—a town "square," if you will—in the heart of Karus Melle, a hospital campus for psychiatric patients on the outskirts of Melle, a satellite town of the Belgian city of Ghent.
The Karus Melle campus (formerly known as Caritas) has been in operation since 1908 and features historic structures—including ornate brickwork typical of the region—as well as more banal, modern, flat-roof facilities. As Vinck explains, this particular building-turned-"square" (it formerly housed dormitory bedrooms and classrooms) was due to be knocked down. Demolition was paused after the discovery of asbestos, leaving roof beams exposed to the elements. Herman Roose, Karus's newly appointed director, saw an opportunity to create a new kind of structure on the site. Moved by an article he read by the architect and philosopher Gideon Boie on the role of architecture in healing, Roose consulted the Karus residents and staff and discovered a demand for a gathering place on the site: an open, common area.
Architecten dVVT's competition entry for the €120,000 project thus reimagined the crumbling building as a part of the landscape. The design would retain what was left of the building's structure while tearing down some interior partitions to create different scales of spaces for various needs and uses. The walls were stripped, the rooms were emptied, and some small sections were structurally reinforced, but Architecten dVVT touch is astonishingly light.
---
More from Metropolis
---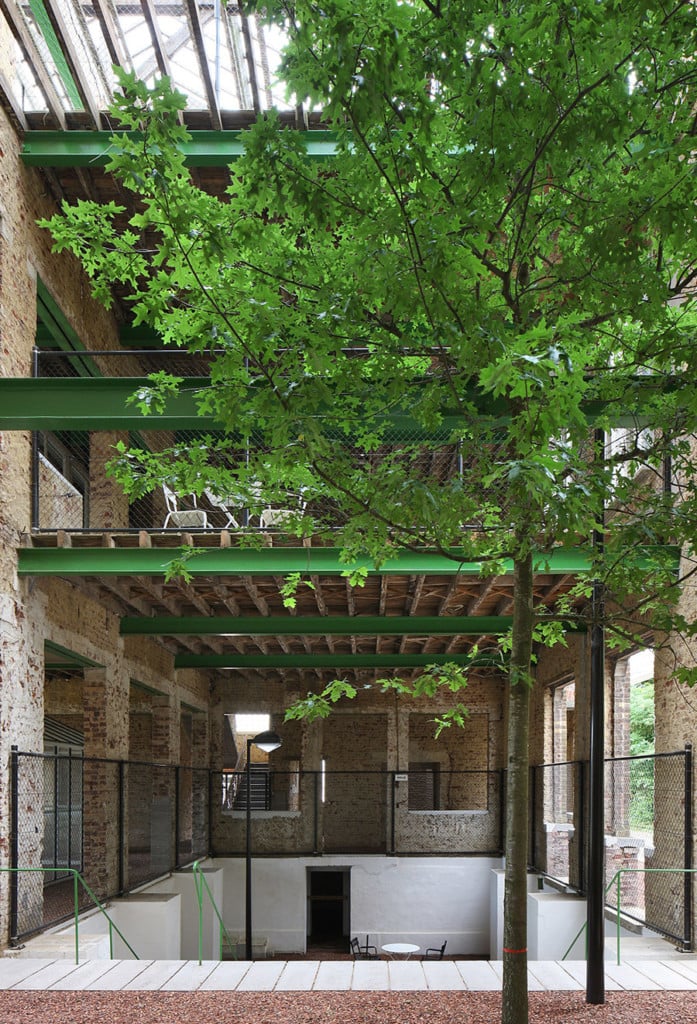 ---
One enters through the opened veranda on the south-facing facade. This gravel-covered level includes an open fireplace positioned next to a newly planted tree and a lamppost. The blend of domestic and public, familiar interior and exterior elements, creates a unique experience full of curiosity and warmth (despite the Flanders drizzle). This unusual sensation is only heightened by the presence of two full-scale greenhouses on the ground floor, which can be used for therapy sessions, craft workshops, and other gatherings, even in inclement weather.
The architects also formed an amphitheater by removing a section of the ground floor, exposing the basement level for use as a stage for theater performances, musical shows, and film screenings. Elsewhere, spaces that were once bedrooms have been left untouched, creating smaller rooms for those who feel uncomfortable in larger groups or wide-open spaces.
On the upper stories, the architects stripped the floorboards and punched them with round holes to allow rainwater to pass through. Here, more greenhouses punctuate the spaces, and a chain-link fence serves as a parapet while reinforcing the visual language of the outdoors. Although initially intended to be open for all, the upper floors have been closed owing to safety concerns for the hospital's residents.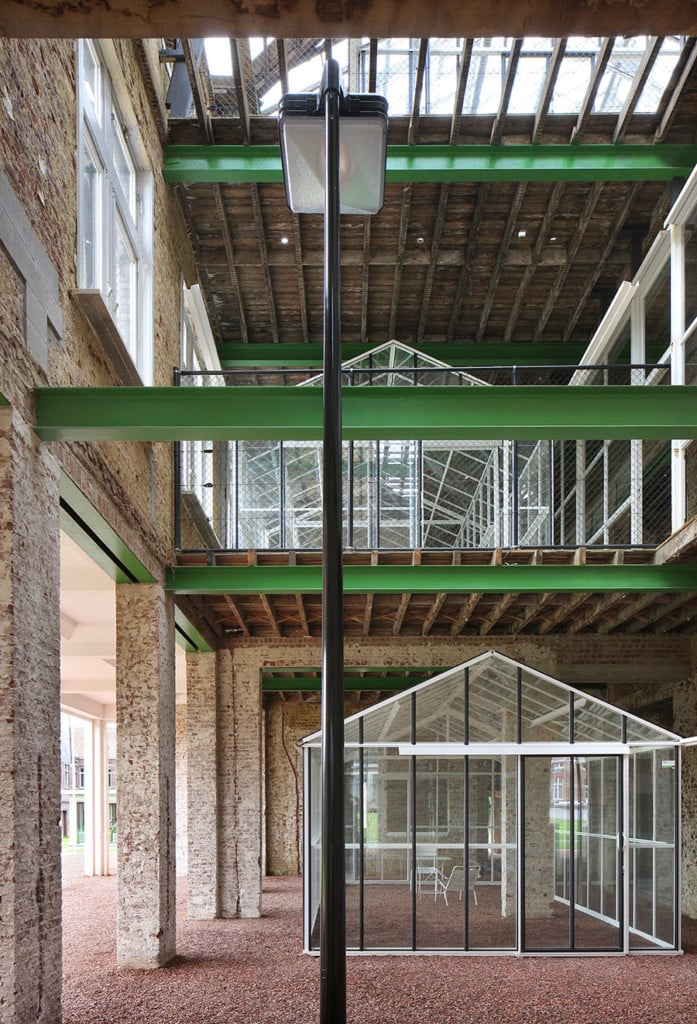 According to Vinck, however, the building has been popular with patients and has even become incorporated into the healing process. As part of their structural work, Architecten dVVT chose to make clear where they had intervened structurally by leaving concrete seams offset 15 millimeters from the original brickwork. "They speak about the building and these [seams] like mental scars," Vinck explains. "Those scars can also be beautiful. You have to accept your scars and you have to live with them, find them beautiful."
It's a metaphor that extends broadly across the project. A building, like the mind, requires care for its present use and future potential. While some sections of the space have been reinforced, others, such as the upper-story floorboards and wooden roof beams, are more susceptible to wear and decay. Currently, Architecten dVVT returns regularly to survey the project with the Karus director and Gideon Boie, but it's clear that the lifespan of the space in this state will be limited. That said, Vinck is coolly philosophical about the project's future: "There is this open idea of seeing what happens or what the site needs. I think that's the freedom we had in making this project. There was this free idea of being able to think in a certain way, not to think in too blocked a way of having a building. Because it's not a building anymore, but it could become a building again."
You may also enjoy "NOMA-Nominated: Banc of California Stadium by Gensler Los Angeles."
Would you like to comment on this article? Send your thoughts to: [email protected]