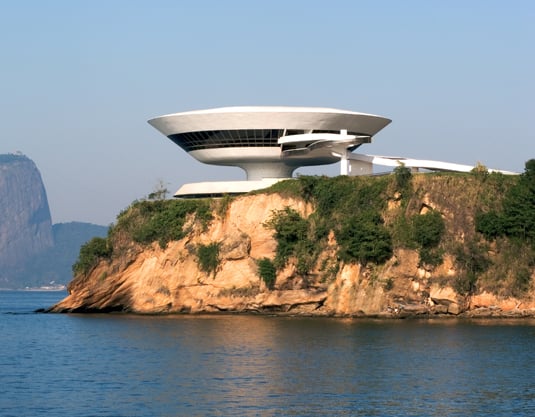 October 15, 2012
Phaidon Releases Compendium of Concrete Architecture
Concrete, edited by William Hall with an essay by Leonard Karen, $49.95 US/CAN, Phaidon March 2013, www.phaidon.comWhen I encounter a book dust jacket that's textured to the touch I usually assume that it's a willful distraction from the contents within; not so with Phaidon's Concrete. Its striated cover perfectly evokes its complex subject.  Concrete, despite its […]
Concrete, edited by William Hall with an essay by Leonard Karen, $49.95 US/CAN, Phaidon March 2013, www.phaidon.com
When I encounter a book dust jacket that's textured to the touch I usually assume that it's a willful distraction from the contents within; not so with Phaidon's Concrete. Its striated cover perfectly evokes its complex subject.  Concrete, despite its historical roles from the Roman Pantheon to Fallingwater,  is a much-unloved material, rough to the touch and to the popular imagination.  Both the volume's introduction and essay make immediate acknowledgement of its unpopularity. William Hall writes:
"Despite its range and ubiquity, many people associate concrete with rain-stained social housing, or banal industrial buildings," writes William Hall. "Detractors of concrete cite such tired monoliths, and point out the failure of the material. Its economy and speed of production have inevitably led to its use on buildings of poor quality – frequently compounded by substandard design and inadequate maintenance. But concrete cannot be held responsible for all the failures of concrete buildings. For too long negative associations have dominated the public perception of concrete."
A turn to the first photo in volume can do wonders to allay this perception, with a gently undulating concrete bridge complementing a rocky Austrian river view. Concrete need not be forbidding! And look, there's the Guggenheim on the next page. Who doesn't like that?
Concrete is something of a constructive wonder. This slurry of mineral and water is adaptable into almost any number of shapes and frames. The fact that most of these shapes haven't been particularly imaginative is no fault of concrete itself; no more than wheat is to blame for Wonder Bread.
"Iron in combination with concrete, reinforced concrete, is the building material of the new will to form," wrote Erich Mendelsohn in 1914. "Its structural strength capable of being loaded almost equally with stress and compression will give rise to a new, specific logic in the laws of statics, logic of form, of harmony, of implicitness."
Subsequent failures are of imagination, not of material.
---
More from Metropolis
---
Niterói Contemporary Art Museum, Rio de Janeiro, Brazil, 1996, Oscar Niemeyer, page 123, photo courtesy of Leonardo Finotti
This 50 m (164 ft) wide flying saucer, perched on the edge of a cliff, was designed when Niemeyer was 89 years old. A wide winding slope connects visitors to the entrance 10 m (33 ft) above the ground.
There's Mendelsohn' Einstein Tower, hewn not entirely of concrete, given a postwar German shortage, but of a combination of brick, concrete, and a stucco exterior, revealing the heavily organic and sculptural possibilities of a concrete hybrid. Or Saarinen's JFK TWA terminal, a structure that not only strove after the "spirit" of flight, but in universal estimation achieved it, succeeding in rendering concrete winged and airy. You'll also find the Sydney Opera House, The Marina Towers, and a similar slate of signature accomplishments in concrete.
The book also showcases lesser-known highlights. Organized in holistic chapters such as "Texture" and "Juxtaposition", the "Light" chapter is particularly revelatory. Felix Candela's High Life Textile Factory boats a pillar-supported interior roof seemingly composed of densely massed spinning tops, pierced through with countless undulating glass skylights. Wright's Johnson Wax Headquarters takes a similar pillared approach, eschewing the natural in the realm of light – in favor of glazed ceiling illumination – and embracing it in the realm of concrete, with columns resembling the undersides of, well, mushrooms.
In life, as in this volume, there's no getting around brutalism, and given the examples selected, there's no reason why you'd want to. As Leonard Koren's essay notes, "Eventually, I did come to understand how Brutalism's Mannerist exaggerations of form and surface could, indeed, incite uncontrollable primal responses."
In my observation, this response generally takes the form of nausea, but Concrete does ample justice to the least-admired of its school's of use, pointing out the timber formwork of the National Theater in London, and Paul Rudolph's "corduroy concrete" on the Government Services Center in Boston, a process by which flat concrete was alternated with exposed aggregate concrete. Rudolph's Temple Street Garage in New Haven projects ample fluidity, and Goldfinger's Trellick Tower stands, as, well, a rebuke to those who'd have it demolished.
National Assembly Building, Dhaka, Bangladesh, 1982, Le Corbusier, page 39, photo courtesy of University of Pennsylvania
Built over 23 years, the National Assembly Building is the focus of a 1,000 acre (404 hectare) plot – one of the largest legislative sites in the world.  Thin white marble lines give scale to the building and pattern to the facades.  That one of the poorest countries in the world created a monumental building of quietly spoken grandeur with simple and cheap materials is remarkable.
There is, of course, an undeniable monumentalism to concrete, and its appearance in government buildings, whether Brutalist or not, makes a strong showing. Le Corbusier's Parliament Building in Chandigarh and National Assembly Building In Dhaka each achieve a remarkable blocky grandeur, with the latter wielding an assortment of deep porticoes to balance an immense mass with natural light.  By contrast, Niemeyer's National Congress of Brazil wields concrete in a considerably more sleek, yet still stately affect.
The range of sacred architecture in concrete displays similar versatility: Ando's Church of the Light in Ibaraki, Japan provides illumination via a floor-to-ceiling and wall-to-wall cut window behind the lectern. The use of reinforced concrete pillars, which require far less space than stone, provides a remarkable openness to the interior of Perret's Notre Dame Du Raincy, and enabled the giving-over of the walls almost entirely to stained glass. The Wotruba Church in Vienna, by contrast, strikes into new asymmetrical realms of the spiritual with its jumble of exterior blocks.
Notre Dame du Raincy Church, Le Raincy, France, 1922, Auguste Perret, page 20-1, photo courtesy of Martin Charles
Unencumbered by heavy stone columns, this church is flooded with light and demonstrates the advantages of reinforced concrete.  Perret chose to eschew a conventional cruciform plan, instead returning to something redolent of very early churches – a rectangular plan more closely approximating a basilica.
Stranger things also flourish. Modernist buildings are often compared to spacecraft, but nothing seems to top the flying-saucerness of Niemeyer's Niteroi Contemporary Art Museum in Rio de Janeiro. The Georgian Ministry of Highway Construction, a late stage Soviet game of Jenga that staggered on a Tblisi hillside, would seem perilous were it not so impressively weathered.
Given the delights on offer, it's no wonder that filmmakers have preceded the photographers in many of these markedly picturesque places. We've seen Madrid's Torres Blancas Apartment Building, and its burbling terraces, in Jarmusch's The Limits of Control. Or London's ziggurut-like Brunswick Terrace in Antonioni's The Passenger. Even the Sheats/Goldstein residence is familiar – Jackie Treehorn's house in the Coen Brothers' The Big Lebowski. And this is no surprise; these are buildings amply worth seeing in film, in person, and especially in this volume.
As Leonard Koren closes his essay: "Concrete has insinuated itself deeply into our collective subconscious. We rely on its absolute physical integrity to lend solidity and certitude, real and metaphoric, to our lives. Fortunately, in most circumstances, our technologists and engineers ensure that concrete is fabricated properly so it can fulfill its psychological mandate. This then allows our artists of place – architects — to concentrate on transforming this viscous ooze into better and better launching pads for our imagination."
Anthony Paletta is a writer living in Brooklyn. He has written for The Wall Street Journal, The Awl, Bookforum, City Journal, and The Millions on urban policy, cinema, historic preservation, and literature, and Metropolis on Boston city planning, the preservation of Brutalism, Socialist automobility, and fallout shelter design.