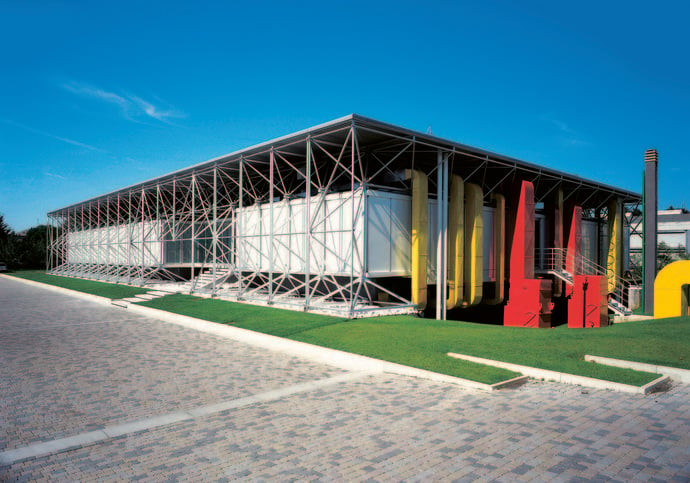 January 27, 2014
Piero Ambrogio Busnelli, Founder of B&B Italia, Dead at 87
Busnelli, who founded B&B Italia, was a titan of contemporary Italian design.
The world of Italian design is in mourning for Piero Ambrogio Busnelli, the founder of legendary manufacturer B&B Italia. A life-long design ambassador, Busnelli passed away on Saturday, at the age of 87.
B&B began its life as C&B, a manufacturing company Busnelli formed with Cesare Cassina, of the eponymous design brand. Soon after its founding in 1966, C&B quickly developed a reputation for its work with designers like Mario Bellini and Gaetano Pesce, among many others. Parallel to these collaborations, C&B introduced new production techniques that shifted Italian design towards the industrial model. Pesce's UP5_6 armchair (1969) was but one of several iconic designs produced under this system. 
In 1973, after buying out Cassina, Busnelli regrouped the company under the B&B name. Its headquarters were housed in a remarkable building by Renzo Piano and Richard Rogers, whose design was developed as the duo's Centre Pompidou was commencing construction. As Piano later recounted, Busnelli was evidently taken with the so-called "bowelism" of the Pompidou's design. Having seen the drawings for Beaubourg (the Pompidou's alternate name), Piano wrote in Giornale di bordo (2005), "[Busnelli] thinks we're a bit crazy, and then because he's a bit crazy himself, decides that he wants to work with us."
---
More from Metropolis
---
The B&B Headquarters in Novedrate (1973), designed by Renzo Piano and Richard Rogers.
Courtesy B&B Italia
It was here that B&B would produce some of the 20th-century's most lasting designs. Products like Studio Kairos' 1983 Sisamo wardrobe system and Antonio Citterio's 1987 Sity sofa system further established B&B as an industry leader that was committed to research and innovations in design and fabrication—qualities many attributed to Busnelli's leadership, tireless work, and creative spirit. They also helped B&B garner three Compasso d'Oro Awards, first in 1974, then in 1979, and again in 1987. Additionally, in 1989, B&B became the first company to be given the Compasso Award (its fourth), with the jury citing "the constant work of integration carried out in order to combine the values of scientific and technological research with those necessary to the functionality and expressiveness of its products."
Today, B&B continues to produce high-end furniture while accommodating newer trends, as our December 2011 feature illustrated. Most recently, the company has worked with architects like Norman Foster on developing designs for boutique hotels and dynamic office layouts.
Moving forward, however, it will be difficult to think of B&B without Piero Busnelli. "He was a true pioneer in the Italian post-war period for making research and innovation one of the core principles of his company's design philosophy—something that revolutionized sitting and living, and something that sets B&B apart from its competitors today, says Metropolis Editorial Director Paul Makovsky. "He was also always looking towards the future, finding and nurturing young talented designers and architects like Renzo Piano, Antonio Citterio and Mario Bellini, when they were relatively unknowns. He will truly be missed."