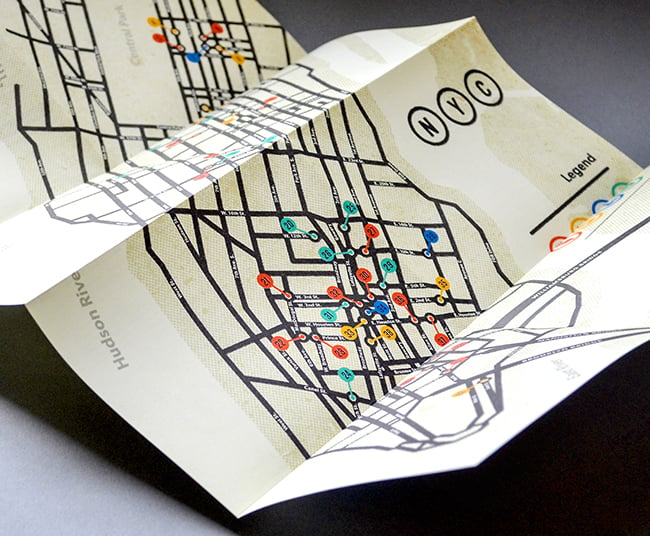 July 8, 2013
These Pocket-Sized 'Maps' Are Part Infographic, Part Travelogue
A London-based duo gives locals and tourists a unique perspective on cities in North America and beyond.
Taking note of a special park bench, a trendy coffee shop, or the best haberdashery, London-based Herb Lester Associates charts North American cities with incomparable insider knowledge.
Courtesy Stephanie Lynn/herblester.com
---
More from Metropolis
---
How many miles to Babylon? Joan Didion will pin the distance in memories of a young adulthood spent in Manhattan. If you ask Google Maps it will provide directions to a town on Long Island. Ask the London-based mapmakers at Herb Lester Associates, and they are likely to give a response somewhere between the two.
"What we create are guides, not maps," says Ben Olins, one of the studio's partners. Part information graphic, part narrative travelogue, Olins and his partner, Jane Smillie, produce pocket-size pamphlets that are more concerned with focusing a specific lens on a city, and less about providing accurate geographic detail.
 The maps, such as this one of Chicago (above), are part infographic and part tourist guide. "We want to make sure the selections work well together," says Jane Smillie, a partner, "so that you don't just get a cluster of stuff in one neighborhood."
Courtesy Stephanie Lynn/herblester.com
To date, Olins and Smillie have produced 32 guides to cities around the world, and continue to release new ones each month. Among the American cities featured thus far are San Francisco, Chicago, Los Angeles, and New York, their favorite stateside city, to which they've dedicated a handful of guides.
"Truly Greenwich Village" retraces the glory days of the beatnik neighborhood, now layered beneath the developments of the NYU campus; "Writing Manhattan" provides anecdotes about locales frequented by some of the city's famous literary figures. Straddling the line between twee and nostalgic, each guide is illustrated and written by a trusted network of collaborators who help with an intensive research process—one in which fact-checking translates to week-end trips packed with recommendation lists.
Approaching their three-year mark this November, the duo looks forward to its next stop—the great Northwest—but has yet to take a classic American road trip. "I don't know if we could maintain the pace for several weeks at a time, since the job entails high-intensity travel," Smillie says. "We might go to four or five great cocktail bars, but only have space to highlight one."
The covers of Herb Lester Associates' maps: (from left) Hello Chicago, Around Town: New York City, Writing Manhattan, and Clandestine London
Courtesy Stephanie Lynn/herblester.com
Regardless of locale, Olins and Smillie attest that their individual tastes are kept in check by the final say of their eponymous figurehead, Herb Lester—the bossman. "It all has to be Herb's choices," Olins says, "even if it's someone else on the ground doing the work." And who is Herb Lester, exactly? He is, as it turns out, a wholly fictional character.
"We wanted a name, and we didn't want something too forced, so we decided to create our own boss. We talked a lot about what sort of person he was," Olins says, "and we came up with this name, Herb Lester, which is somewhat mid-Atlantic, I suppose. No one in this country is called Herb."