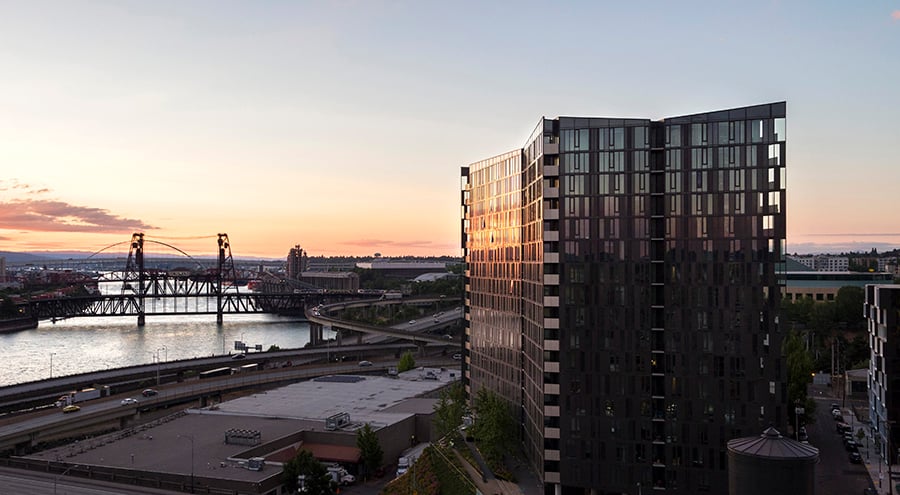 April 25, 2018
Skylab Architecture Designs a Unique Tower/Podium Hybrid in Portland
The luxury mixed-use development, dubbed the Yard, is leading Portland's east side into a taller future—and a citywide conversation.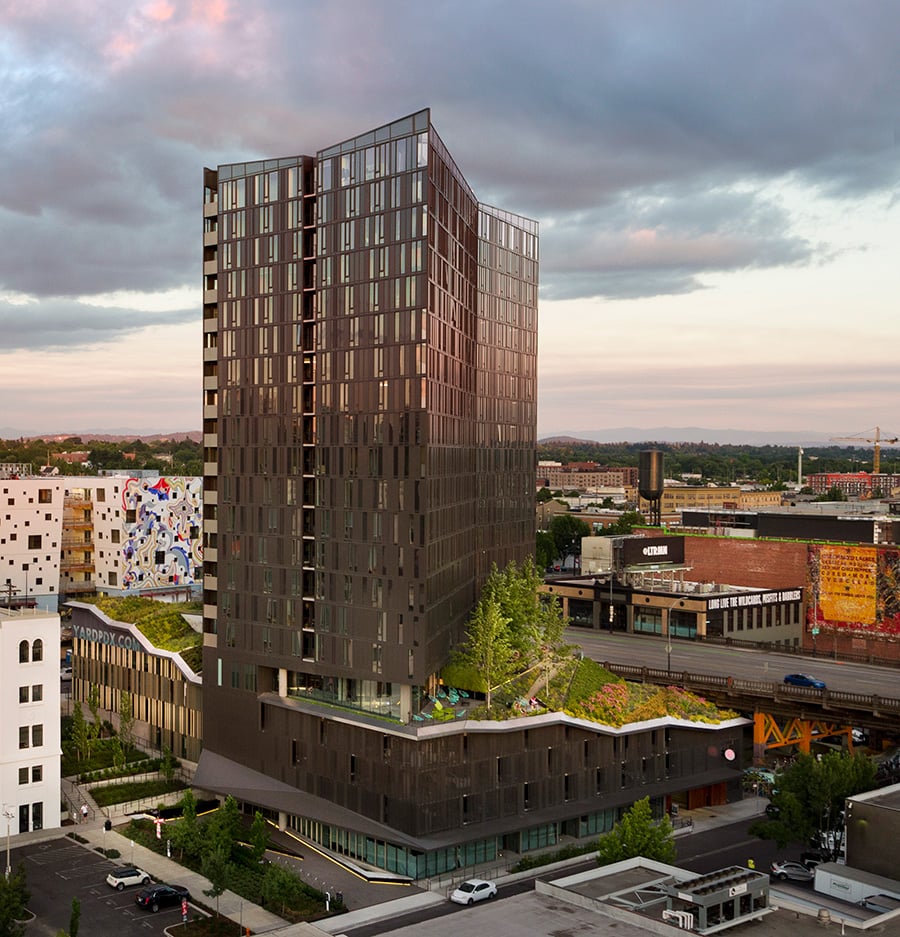 ---
As greater Portland, Oregon, undergoes a period of rapid growth, with nearly 700,000 new residents expected by 2040 and an urban growth boundary limiting sprawl at its suburban edges, the Yard, a new mixed-use apartment building, has become a lightning rod in the city. Located across the Willamette River from downtown, the $63 million project is an outlier. Its luxury apartments are the first in the Central Eastside Industrial District, an area composed of low-slung warehouses. The new property is also the face of the controversial Burnside Bridgehead development, a formerly city-owned parcel now occupied by a quartet of buildings.
None rise as high as the Yard. Living inside the 21-story tower, whose plan resembles a mirrored chevron, brings more than panoramic views of the city. Its studio and one- and two-bedroom units offer a variety of amenities, from black-glass ranges and granite countertops to smart-home technology (in some units) and electric car–charging stations. Communal coworking and lounge areas encourage a sociable atmosphere, especially on shared indoor and outdoor portions of its landscaped podium.
---
Yet, with its chocolate-brown anodized bronze metal facade and fewer windows than originally intended (to meet energy codes), the Yard can appear brooding in the wrong light. Online commenters have even christened the tower with sci-fi monikers such as "the Borg," while architect Will Bruder, one of the authors of the Burnside Bridgehead framework plan, likens the aesthetic to Blade Runner. "It's iconic," he says of the Yard. "The city is finally getting some striking architecture and quality buildings."
---
More from Metropolis
---
Conjuring up the Yard's "imageability" was no easy feat. Skylab Architecture had a unique challenge with the sloping building site, which sits atop what's known as the Big Pipe, a large combined system of drains and pumps designed to prevent sewer runoff from reaching the Willamette. The design team responded with a tower podium whose grassy roofscape inclines and declines in opposite directions. "The tilted plane is about re-creating the slope of the riverbank and presenting a porch that's redirected back to the city," explains landscape architect Jonathan Beaver of 2.ink Studio, which partnered with Skylab on the project.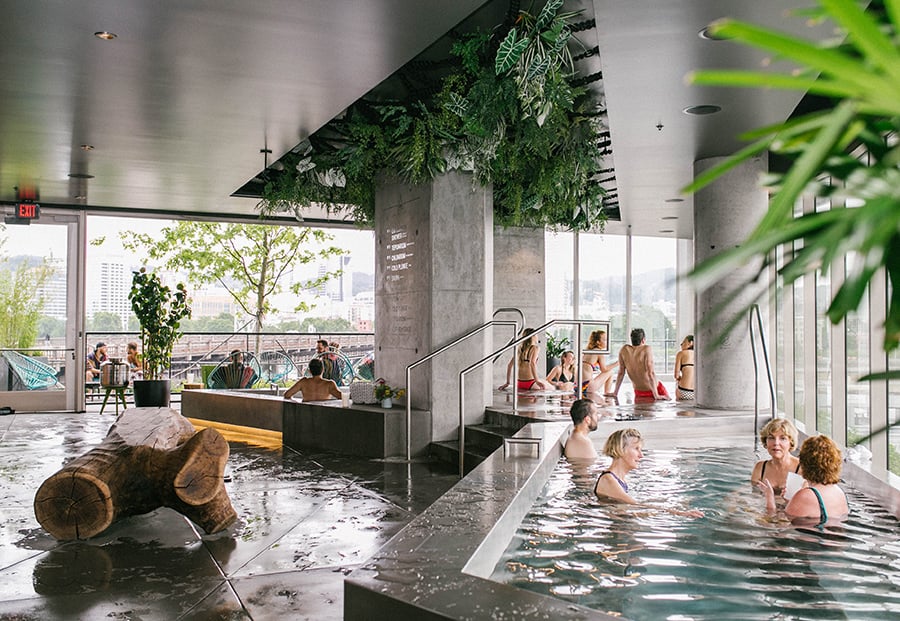 ---
At the same time, the tower podium, with its popular Knot Springs spa and other planned businesses, is an attempt to extend the public realm upward by making it accessible to all via a public walkway and retail outlets. "It's inviting the street and the public into the building," Skylab founder Jeff Kovel explains. "We're in an age where buildings have become almost like gated communities, and we really set out to create the antithesis of that. I think that's a big part of why people like to live there. They feel like it's a social hub and connects them—to other people and to creative life in the city." He also notes that claims of the Yard abetting gentrification are unfounded, given that 20 percent of its 284 units are reserved for residents making 60 percent or less of the median family income. (This concession is now mandatory following Portland's passage of a new inclusionary zoning law.)
Though the Yard sold in December 2016 for $126.68 million, the largest sum ever for a Portland apartment building, chances are it will remain divisive. Yet the building's original developer, Jeff Pickhardt, president of Hood River, Oregon–based Key Development, believes that's OK. "It would have been much easier to do a benign project that no one talks about," he says. "We knew the building might be polarizing, but we preferred that to a project that no one wants to have a conversation about. The more we got into it, the more it became unacceptable to not do something really unique and really special for that site."
You may also enjoy "Chicago's Aurélien Residential Tower Brings Luxury Down to Earth."