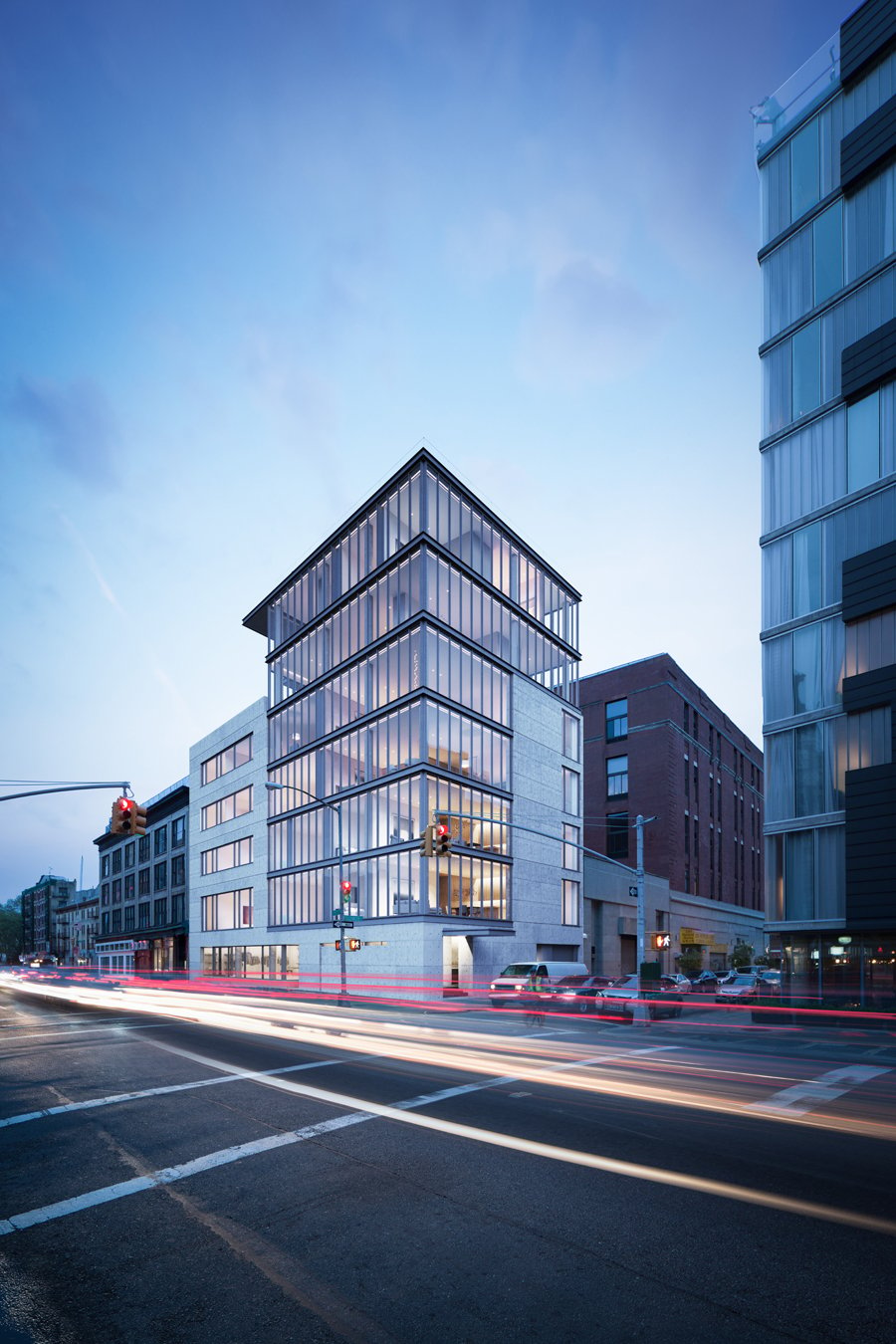 June 27, 2017
Preview: Tadao Ando's First U.S. Residential Building
152 Elizabeth Street, offers no grand gestures of form. But it's Ando's signature use of materials like, glass and concrete, that creates an impact.
When Amit Khurana and Saif Sumaida, partners at the development firm Sumaida + Khurana, purchased a site in March of 2014, a "beautiful intersection," between the Lower East Side, Bowery, Nolita, and Chinatown, they knew exactly what they wanted. A concrete building with an industrial feel, which exuded a subtle beauty. There was only one architect, in their minds, for the job: Pritzker laureate Tadao Ando, a master in concrete.
Unfortunately for Sumaida and Khurana, however, wanting an architect is not the same as convincing him to take the commission. Having built mostly in Asia, Ando was hesitant to pursue this opportunity. After a lengthy and passionate email exchange, Khurana was able to move to the next phase; he flew to Osaka, Japan to meet Mr. Ando himself. Khurana brought with him the biography of Muhammad Ali, The Greatest, which he presented to Ando, who was a professional boxer before he became an architect. Ando soon accepted the commission.
The resulting project, 152 Elizabeth Street, offers no grand gestures of form. But it's the use of materials that creates an impact. Ando uses his signature materials, glass and poured-in-place concrete, to achieve that desired industrial feel for the seven story condominium. Floor to ceiling glass panels, framed by burnished metal, offer pedestrians a peek inside. For residents, this glass box will provide an expansive view of Nolita.
---
More from Metropolis
---
Ando's aim was to create a home that generates the sensation of being transported from New York into a tranquil environment, where one can reflect on life. In a video made by Sumaida + Khurana, Ando explains how he went about accomplishing this, by treating elements such as water and light as if they were alive, mixing them to form subtle textures. This is evident from the moment you walk into the serene lobby and are greeted by a water wall.
For Ando, walls, more than just serving a functional purpose, are often sculptural elements. In this Nolita building, the interior walls are treated as independent floating volumes, designed to have reveals between them and the floor, varying in inches, for different spaces; these kinds of walls had previously only been used in museums and high-end houses, says Khurana.
Understanding Ando's sensibilities, Michael Gabellini, interior architect for this project, similarly incorporated movable walls between rooms, which can be removed to create wider views. And by using materials like honed Fango Stone for the countertops and wide plank Danish oak flooring from Dinesen, Gabellini also brought warmth into this minimalistic building.
This residential building topped out in February and most of the facade has been assembled. The project will be completed by the end of the summer of 2017.