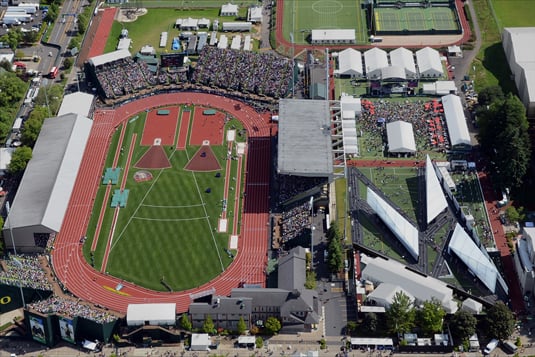 February 8, 2013
Q&A: Jeff Kovel on His Firm's Experience in Building Nike's Camp Victory
Jeff Kovel discusses his firm's experience in building Camp Victory for Nike
In Las Vegas, on February 26, at the Digital Signage Expo (through February 28) everyone will be talking about "New Design Directions: Dynamic Digital Environments." In a session called "Transforming Architecture & Interiors Into Media-rich Environments," Jeff Kovel, AIA, principal at Skylab Architecture in Portland, Oregon, will discuss, in some detail, his firm's experience in building Camp Victory for Nike. From the conversation that follows, it seems that the ways and means of sustainable design are similar to integrating digital media into architecture. Both types of projects are organized around research oriented, multi-skilled teams. In my previous interview with Paul R. Levy, president and CEO of Philadelphia's Center City, we explored the use of digital media in the large-scale urban environment. Here we dig down into one, very particular building and its media-rich message.
Susan S. Szenasy: As architects working in the physical world of tangible materials and expressions, did you need to make a mind-shift when you took on the Nike Camp Victory project? That project, from where sit, has a sophisticated digital component, way beyond what you're used in architectural software programs. To begin with, please describe what the assignment was, and what you had to learn immediately upon accepting the commission.
---
More from Metropolis
---
Jeff Kovel: Camp Victory began in research and collaboration; there was no predetermined outcome. This approach of creating a vision, prior to defining a project's limitations, is a testament to Nike's commitment to innovation. The project began by meeting Hush, our digital partner, for the first time. Jointly we were briefed on the history of Nike, Eugene (Oregon), and the US Olympic trials. A full day insight into Nike's upcoming innovations, to be launched at the Olympics, followed. We were some of the first people outside of Nike to see the Olympic Speed Suit and track spike, the Knit footwear, and the efforts being developed around Nike+ (digital). The task at hand was to create a temporary interactive exhibition around these innovations, immersing the viewer in Nike innovation. The limitation was that we could not penetrate or damage the newly laid artificial turf field that was out site.
SSS:  In terms of skills you needed to realize the Nike project, can you describe the new expertise you had to bring to team, and what that person or persons contributed to the project's realization? You may want to focus on the "integrator", which seems like what architects used to be before they started working with immersive digital media. Who is the new integrator?
JK: The Nike project was unique in that our partnership with Hush was elevated to something akin to a joint venture right from the start. There were no limits placed on either firm's scope. Hush and Skylab Architecture went on a series of parallel explorations. These explorations resulted in an unexpected outcome; the hierarchy defined by client feedback. Often this is not the case, the exhibit design firm (sometimes architects) typically leads the vision for the place; the content is created by a partner. The pavilion concept emerged as a way to house the interactive spaces in a dynamic composition of forms. We envisioned these pavilions as "light and strong" parallel to many of the technologies informing Nike product. This approach enabled us to search for a tensile-pavilion engineering partner. Our research brought us to FTL, a New York firm. A two-day session at FTL's offices helped craft a path towards realizing these dynamic structures very quickly, using concepts for ballasting that would protect the turf and prevent the structures from sailing away. The structures were procured and produced in multiple countries and locations, resulting in a Herculean coordination effort that came off flawlessly.
SSS: Let's talk about learning curves. Your profession just got into sustainability–and I don't mean checking off LEED points, but the sophisticated thinking that needs to happen when you design buildings that are part of nature and may, in fact, reflect nature's processes. What has that experience taught your team about the white water world of ideas you're navigating these days? Did the green experience, with its reliance on computer modeling, prepare you to deal with media technology? How?
JK: We see the opportunity around sustainability as parallel to our approach at Nike Camp Victory. An integrated team delivers a sophisticated composition. No parts are optional; each component is informed by the larger whole. Each team member is given access to the whole of information around a project, rather than a myopic focus. This approach consumes more front-end time for each team member, however this up front investment streamlines the remainder of the process. 3D-sustainability modeling tends to focus on a building's energy performance. The 3D tools used for the creation of Camp Victory were more to design and convey the overall experience on the front end. Once in production the modeling transitioned to informing production. The pavilions and their interior components were often cut from the drawings created by Skylab or FTL. Additional modeling was used to convey the digital experience to the client, prior to transitioning into building the approved systems.
SSS: What role did research play in developing the media technology installation? And can you relate your answer back to your architecture practice?
JK: Both Hush and Skylab utilize research in our project work. Often visual references are shared internally and with the client to communicate design inspiration and direction. In the case of the digital, this research also crossed over into sourcing of specific equipment to support an idea. For example, a human-powered treadmill was sourced via research, which opened up the Nike+ running competition design solution; the outcome was yielded by the process. Similarly, the architecture is informed on many levels through research. Whether poetic, technical, or construction related all items begin through an open-ended explorative research process.
SSS: How did this experience with Nike make you think about integrating media technology into architecture? I'm interested in hearing you talk about the following: the form and space and how these may aid in communicating dynamic information; the supportive technology and what you needed to consider in terms of energy use; what this experience has taught you about the potential that media technology has for the built environment at every scale.
JK: The digital and physical realms are merging. Camp Victory is a testament to this. The forms created were shaped by the experiences within. The technical and the experiential both held sway over the outcome. We were managing heat, rain, wind, pedestrian flow in regards to each experience, but more importantly the storytelling and messaging of the brand. As interactive becomes more and more prevalent in our devices, we are learning how powerful it can be in our physical spaces. As equipment becomes more cost accessible, look for more large-scale integrations of digital and physical.
All images courtesy of Skylab Architecture.