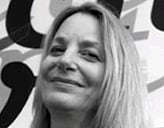 September 24, 2012
Q&A: Pentagram Principal Paula Scher on New York City
Paula Scher is principal at the well-regarded New York City design practice, Pentagram. She's held that august position since 1991, and during her busy tenure she even found time to redesign Metropolis magazine when we went from a large, tabloid size to a smaller format with the November 1999 issue. Paula has continuously given her […]
Paula Scher is principal at the well-regarded New York City design practice, Pentagram. She's held that august position since 1991, and during her busy tenure she even found time to redesign Metropolis magazine when we went from a large, tabloid size to a smaller format with the November 1999 issue. Paula has continuously given her special brand of identity design to such New York institutions as the Public Theater (a spectacular poster campaign that caught my attention when we were looking to redesign Metropolis), Jazz at Lincoln Center, and the New York Botanical Garden, among many others. Her knowledge of the city, form the inside out, also landed her on the Open House New York 10th anniversary advisory council. On the eve of OHNY celebrating its first decade of programs (October 6th and 7th), I asked Scher to talk about her favorite city, including the often overlooked graphic element, signage.
Susan S. Szenasy: If there is one thing you could tell a friend from abroad about New York City, as it relates to the design you encounter here every day, what would that be? Please explain.
---
More from Metropolis
---
Paula Scher: For me, the most exciting thing about New York City is the distinct personality of its ever-changing neighborhoods, especially the ones I know best in Manhattan and Brooklyn. This is a result of ethnic groups banding together, artists and other trail blazers continually hunting for cheap space, real estate developers taking some risks, all under the seemingly invisible hand of City Planning, the Economic Development Corporation, the Parks Department, the Department of Transportation, and the Business Improvement Districts.
SSS: What is unique about the planning and design of the city that makes it work for you?
PS: New York has such a big vocabulary in such a small space. I never cease to be surprised by a changing block, a crazy store or restaurant popping up in an unexpected place. I also love the expansion of parks that has occurred under mayor Bloomberg and parks commissioner Benepe, they have changed and revitalized neighborhoods all over the city.
SSS: This year, as every year for the past decade, OHNY will bring visitors into some very special spaces. What are your favorite interior spaces and why?
PS: I love the auditorium of Renzo Piano's New York Times Building (perfect proportions). I love looking out the window from an office at Norman Foster's Hearst Building–great trusses! I love the space, experience, and view from Dizzy's Club at Jazz at Lincoln Center. I love the lobby of the Metropolitan Opera–totally romantic and glittery with the staircase and chandelier; the Garden at the MoMA which is a most delightfully proportioned outdoor space, and the bar at the Four Seasons (best chandelier in NYC).
The New York Times Building auditorium (The Stage) in The Times Center, photo courtesy of The Times Center.
Lobby of the Metropolitan Opera, photo from wikipedia.
SSS: What can visitors learn about New Yorkers inside our public interiors, such as offices?
PS: Visitors can learn how New Yorkers function in a designed landscape that lacks space and makes up for it in clever efficiency, and when the efficiency doesn't exist, they can witness how oppressive it becomes.
SSS: What about outdoor NYC, here I'd like for you to give us your expert opinion, Paula. What is your favorite signage and why does it work? And where can we use some graphic design help? You can be as specific or general as you like.
PS: First of all, I would like to talk about our spectacular new parks. Pentagram is across from Madison Square Park, one of the most beautiful perfectly programmed parks in NYC. It is a delight. I do my food shopping at the Union Square Market and it is always a wonderful experience.  And I worked for 12 years, first developing the identity and fundraising materials for the Highline and then their signage system. The Highline has revolutionized a neighborhood and is the most visited attraction in NYC.
East River Pepsi sign, Photo by Suzanne DeChillo of the New York Times.
My favorite signs in New York are the Pepsi sign that sits on the East River in Queens and is a populist as well as heroic icon that is best viewed from the FDR Drive. I have the same fondness for the bold lettering on the entrance the Holland Tunnel. You know you are about to enter a powerful and dynamic city. I think the subway system has a perfect system, even though a lot of the signage is beat up. I think our street signs are characterless and are totally inconsistent.
Image from TransportationNation.org.