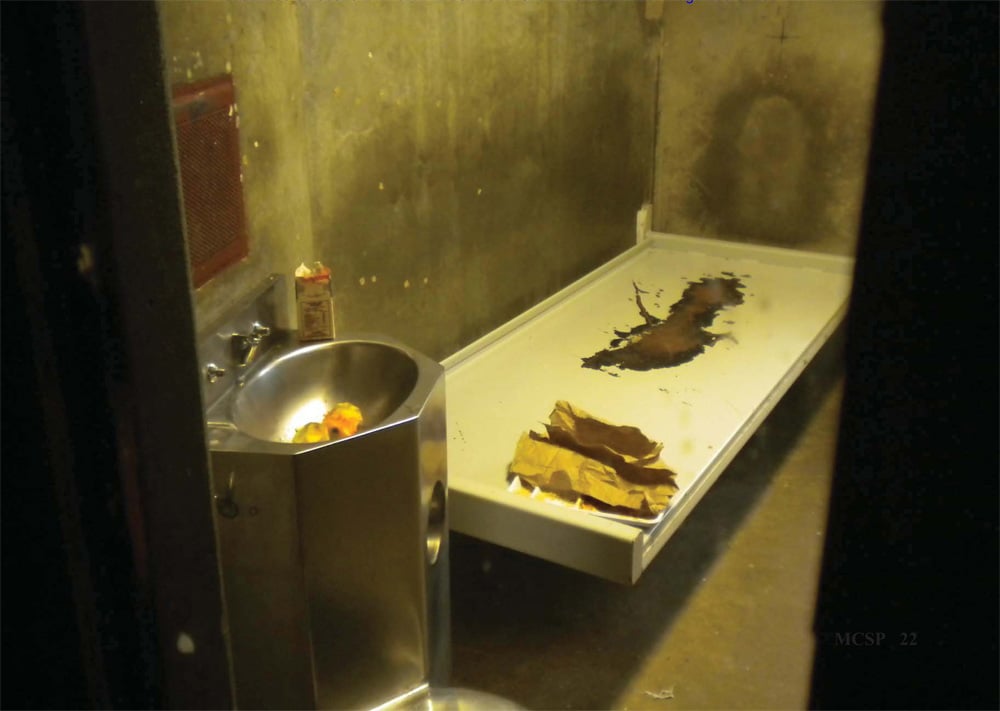 December 11, 2013
Q&A: Raphael Sperry on the Architecture of Incarceration
Metropolis speaks with architect Raphael Sperry about his efforts to keep architects from designing inhumane prison environments.
For this month's issue, we reached out to design critics and asked them to pick a project, product or idea from 2013 that they thought would have lasting impact in the future. Interestingly, Mark Lamster, the architecture critic at the Dallas Morning News, nominated the anti-incarceration campaign currently being waged by Architects / Designers / Planners for Social Responsibility (ADPSP). Led by San Francisco-based architect Raphael Sperry, ADPSP's goal is to prevent architects from entering into the business of designing spaces "for killing, torture, and cruel, inhuman or degrading treatment." We recently reached out to Sperry to get an update on ADPSP's ongoing effort.
---
Martin C. Pedersen: What are you specifically trying to accomplish?  
Raphael Sperry: ADPSR is asking the AIA to change their Code of Ethics to prohibit the design of spaces intended for executions and prolonged solitary confinement, as in "supermax" prisons. This comes from the AIA's current code, which calls on members to "uphold human rights in all their professional endeavors"—but includes no enforceable rules to provide discipline if someone designs something intended to violate human rights. In 2011, the United Nations Special Rapporteur on Torture defined solitary confinement as a human right violation if done to youth, the mentally ill, or anyone else for over 15 days. And of course intentionally killing people—even in a state-ordered execution—deprives people of their more fundamental human right: life itself.
---
More from Metropolis
---
This would put the architectural profession on the same level as all U.S. medical associations that prohibit their members' participation in executions, torture, and cruel, inhuman and degrading treatment. It would also help to slow or halt the progress of specific projects that will injure or kill people, and at the broader level help to shift public perceptions of our justice system away from ever-harsher methods of punishment towards approaches that emphasize public safety and community restoration. On the legal level, for a currently accepted punitive practice to be found "cruel and unusual" courts must cite "an evolving standard of decency towards a mature society." If architects collectively say that we have reappraised the dozens of supermax prisons built in recent decades and that we won't build places like that any more—what could be a clearer evolution of decency than that?
Interior of "Management Cell" (Cell 123) in EOP Administrative Segregation Unit (C-12) at MCSP (Bates MCSP 22)
From the Haney Declaration
MCP: What's the current status of this effort?
RS: Earlier this year the AIA San Francisco chapter became the first chapter to formally endorse ADPSR's proposal. We have endorsements from Amnesty International, the National Religious Campaign Against Torture, the American Civil Liberties Union, and DesignCorps, among other groups. At present, about half a dozen AIA components are considering the issue. I'd like to encourage Metropolis readers who are AIA members and want to get their chapter involved to contact us to set up that conversation.
Our petition also has over 1,100 subscribers, and as the AIA hears from more architects, designers, and members of the public, that will help to build their comfort with taking this step. You don't have to be an AIA member or an architect to sign. (Do so here.)
A cutaway model of a project to rebuild the "lethal injection chamber" at San Quentin State Prison.
Courtesy California Department of Corrections and Rehabilitation
MCP: What's the response from architects? Do you hear from firms that are doing prison work?
RS: A lot of architects are supportive. They care about human rights and want to see the profession do the right thing. Many architects had never thought about these issues this way, but I've found that once they understand the role that we play in enabling executions and solitary confinement, they want it to end. There's a lot of awareness to raise here—one AIA leader even asked me if architects actually "design death."
In terms of architects who are doing prison work, AIA has a unit called the Academy of Architecture for Justice (AAJ), where architects who design prisons, courthouses, and police stations network. We had a conversation on ADPSR's proposal at the AAJ conference earlier this year, and a lot of members were supportive. Some had concerns—like how to define prolonged solitary confinement—and a few wanted to ignore the initiative. The proposed ethics change at the AIA would put these architects in the position of helping their clients to design maximum-security facilities that maintain safety while also respecting the human rights and basic dignity of prisoners—and it would protect them from competitors who are willing to meet lower standards.
MCP: To play the devil's advocate here, isn't this a naive initiative? As bad as prisons are, society requires some level of incarceration. How do you square that reality with your organization's goals?
RS: ADPSR has also campaigned to have architects boycott the design of prisons and demand funding of alternatives to incarceration. But just to be clear, we're only asking the AIA to ban the design of specific types of prison facilities that are recognized as international human rights violations. We don't expect AIA to agree with our broader critique of the prison system, but we think that we can agree on human rights, especially given the AIA's current ethics standard in support of human rights. No matter what level of incarceration society may require—and I can't think of anyone who would defend the current level in the U.S., where we make up 5% of the global population but hold 25% of the world's prisoners—no level of incarceration should involve the violation of people's human rights.
If there's any naiveté here, I'd say you would find it among people who remain unaware of the incredibly destructive impact of solitary confinement and the gross inequities and injustices of the U.S. death penalty system. While only about 4% of U.S. prisoners are in solitary—is a shockingly large number, about 80,000 people, more than many countries have in their entire prison system—about 50% of prison suicides happen there. We can't keep designing places that do that to people.
---
Raphael Sperry is an architect and President of Architects / Designers / Planners for Social Responsibility, a 32-year-old non-profit organization dedicated to peace, environmental protection, social justice, and the development of healthy communities.