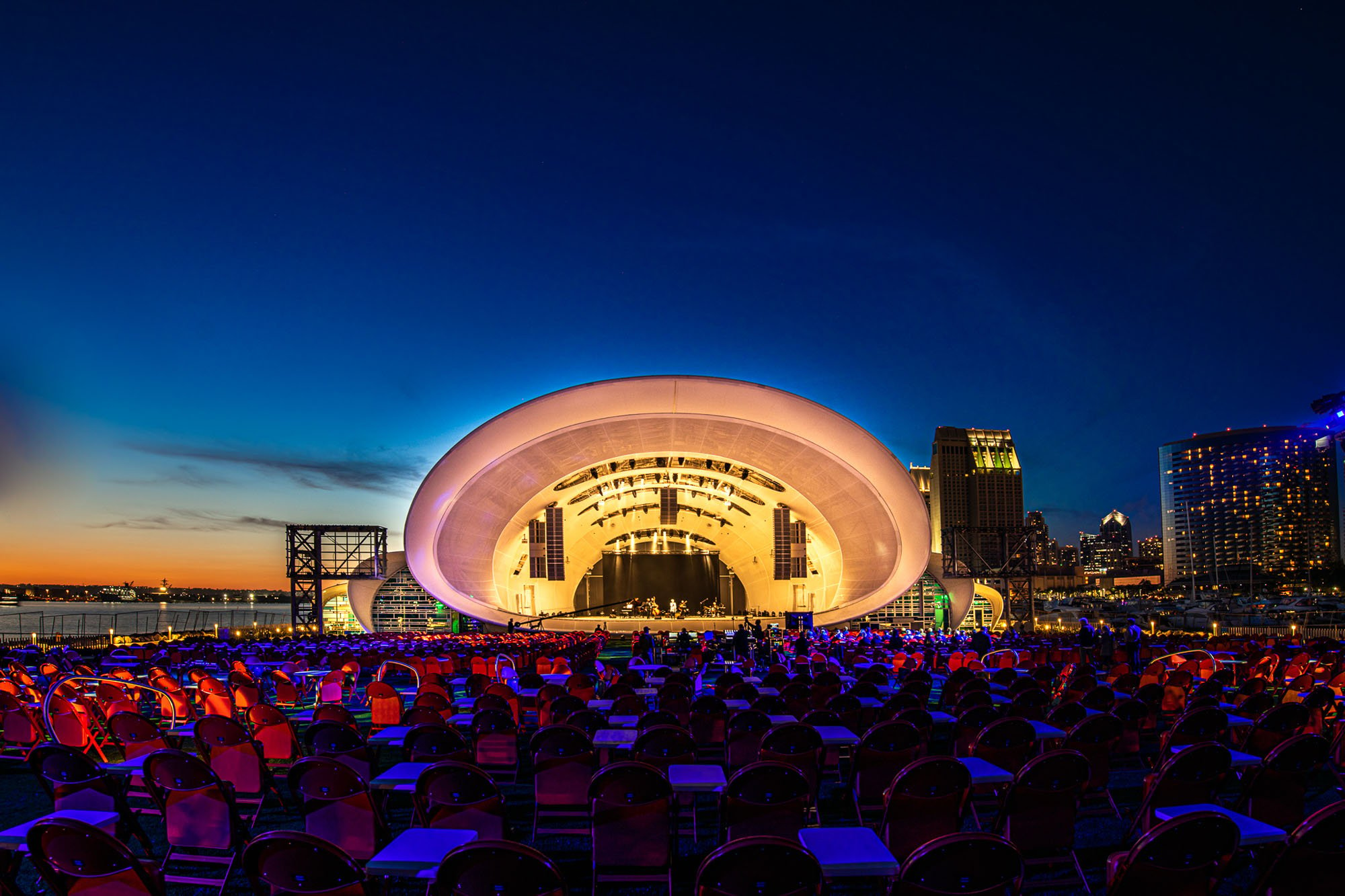 August 2, 2022
The Rady Shell at Jacobs Park Enlivens the San Diego Waterfront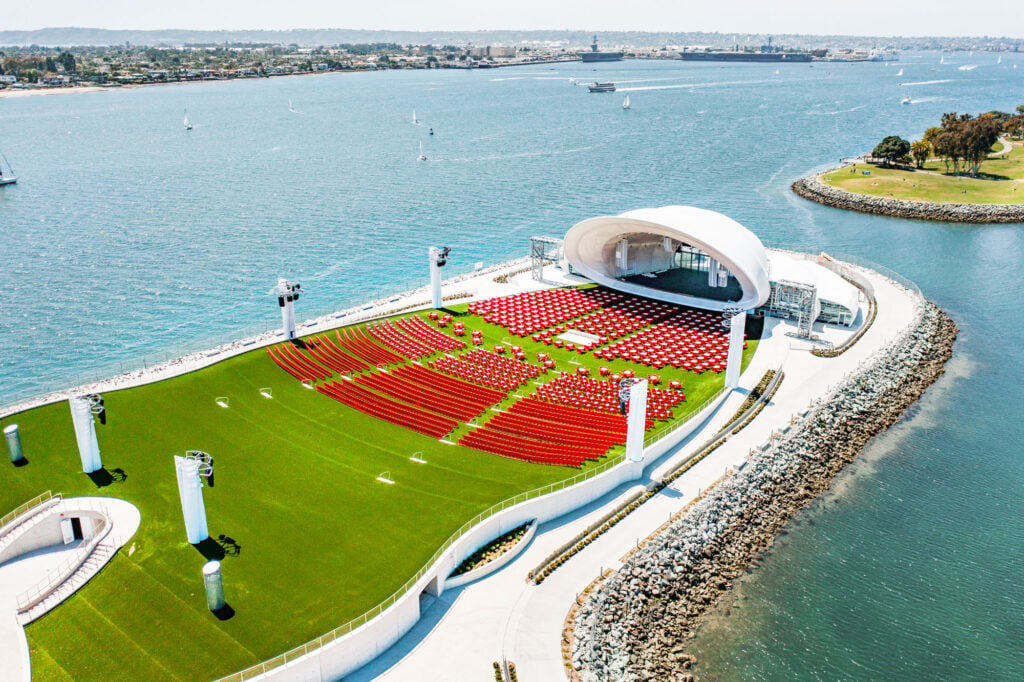 "It's married to that site, so it feels like it's always been there," Mueller adds of the venue that's situated within the 3.7-acre Jacobs Park. The San Diego Symphony leases the land from the Port of San Diego, which retains oversight of larger Marina Park South on the Embarcadero adjacent to downtown San Diego. Nearby Coronado Island is reachable across the bay. In this transit-rich area adjacent to street cars and a ferry terminal, dedicated parking is minimal.
The white PTFE wrapping of the Rady Shell echoes the material used in places that supports significant infrastructure in the city, such as the adjacent Sails Pavilion at the San Diego Convention Center, and the airport. It also lends an ethereal feel to what's a formidable work of architecture and engineering. "It's a material that does well in the San Diego environment given the amount of salt in the air," Mueller explains, noting its approximate 30-year lifespan.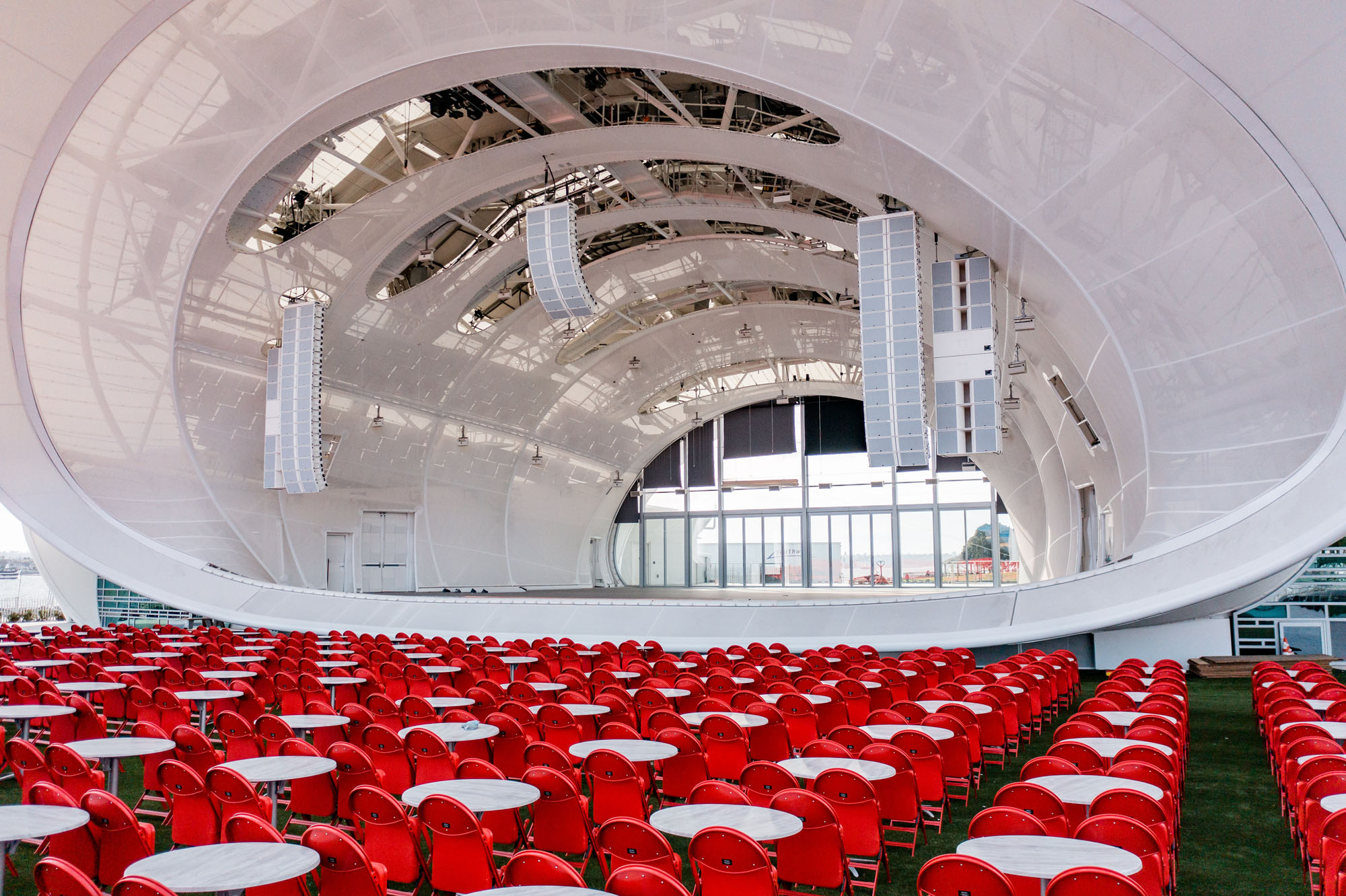 All tech at Rady Shell is turnkey, Mueller notes, so that any performer can adapt their programming to the existing lighting equipment and sound boards, but it's designed to be flexible to suit a range of artists' preferences too. "We've made it user friendly," Mueller says. "We took into account all the different genres of music to accommodate them as needed."
---
More from Metropolis
---
The project scope included site improvements to the adjacent park with renovated sport courts and restrooms, and public promenade enhancements that welcome engagement. The Shell Provisions concession pavilions feature food and drink programs from local talent including Urban Kitchen Group and chef Richard Blais. "We try to give a little bit of flavor of San Diego beyond the music portion, so that it's a full experience," Mueller says. The translucent lighting system from Kingspan Light + Air allowed the designers to incorporate images of trees that had been removed from the site into the dining pavilions and the box office structures. Given the literal exposure of the location, non-ticket holders can access live performances and still enjoy excellent acoustics. (That said, a monitor on Coronado Island ensures decibel levels stay below a certain range.)
The exterior walls and planters that enclose the ticketed zones also maximize acoustic quality and offer a symbolic gesture. From the stage and the rear of the terraced, sloping audience area, the gentle configuration of the enclosure walls "looks like an embrace, like someone's arms are outstretched" Mueller observes. Not squaring off the corners at the back avoids dead zones and "keeps the audience in the best sound they can be in." It's one of the many ways the Rady Shell at Jacobs Park is a discrete yet remarkably open urban experiential venue.
Would you like to comment on this article? Send your thoughts to: [email protected]