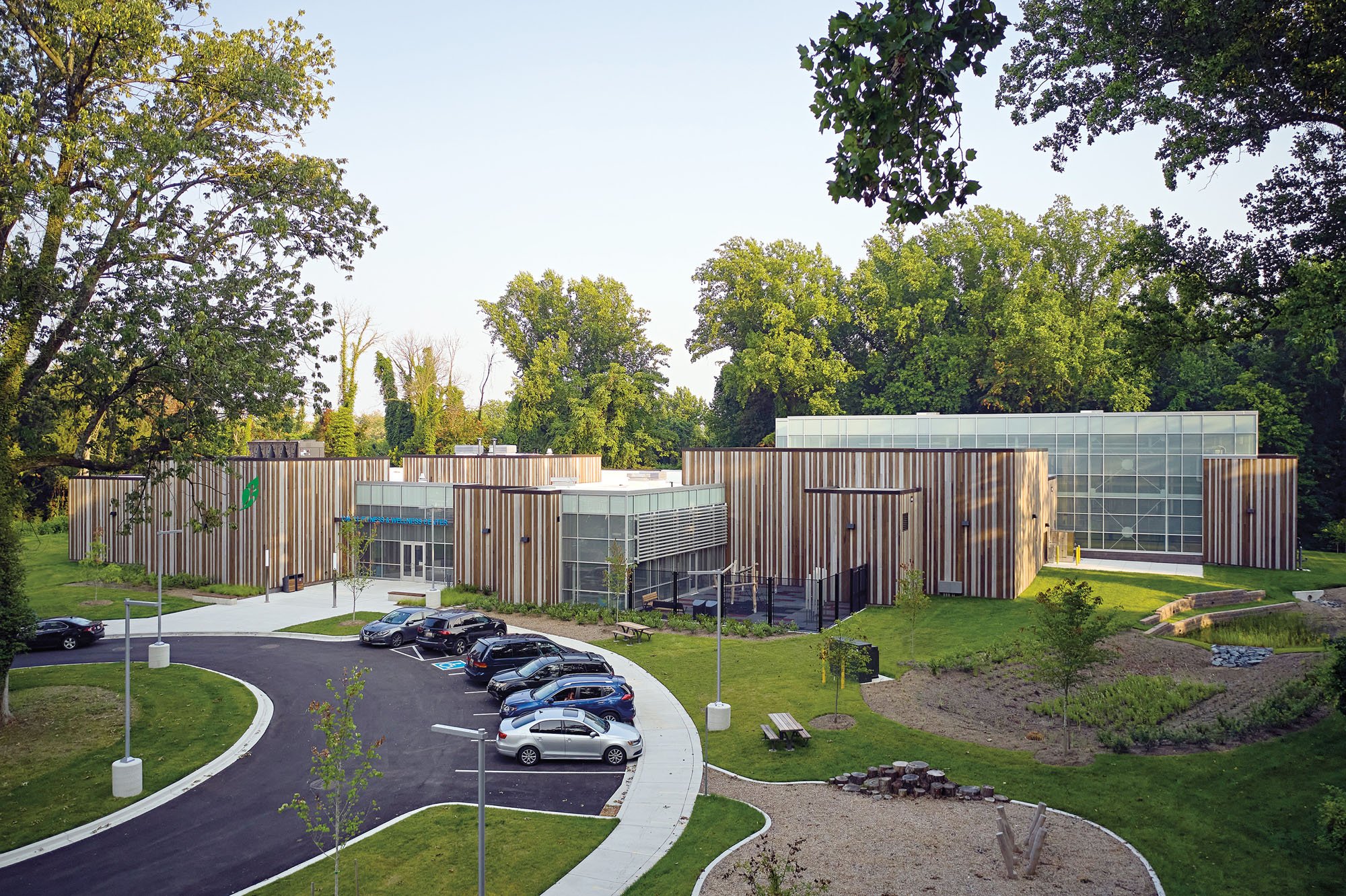 October 10, 2022
The Rec Center Reimagined: How Cities are Designing for Wellness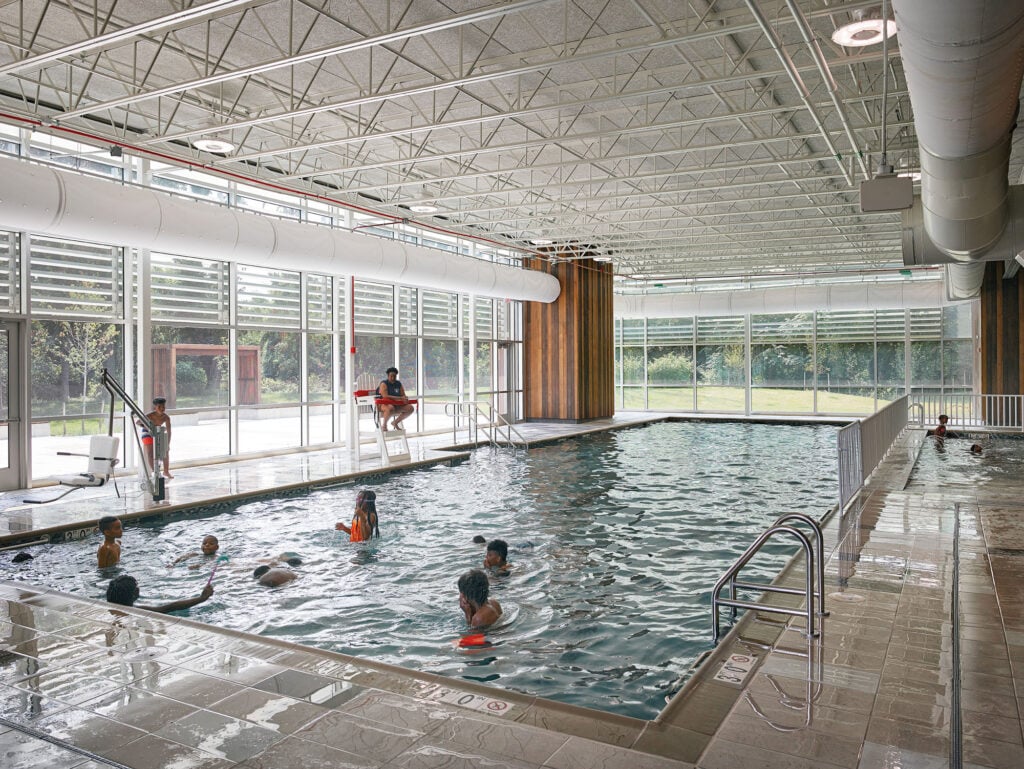 But some public facilities are smartly incorporating attributes of the wellness world. By paying close attention to the desires of their neighborhoods and leveraging municipal funding, Baltimore's Cahill Fitness and Wellness Center and El Paso's Eastside Regional Recreation Center—both begun before the pandemic made public health a primary concern—deliver something equally tied to the health benefits of fitness: a sense of community belonging.
The Cahill Fitness and Wellness Center, designed by local firm GWWO Architects, comprises 30,000 square feet of performance spaces, fitness areas, dance studios, classrooms, picnic areas, and support spaces, along with pools, splash areas, and basketball courts. It's one of six fitness centers GWWO has designed in Baltimore—Cahill is the third, another is under construction, and two more are starting soon—as part of a program led by city Recreation and Parks director Reginald Moore to improve public health and wellness by upgrading outdated facilities.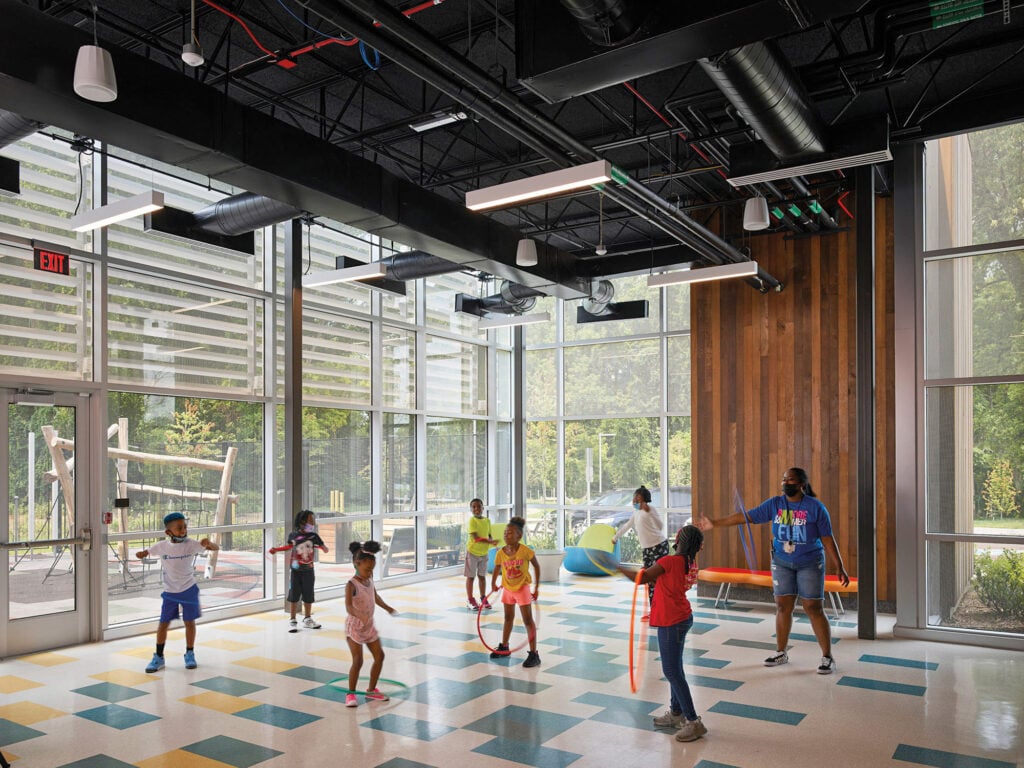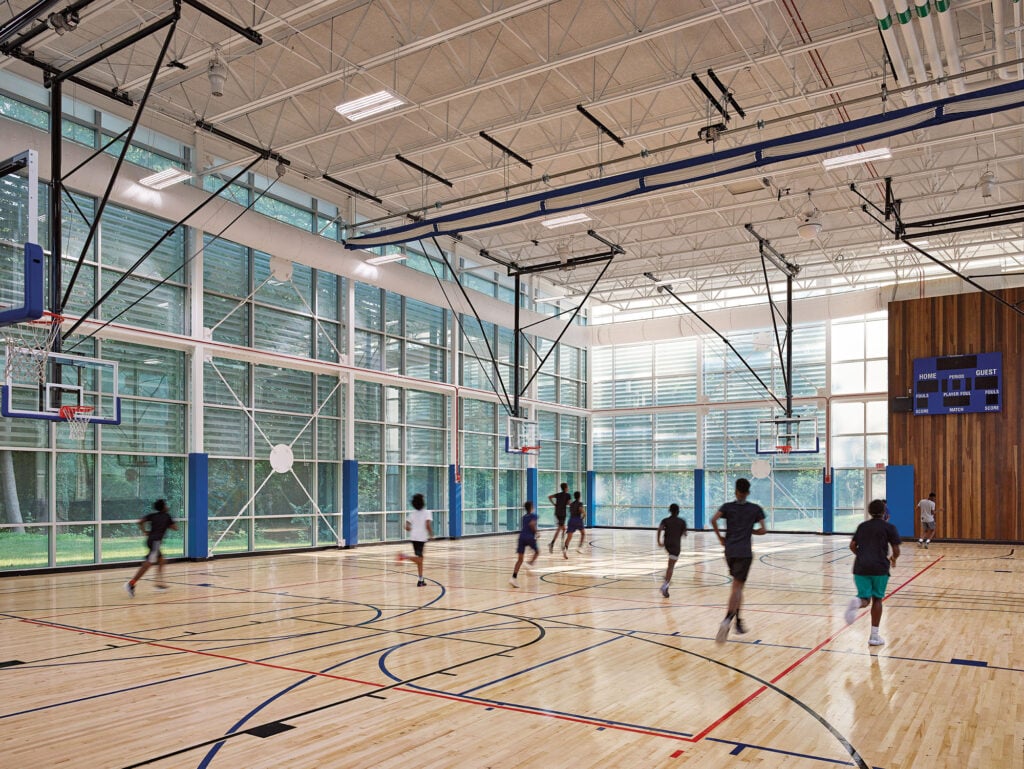 "We begin each of these projects by engaging the community," says Alan Reed, president and principal of GWWO Architects. "It generally starts as a prototypical program, but then each community has different needs. For example, Cahill's successful youth theater program had been operating out of an old school gym. One of the things that came out of that process was the desire to create a state-of-the-art theater for them to continue that program."
---
More from Metropolis
---
The nearly $18 million center is surrounded by the lush forest of the city's Gwynns Falls/Leakin Park, which is visible in every direction through its glass-and-reclaimed-wood facade. GWWO organized the service and private areas within clusters of wood-lined volumes and placed the exercise areas, pool, and public spaces within glass-walled volumes that feel immersed in the woods. "It's located in this huge urban woodland, so conceptually we were drawn to that as we engaged with the community and talked about the impact of nature on wellness," Reed says.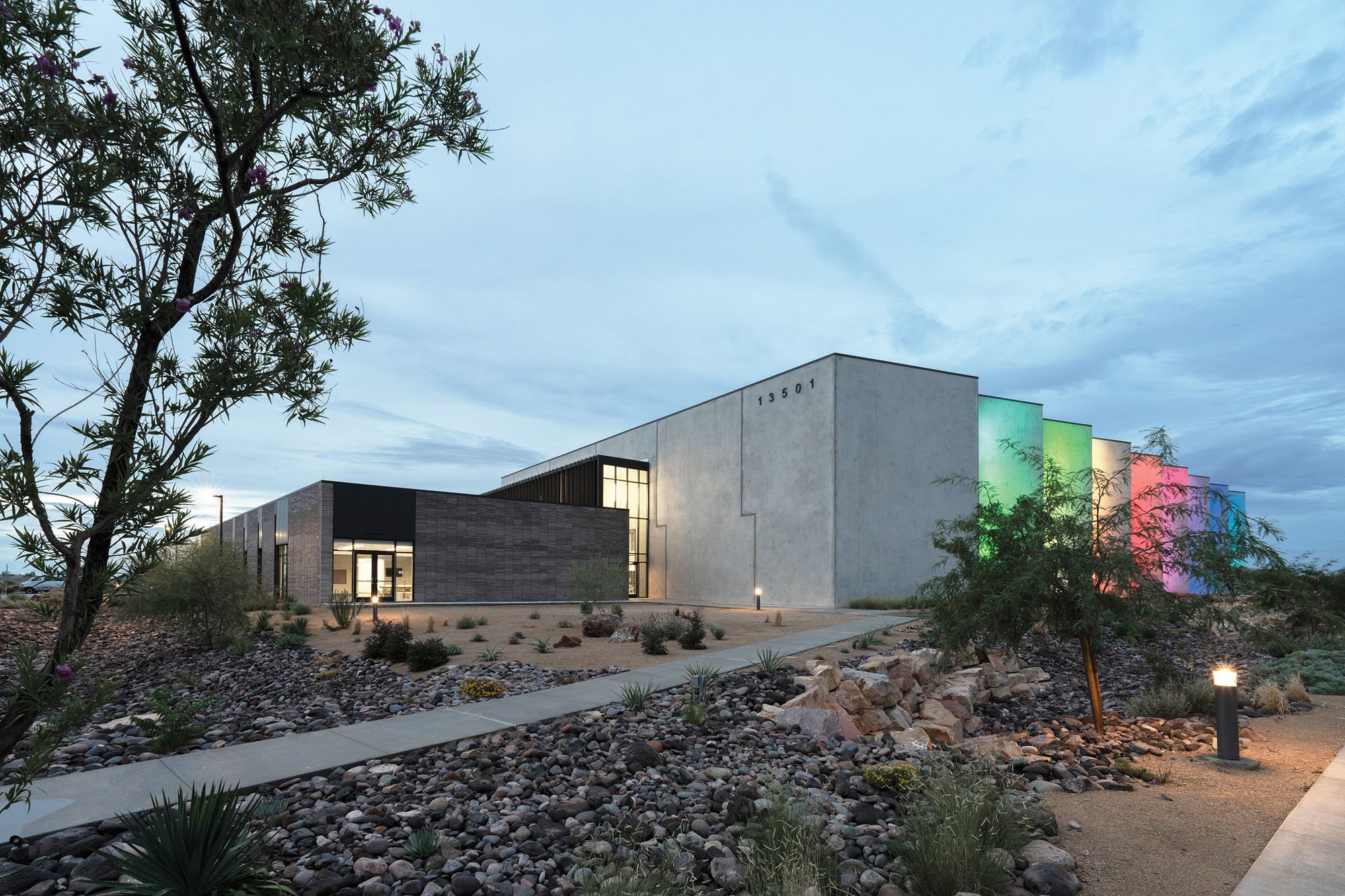 This shift toward the language of wellness shouldn't be such a surprise in a public recreational facility. Many rec centers originated in the late 19th and early 20th centuries, when social reformers advocated for public bathhouses and playgrounds as ways of improving the hygiene and development of poor children and the population in general. Hundreds of parks and recreation departments established during that time continue to operate, along with school sports facilities. But the defunding of the public sector in the past half century has tended to leave these facilities feeling outdated and a little depressing.
Financed by a public bond for social service projects throughout El Paso, the Eastside Regional Recreation Center, designed by Perkins&Will's Dallas office with local firm In*Situ, includes a senior center—a response to the multigenerational needs of the neighboring community—along with a gym, a natatorium, an outdoor water park, and a public art program. It will eventually feature illuminated ball fields, a skate park, a dog park, outdoor playgrounds, and an amphitheater.
"This area didn't have a lot of social spaces and there's not a lot of park spaces, because you're in the middle of the Chihuahuan Desert," says Ron Stelmarski, design director, Perkins&Will. "Shade or any area of respite is hard to come by."
Since the center was conceived as an oasis for play in the desert, swimming took on central importance, both in the outdoor water park—as a means to escape the heat—and an indoor natatorium, for exercise. When ball fields are built, as part of a master plan designed by Halff Associates, they will be equipped with shade structures to keep players from overheating.
In addition to heat, the harsh sun was a central concern: The indoor natatorium features a wall made of staggered concrete panels that allow sunlight to fill the room without casting a glare on the water; elsewhere perforated metal screens and wooden slats diffuse light. Outdoors, native plantings and landscaping elements retain rainwater and restore the desert habitat of what had been an abandoned golf and country club development. In El Paso's post-pandemic society, the building's extensive outdoor fabric canopy has become an in-demand space for outdoor events.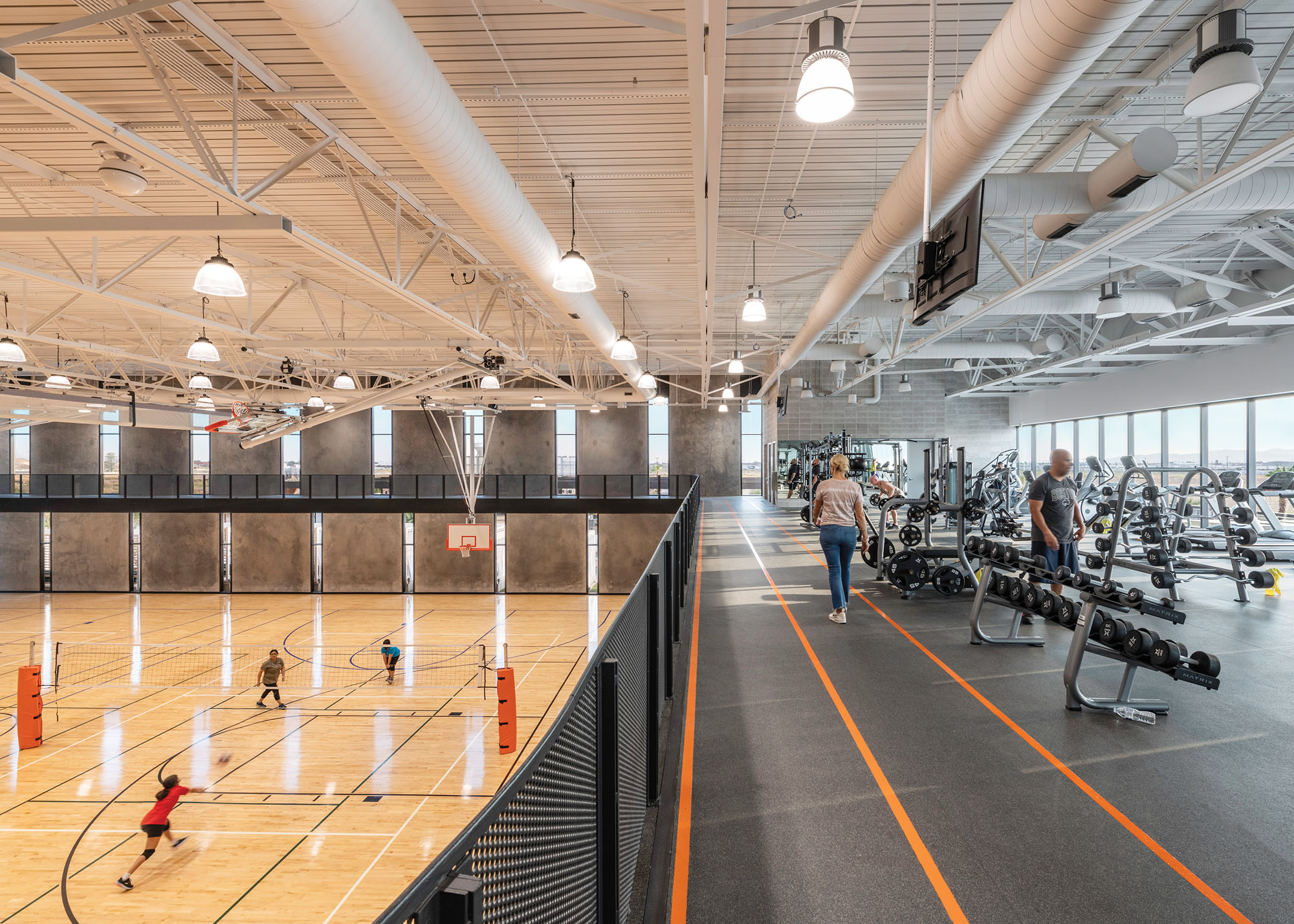 Dallas-based sculptor Brad Goldberg contributed Oasis Sombrío, a landscape of granite boulders and paloverde trees inspired by the nearby Hueco Tanks, high-altitude rock formations that collect water in the desert. The multicolored lighting installation on the concrete panels owes a debt to El Paso's public art program, which offers incentives to light up the city at night with artworks.
Both the Baltimore and El Paso rec centers are engineered to reduce energy consumption through passive methods. In Baltimore, Cahill's strategic solar orientation and a high-performing HVAC system offer substantial power savings compared with the facility it replaces. In El Paso, tilt-up concrete walls and the exterior canopy use solar shading and thermal mass to reduce heat gain.
"There was a clear history of leisure and recreation on the site, but it was not usually in the public interest and was not usually the smartest environmental response," Stelmarski says. "The water park and natatorium and gymnasium in our project are all really important pieces that serve the community."
It's a welcome renewal of a civic spirit that doesn't rely on the multibillion-dollar fitness industry to sell subscriptions only to those who can afford it.
Would you like to comment on this article? Send your thoughts to: [email protected]