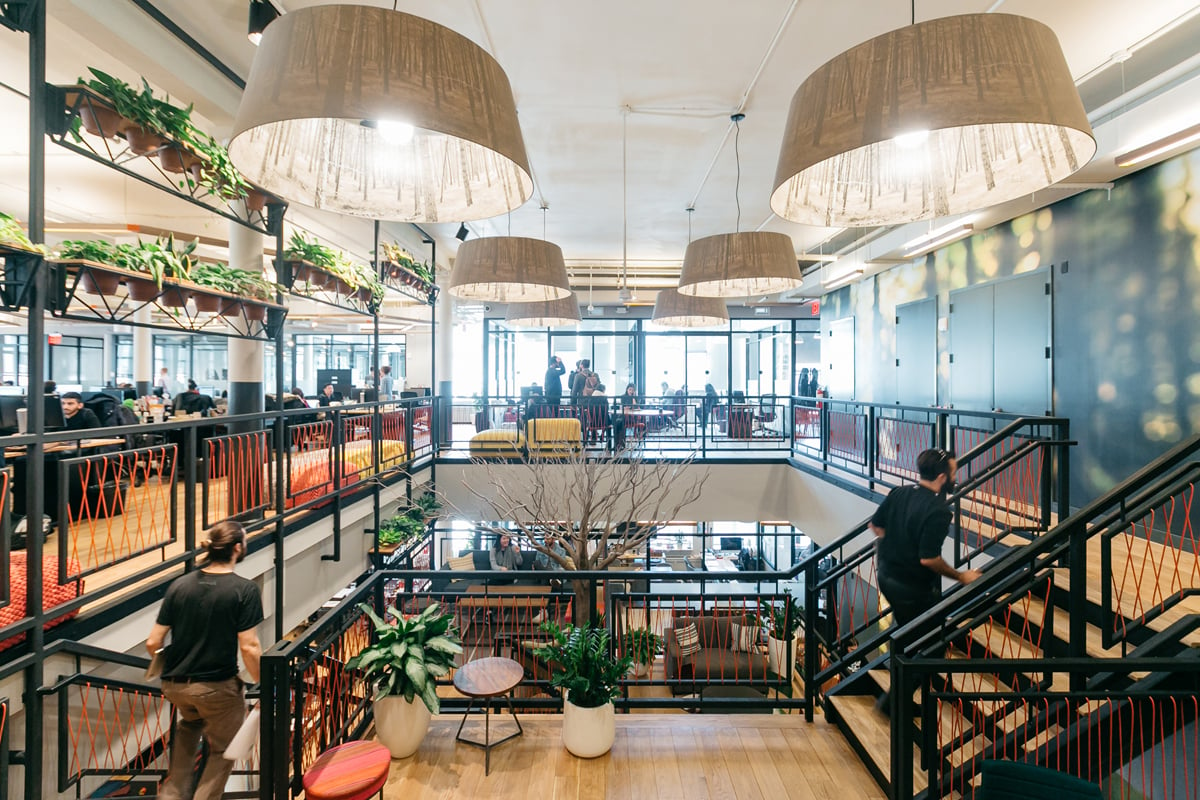 June 23, 2016
Redefining (and Redesigning) the Way WeWork Works
Drawing on feedback from its coworking locations around the world, WeWork is constantly refining the best practices for collaborative workspaces.
WeWork's designers think of the giant staircase that connects three floors of its headquarters as a series of occasional meeting spaces, but also as a kind of indoor park.
Courtesy Lauren Kallen
---
In a nondescript building in New York's Chelsea neighborhood, the global headquarters of WeWork buzzes with creative energy. In just a little over six years, the start-up at the forefront of the coworking-space rental boom has created a $16 billion operation with 50,000 members in 28 cities, with 96 locations announced for this year.
---
More from Metropolis
---
Spread across two and a half floors, the 50,000-square-foot headquarters is the home base for WeWork's almost-700-strong New York–based staff and serves as a laboratory for its designers.
"We're our own guinea pigs in a way," says Devin Vermeulen, WeWork's creative director of physical product, who designed the space with Ashley Couch, the company's global director of interior design.
Well-appointed meeting spaces and a diversity of lounge areas to kindle social interactions are the design hallmarks of shared-office memberships. In laying out the space, the designers sought to spark the so-called propinquity effect—a 1950s social psychology theory that posits that strangers who encounter one another with some frequency tend to develop friendships. Applications of this idea, popularized by Steve Jobs at Pixar, have become fairly commonplace in many contemporary workplaces; what sets Vermeulen and Couch's design apart is their willingness to experiment.
From finding the optimal office chairs to tweaking the cushioning of a couch, to bold architectural changes like blowing up a floor to install a staircase, the WeWork team has tried all sorts of new ideas in the name of enhancing social interactions.
"We shift things around and watch traffic patterns so we can learn from it," says Vermeulen, who, like WeWork's cofounder and chief creative officer, Miguel McKelvey, used to design fashion retail stores. He explains that WeWork's design teams rely on data—observational and quantitative research—to inform their design decisions. To test seating options, for example, they're developing a QR code system to allow employees to provide instant feedback on the furniture. Researchers stake out select WeWork locations to glean insights on how to improve the flow and vibe of social interactions.
The potted plants, images of trees on the giant light fixtures from Alex Allen Studio, and even a show tree help people make a connection to nature at work, which creative director Devin Vermeulen says is "proven to make people more creative, less stressed."
---
After observing that people tend to gravitate toward the edges of a bar, Vermeulen and Couch conjured up a counter with two extra corners—like deep zigzags breaking the plane—with its depth and shape obsessively considered. "You have to have the right dimensions so people can circulate properly, but we also wanted them to be forced into a smaller space because that will stage interactions," Couch explains. "We don't want it to be a nuisance, but we wanted it to be a conversation starter."
Their boldest experiment is a handsome steel staircase that connects the three floors of WeWork's headquarters. Couch explains that even the staircase—usually a functional conveyance—was configured to invite impromptu conversations. Love seats and bistro tables are tucked into the custom staircase's landing areas, and a "prop tree" and hanging plants suggest an indoor park. "It's obviously a big expense and there are a lot of headaches with a big feature piece, but something like this is already appearing in plans for our future projects because the value becomes really obvious once you experience it yourself," she says.
Beyond the din of those productive interactions they wanted to spark, WeWork's designers have also tuned in to the need for silent, solitary spaces. On the opposite end of its reception area, a heavy soundproof door leads to a Quiet Room where cell phones and chatter are completely banned. In pitch darkness, with a white noise machine humming, those seeking to clear their mind can lie in a hammock, lounge in an easy chair, or prop themselves on a prototype massage chair. "Apparently these were popular in our Washington, D.C., location, and we have implemented them in other locations," says Couch. At a WeWork location in the former Wonder Bread factory in D.C., a popular conference room is equipped with "robotic massage chairs," developed by a WeWork member, Restin.
Tucked-away arrangements of couches like this leather sectional from DR Sofa (above) offer some quiet in a living- room-like ambiance. The design team often uses custom wallpaper; the one shown above carries over the woodsy theme of the central staircase.
---
"Work has invaded home, and there's something nice about the fact that we're making home invade work," muses Vermeulen. Last year, WeWork launched WeLive, the company's initial foray into transferring its acuity for creating turnkey spaces to the apartment rental market. The move is a natural extension of its longstanding aspiration to create comfortable, homelike environments in its workspaces.
Vermeulen explains that in the early days of WeWork, it used furniture pieces originally designed for residential spaces because they were a lot cheaper than commercial contract furniture. "When you think about a conference room, it's basically a dining table and chairs," he says. "In making those connections, we could achieve the same functionality from residential furniture."
Since most of WeWork's members are start-up entrepreneurs, spending long hours in the workplace, making the spaces comfortable and uncluttered has been a priority. "You almost want it to be even more comfortable than a home, and probably in many cases it is," says Couch. As the company expands into the Asian market this year, it's researching the distinctive cultural markers of home life to inform the design of its new office spaces.
WeWork is approaching a period of ambitious growth, and defining its signature brand look is increasingly a priority. "We're having an ongoing discussion now about how we adapt the brand and how far we adapt it to local markets," explains Couch, about tweaking or codifying WeWork's growing eclecticism. "We're always starting at the local, but it should also definitely still feel like a WeWork."
Walking through the model headquarters WeWork's designers built just last year, they say they're already getting antsy, anticipating changing things.
"When we built this, it was a time capsule of where we wanted to direct the brand," says Couch, explaining that several design features tested and fine-tuned there have already been applied to WeWork's new locations. "We had this and we were good with this, now you only go six months and 40 locations with something similar," she says. "Now we're like, 'Is that what we want to be for the next six months?' The brand look is constantly evolving."
Gathering spaces at WeWork's headquarters offer a wide range of options in terms of informality and noise levels. The café tends to be fairly energetic.
The conference rooms and other facilities each have their own character—one elegant meeting space has period details.
The in-house recording studio has a contemporary flair.
Every WeWork location has some local element; the headquarters has a mural featuring a timeline of New York musicians—from rock and roll to hip-hop—along a narrow corridor.