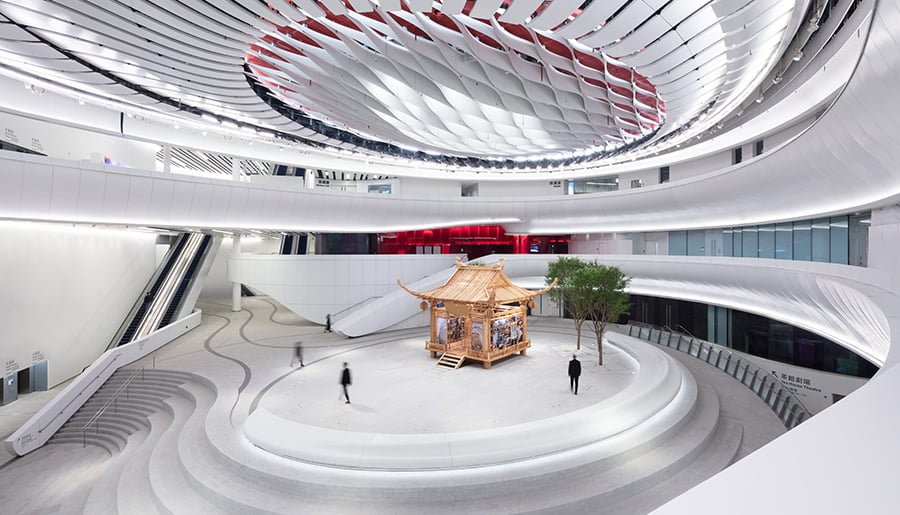 February 26, 2019
Hong Kong's New Opera House Suspends a 1,073-Seat Theater Above a Grand Public Atrium
The Xiqu Centre, which will showcase traditional Chinese opera, was among the last projects to involve revered Chinese-Canadian architect Bing Thom.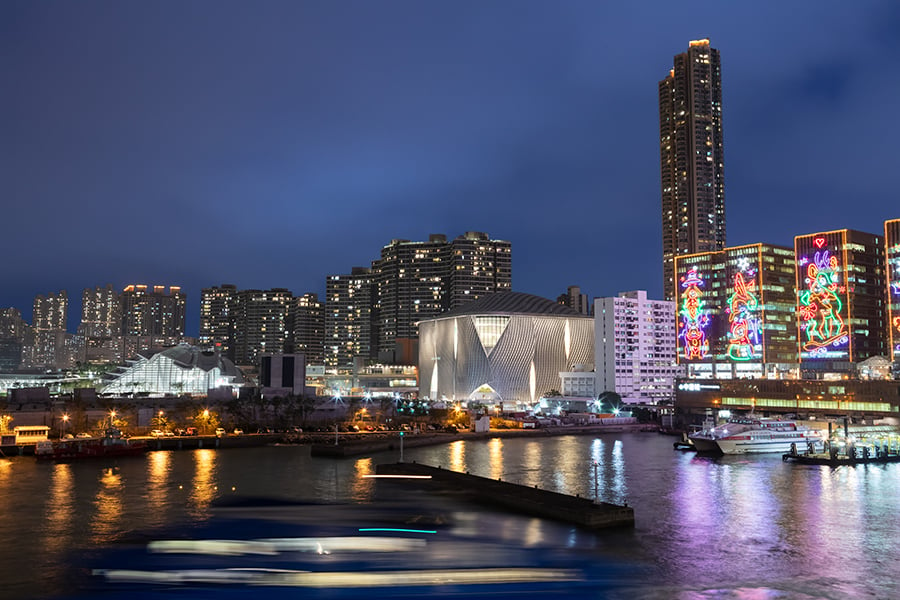 ---
When Vancouver-based Bing Thom Architects (now Revery Architecture) set out to design a groundbreaking new Hong Kong opera house, the firm knew there was nowhere to go but up.
Dedicated to traditional Chinese opera, the Xiqu Centre would be the first of 15 arts and performance venues to open in the sprawling 40-hectare West Kowloon Cultural District—a new multi-billion-dollar hub intended to draw both tourists and locals with theaters, music venues, a museum, restaurants, shops, and more.
Only problem was that the site was relatively small; setting the 1,073-seat Grand Theatre at grade would block the flow of people into the district. Instead, architects Venelin Kokalov and Bing Thom opted to suspend the main theater 90 feet in the air and create a free, open-air public atrium and performance space underneath.
---
More from Metropolis
---
"We saw that the only solution was to float the theater above the ground, and we created this column-free space below. In the beginning, that wasn't part of the program," says Kokalov, principal at Revery Architecture. "It's like an additional theater, so we joke that it was buy one get one free."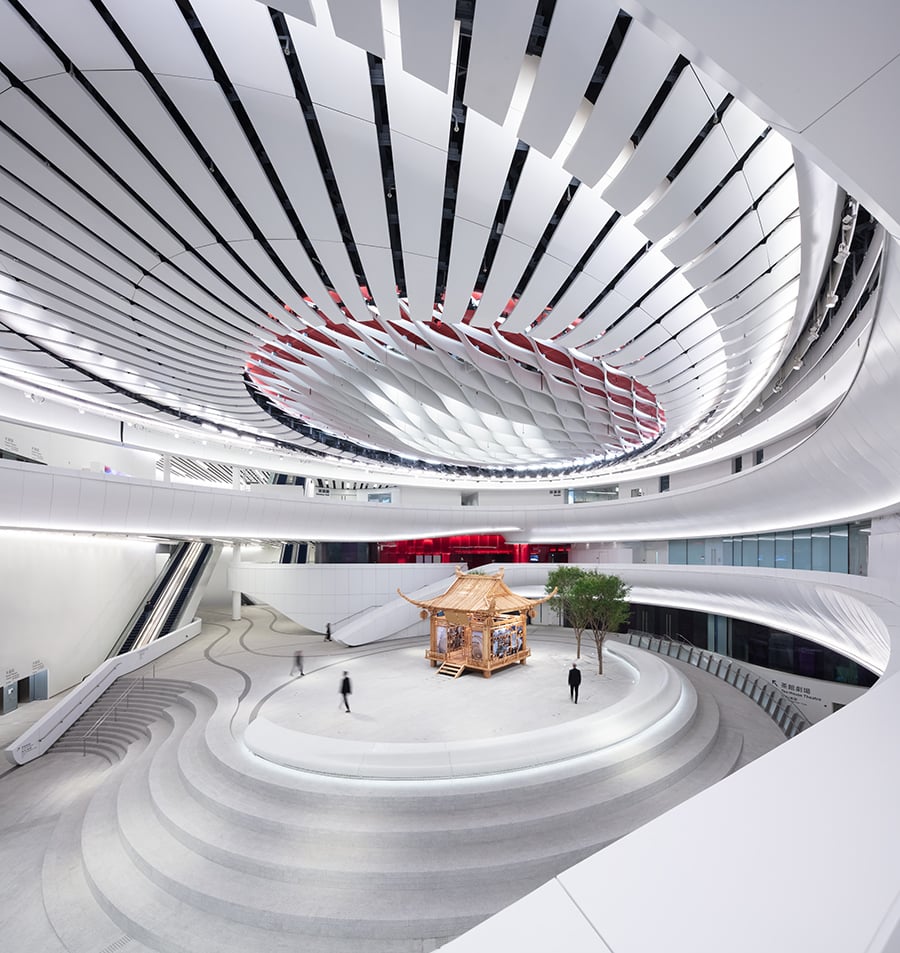 ---
The raising of the theater, which is supported by just six columns, also solved another significant dilemma: the transfer of noise from the trains that run regularly under the site. But even more, Kokalov and Thom hoped the open space would draw people in and encourage them to discover traditional Chinese opera—an art form that has evolved over more than 1,000 years.
With curvilinear walls throughout, both the interior and exterior design rely on the idea of qi, or flow. The exterior features openings in all four corners that allow people in from all directions, while the facade—comprising a vast array of interchangeable aluminum fin modules—echoes stage curtains opening to the sides, as well as the folds of the performers' elaborate costumes.
In the upper theater lobbies, everything is white, providing serene respite from the urban bustle ("We wanted the people to be the color in the space," says Kokalov), while two outdoor sky gardens offer striking views to Victoria Harbour and beyond. In stark contrast, the Grand Theatre's interior is almost entirely dark, ensuring the audience's focus rests on the performers.
Because Xiqu opera relies on detailed makeup, elaborate costumes, and dramatic facial gestures, perfect sight lines were also essential—no small feat in a theater of its size, especially one where tradition demands a shallow rake and no balconies.
---
"We used curvilinear walls to bring people closer, and we created pods that are floating in space, so the relationship between the audience and the actors is better," explains Kokalov. "We also twisted some of the seats to create a more interesting layout, and to create more intimacy."
A team of acoustical engineers from Sound Space Vision took advantage of the rounded interior and added gaps and insulation to absorb or redistribute the sound, making the venue suitable for both amplified and unamplified performances. Additionally, movable lifts allow the orchestra pit to accommodate everything from small Xiqu orchestras to large Western ensembles. Because Chinese opera involves distinct instrumentation and singing styles, the acousticians couldn't rely on established Western opera norms, and instead tailored their approach specifically to Xiqu.
The Xiqu Centre also features a 200-seat Tea House Theatre for smaller performances, as well as eight professional studios, an education-focused seminar hall, a gift shop and other spaces.
The building is among the last that involved revered Chinese-Canadian architect Bing Thom (1940-2016), who had a lifelong love of music—he also played clarinet—and oversaw the design of multiple concert venues, among them Vancouver's Chan Centre for the Performing Arts, which is beloved by musicians and audiophiles for its impeccable acoustics, and the Arthur Erickson–designed Roy Thomson Hall in Toronto. (Thom was project manager under Erickson for the latter building.)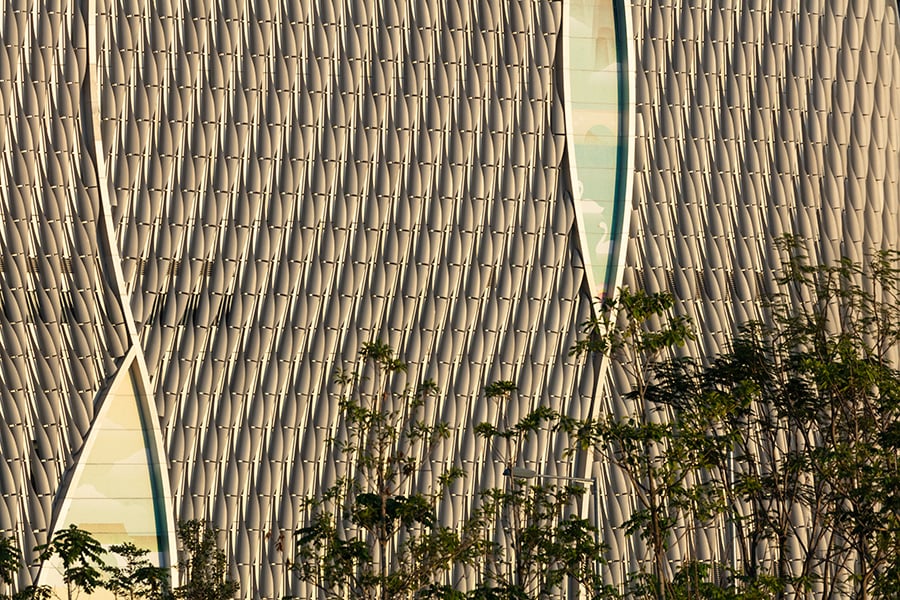 ---
Kokalov says that Thom, who died suddenly of a brain aneurysm, had a strong commitment to all of his projects, but had a particular passion for cultural venues—especially the Xiqu Centre.
"This was a project he dedicated his life to. It was his love. He would call me on the weekends, and during the week we would work in the daytime, then in the evenings we would meet with consultants in Hong Kong," says Kokalov, who adds that Thom was not only a generous mentor, but treated him like a son.
"And every time we were in Hong Kong, he made us go every night to listen to traditional Chinese opera," says Kokalov with a laugh. "It was fun, and I would learn something every time."
The center had its official opening January 20 and has garnered attention from around the world; the building will also be featured on a new HK$100 banknote. But for Kokalov, the look isn't what matters most.
"We didn't want to create a sculptural building. We wanted to create an experiential building. We want to bring you in and have you walk around, explore, study, and see theater," says Kokalov. "And we didn't use precedents. We are kind of reinventing the opera house."
[EDITOR'S NOTE 2/28/2019: This article was updated to include the name of the acoustical engineers, Sound Space Vision, as well as a credit to SWA Group.]
You may also enjoy "GAME CHANGERS: In the Heart of Mississippi, Duvall Decker Built a Grassroots Network to Grow Its Practice."
Would you like to comment on this article? Send your thoughts to: [email protected]