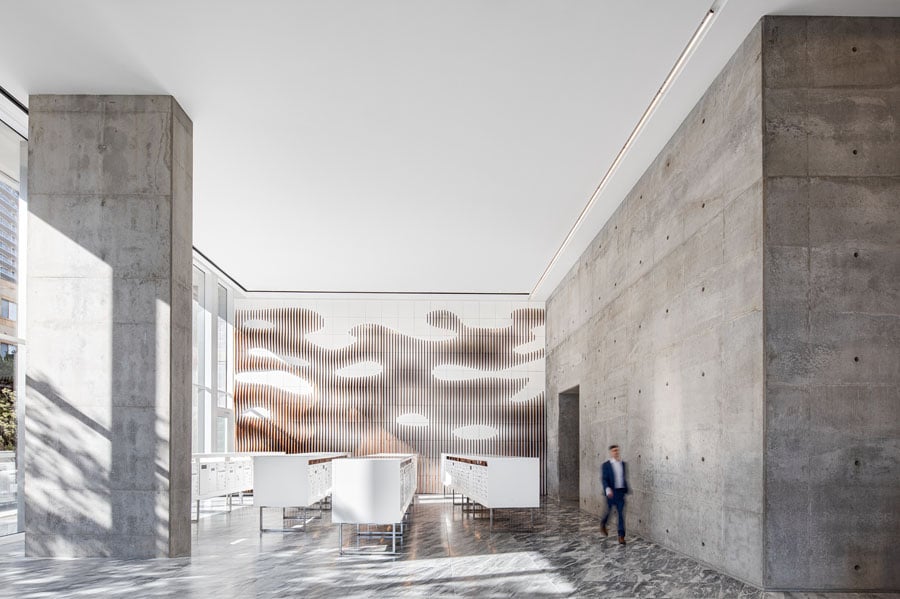 June 10, 2021
Austin's Tallest Residential Tower Is on Track for LEED Gold
Designed by Rhode Partners, the Independent, a 58-story residential tower, has surpassed downtown's Austonian residence in height.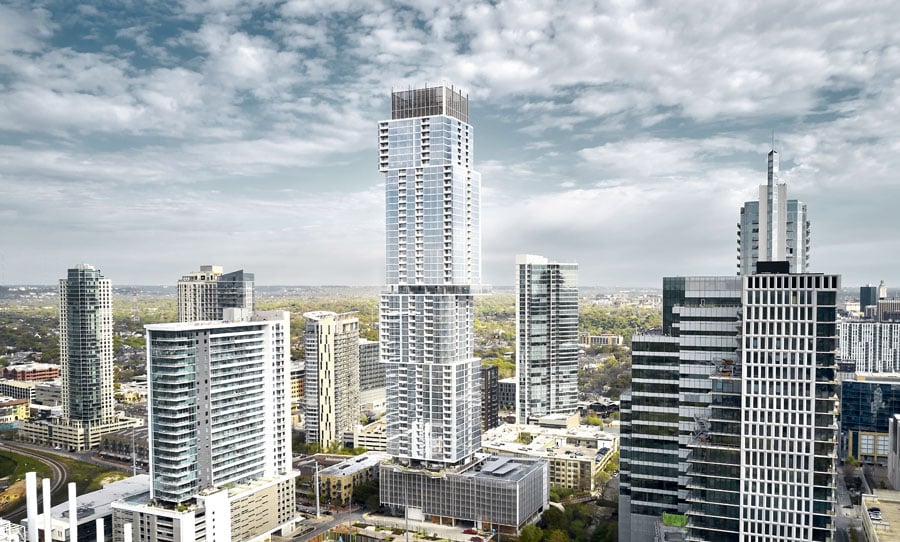 ---
Austin locals call it "The Jenga Building" but the Independent is the official name of Austin's tallest skyscraper. Designed by Rhode Partners, the building has four distinct cantilevered blocks that lend its unique shape. The 58-story, 688-foot tower, was completed in 2019 and narrowly surpassed the Austonian, a 56-story residential tower built in 2010, to become not only an impressive residence but one that has left a distinct impact on the ever-changing skyline.
The architects first got involved in February 2014. "We started with a blank piece of paper," says Brett Rhode, director and founding partner of Rhode Partners. While the site, located at Third Street and West Avenue, was large enough for two towers, underground utility lines, pedestrian traffic, and the impending edge of Shoal Creek contributed to a much more compact building zone. "With a single tower, that meant that we needed to go higher," he says in order to achieve the brief's 370 unit requirement. "While we didn't start out to do such a tall building, it evolved into that in the early design phase." Another consideration was the Capitol View Corridors law, a series of restrictions that state that new construction can't block views of the Texas State Capitol.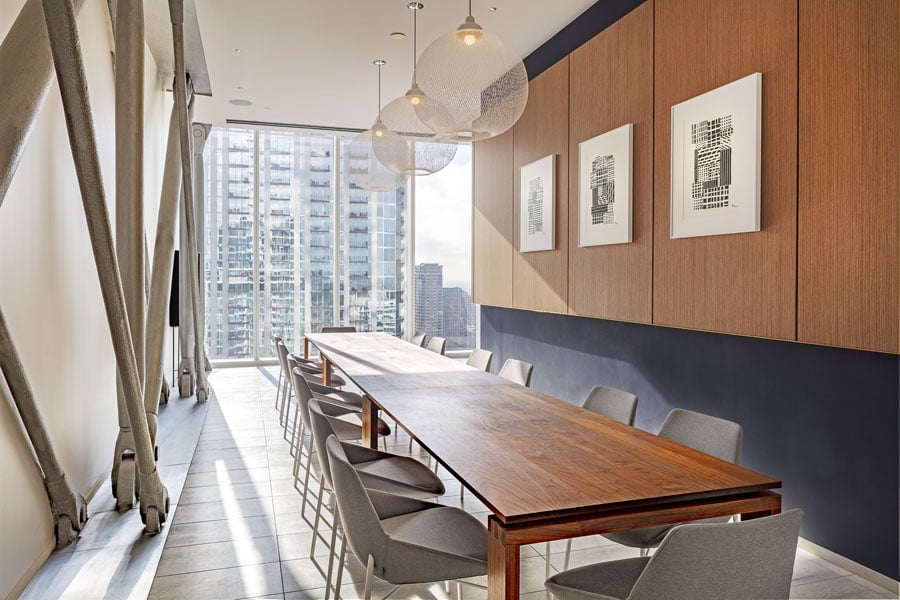 ---
With a smaller footprint, the challenge was creating desirable views from all units. With one-, two-, and three-bedroom plans, plus a 3,065-square-foot four-bedroom, and a terrace penthouse, stacking units was out of the question. "The problem is that you wind up with three-bedroom apartments on the lower levels which aren't as attractive to buyers," Rhode says. The solution? Creating four cantilevered sections around a central circulation core with each floor plan oriented in different directions for varying views.
---
More from Metropolis
---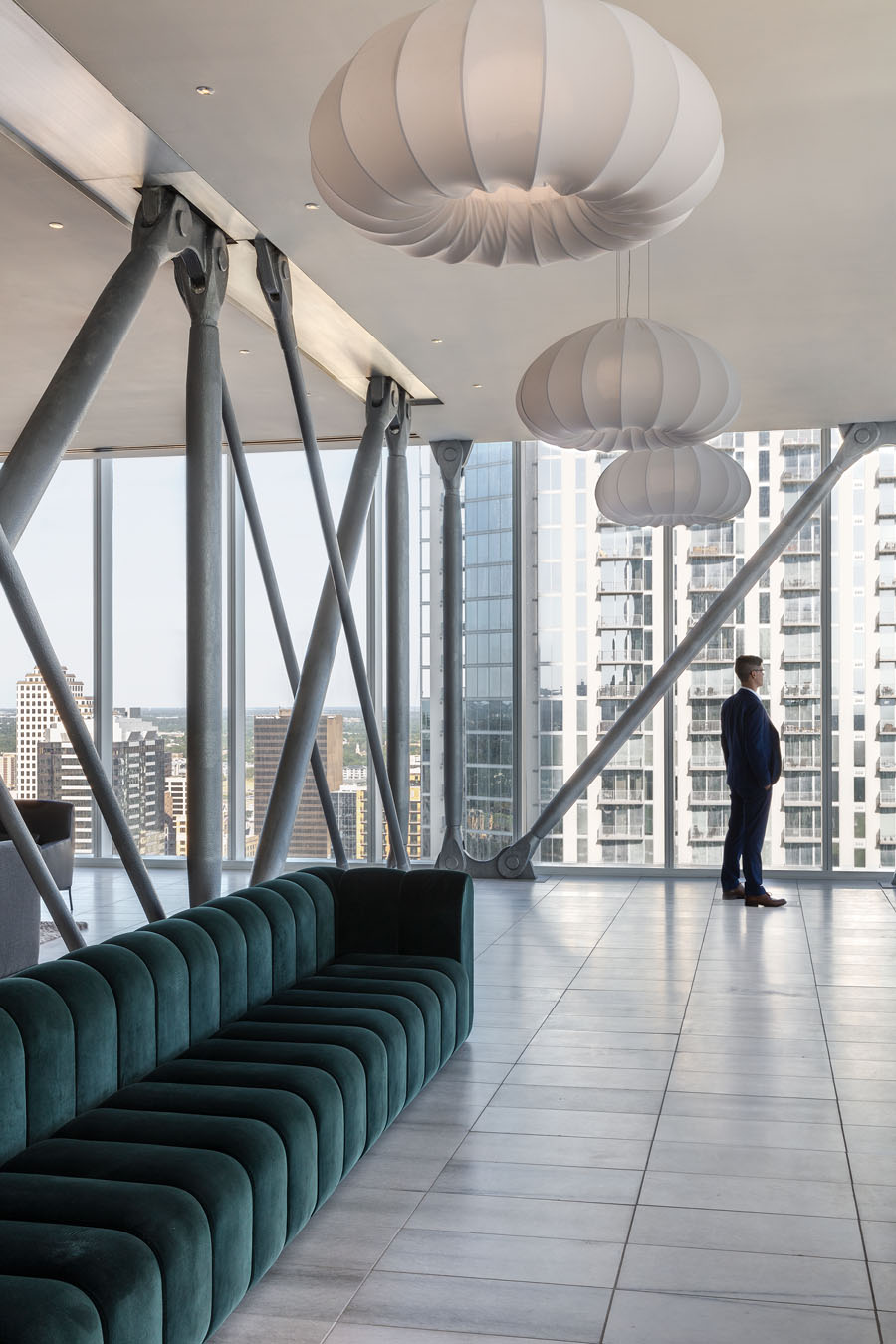 ---
The building also boasts a number of amenities including a 30-foot cantilevered amenity deck on the 34th floor that features a private dining room, catering kitchen, 25-seat movie theater, conference room, fitness center, and viewing deck that overlooks Lady Bird Lake. Residents can find a dog lounge and infinity-edge pool on the eighth floor.
Making use of a 75-kilowatt solar power system for on-site renewable energy, a 50,000-gallon damper tank (which stabilizes the building and acts as an additional water source in case of fire), plus a rainwater collection system, the building anticipates LEED Gold certification.