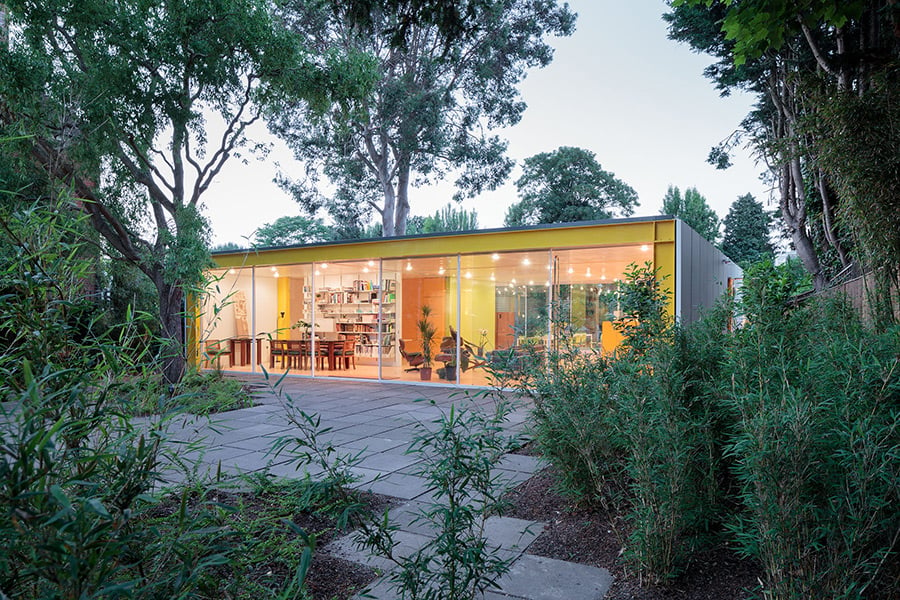 November 28, 2017
Richard Rogers' Wimbledon House Gets a New Lease on Life
22 Parkside, the experimental London home architect Richard Rogers designed for his parents in the late 1960s, has been converted to a research and event space.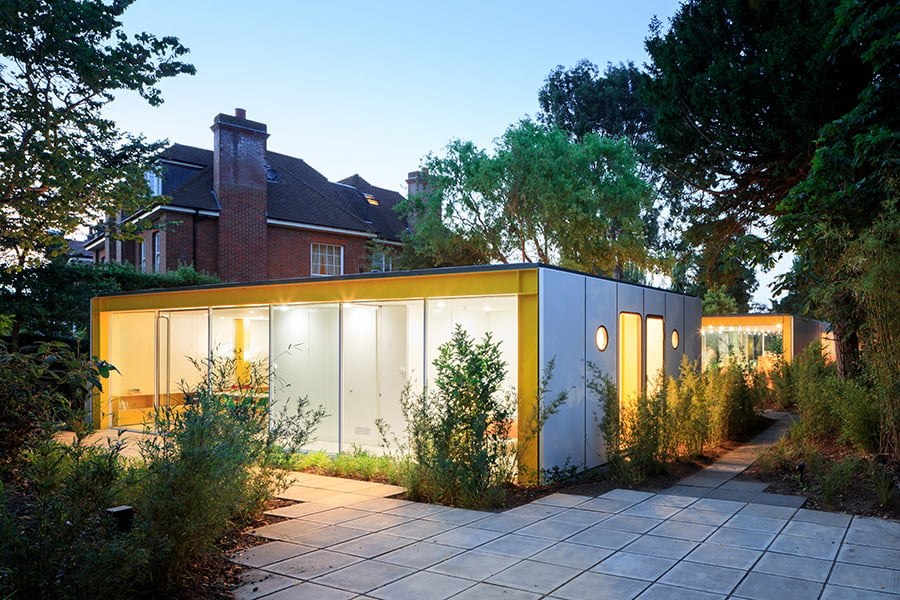 The family commission is a textbook stepping-stone in an architect's early career: Robert Venturi's house for his mother (1964) is perhaps the most famous example, yet everyone from Le Corbusier (Villa Le Lac, 1924) to Richard Meier (Jerome and Carolyn Meier House, 1965) has done the same. Provided your folks have the means, it offers the opportunity to give expression to a manifesto, or to experiment at a one-to-one scale, with the safety net of an indulgent client. Youthful exuberance is given license under the aegis of supportive kin.
Such was the case with the Wimbledon House in South London, formerly known as 22 Parkside or, more commonly, the Rogers House. Designed by Richard and Su Rogers for Richard's parents during the momentous year of 1968, the house is emblematic of the currents in material innovation and production then sweeping architecture. This year, a while after the Rogerses' son Ab relinquished the home, it was converted into a research center for the Harvard University Graduate School of Design (GSD).
Revisiting the house illustrates just how remarkably consistent Rogers has been over half a century. His practice has morphed from a gang of four (as in Team 4, formed with ex-wife Su, a young Norman Foster, and his ex-wife Wendy Cheeseman) through the Richard Rogers Partnership to its current incarnation, exactly ten years old, as the 200-plus-strong, explicitly egalitarian office of Rogers Stirk Harbour + Partners (RSHP). The very same canary yellow of that first experiment down in Wimbledon—unusually vivid for London, then as now—can be seen in the highly visible steelwork of RSHP's Leadenhall Building (2014).
---
More from Metropolis
---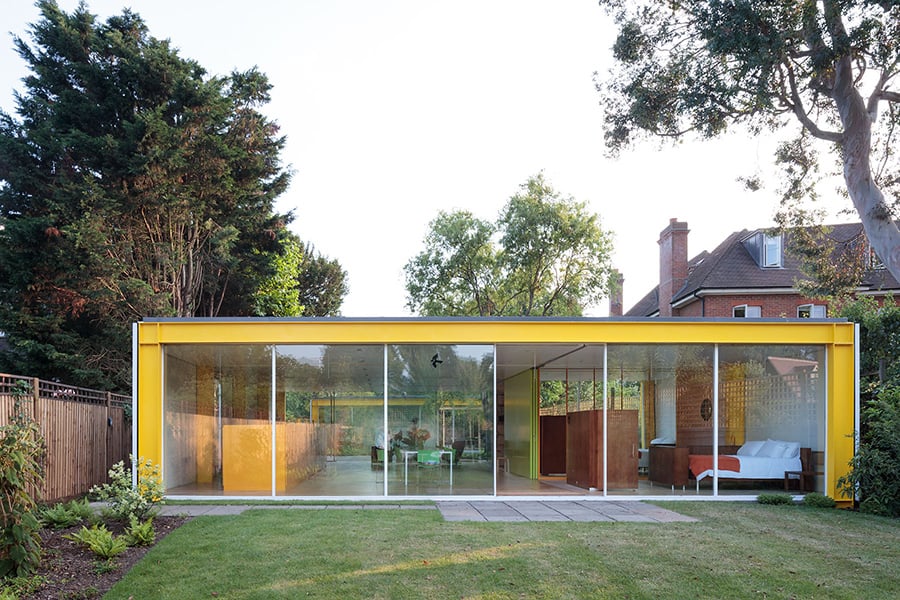 The house is also a testament to a certain economy required by the family Rogers. Together with engineer John Young, Rogers hit upon an enduring strategy of paying careful attention to new technologies and materials developed for other industries, such as neoprene and lightweight insulated refrigeration panels. This focus on economy shaped many of Rogers's early experimental designs; the contemporaneous Zip-Up House (1969), for example, demonstrates efficiency in construction and insulation, a self-supporting aluminum building that would have required minimal heating.
With a floor-to-ceiling glass facade and mirrored internal walls, the Rogers House is defined by a conscious sense of its own transparency—a characteristic that, read in the leafy, affluent backdrop of Wimbledon, was and still is unusual. At the center of a large garden, shielded from the street and adjacent properties by an envelope of green, it is defined by a bright, colorful, and highly flexible living space. Designed in additive segments, the house could be easily and cheaply extended and was detailed to describe a flexible way of life: The sole item of furniture in the kitchen is a large raised counter, which Rogers's ceramicist mother, Dada, used both to display her art and to feed the family. Given these innovations, the small structure is widely cited as a precursor to the radicalism of the Centre Pompidou, which Rogers designed and built with Renzo Piano over the course of the 1970s.
A very good reason, then, for this house to stand today as a beacon for creative research. After a disconcerting few weeks in 2013 when the Wimbledon House appeared, in crystalline incongruity, on some rather horribly designed real estate websites, Lord and Lady Rogers—or Richard and Ruthie, with more characteristic informality—gifted it in 2015 to the GSD, which in turn launched the Richard Rogers Fellowship. Following a two-year-long renovation (undertaken by Gumuchdjian Architects and landscape architect Todd Longstaffe-Gowan), the house hosted its first cohort earlier this year.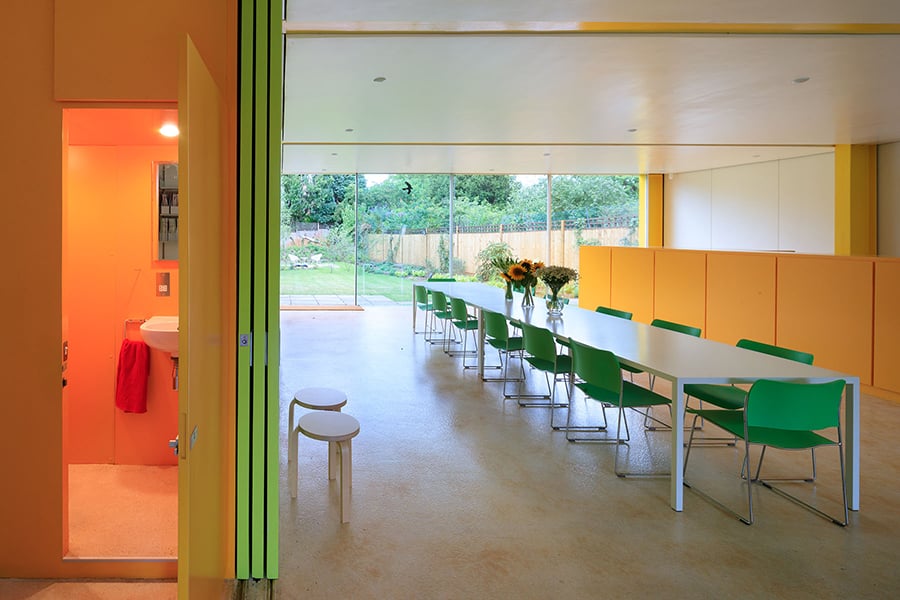 The fellowship supports interdisciplinary, international research and offers six fellows each year the unique opportunity to conduct their research and lives from the environs of this iconic residence. Selected two at a time, the fellows can spend up to three months on the property. In case this seems like an overtly luxurious opportunity for such a small band of scholars, it's worth noting that fellows don't actually reside in the house proper; a two-bedroom lodge repurposed from a former annex forms the actual living quarters.
The main house remains intact, with its late-1960s Technicolor decor preserved. Given that "the fellowship is an important part of the school's ambition," says Ken Stewart, assistant dean and director of communications and public programs at the GSD, the residence will serve not just as a research center but "as a new venue where we can be convening symposia and other research programs." London is already rich with institutions offering similar programs, but Harvard sees this as doubly beneficial: Here, its fellows may be exposed to a wide variety of cultural offerings, while the school gains a conduit to stake a claim in a city that provides fertile ground for the wider remit of design.
Fellows are not restricted in topic, other than that their research must have some bearing on the built environment. Interestingly their subjects have ranged from convivial dining to anarchic poetry and social reform. Researcher Dirk van den Heuvel delved into Peter and Alison Smithson's Robin Hood Gardens (1972) and welfare state housing, while his counterpart Jose Castillo analyzed food culture and networks. For recent fellow Namik Mackic, the experience was a chance to study the dynamics of immigration embedded in structures of space, post-Brexit. Born in Bosnia, with a personal history of shuffling among Norway, the United States, and other majoritarian societies, he found himself drawn toward "the political polarization between urban centers, the hinterlands, and the demographics of both, as seen in voter patterns." Design, he adds, "should consider itself complicit in these structures." Feeling an affinity for Rogers's ardent promotion of civic space, he also looked to the architect's buildings to see how they "might be agents of civic literacy."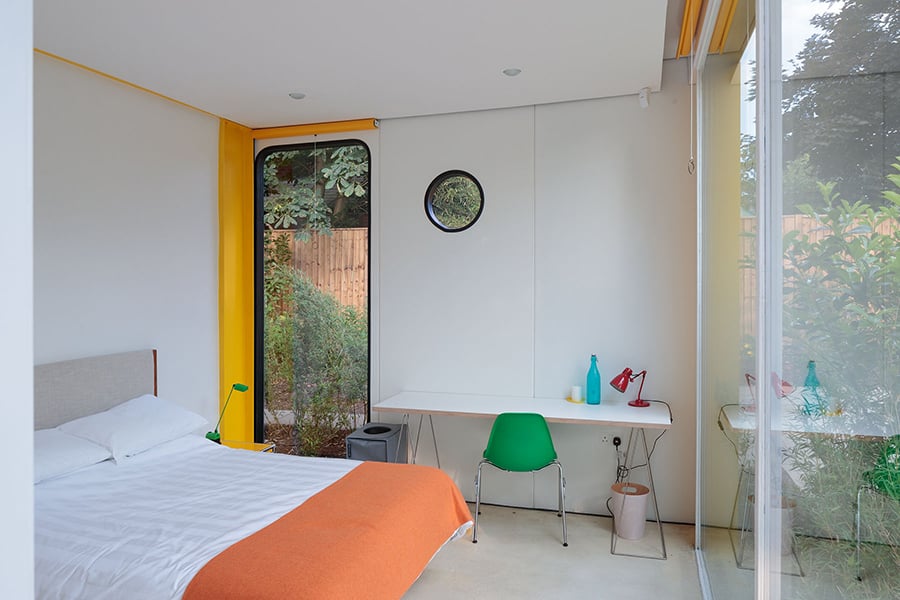 More than most architects of his or any caliber, Rogers has shown a dedication to practitioners' political agency in Britain, particularly in London. However, his relationship with North America is a long and powerful one, influential to his practice in more ways than one. It was while studying at Yale, alongside his peer and former practice partner Norman Foster, that Rogers developed a sense of contemporary corporatism in architecture. The practices with the partner names on the door; the professional, slick operation—these would have seemed antithetical to 1960s London, where the municipal (and now obsolete) London County Council was by far the largest employer of architects in the United Kingdom.
More pertinent to the "research project"–cum–parental abode, Rogers and former partner Su were in thrall to the industrial architecture around New Jersey and New York City. The pipes, tubes, services, funnels, ducts, and shafts that explained the operation of buildings while maximizing the brusquely functional space within have a clear and direct correlation with Rogers's development of British High-Tech. The Lloyd's Building (Richard Rogers Partnership, 1986), a.k.a. the "inside-out" building, is a virtuoso expression of the style, ornamented by a visceral plethora of services and circulation. The Wimbledon House demonstrates some of these tropes, too: Its simple glass volume remains pristine, framed by a series of load-bearing steel portals and unfettered by internal structure. The consequences of this system of building—at a time when steel-frame construction was highly unusual in the United Kingdom—were an open floor plan, radical flexibility in spatial configuration, and the beginnings of long-running experimentation in affordable housing and construction techniques, the most recent example of which is the Y:Cube (2015).
In his recently published memoir, A Place for All People: Life, Architecture and the Fair Society, Rogers candidly describes his and Su's own position at the time they designed the Wimbledon House: "Like many young people, we wanted to find our own spirit, our own language, our own technologies to solve the problems of the day." That a building may be seen as both an actor and a demonstration of research practice is pleasing indeed: Long may its early-career practitioners further their own intellectual investigations within the radiant walls of a fully realized experiment.
You may also enjoy "John Pawson's Living Architecture House is a Marvel of Meditative Isolation."