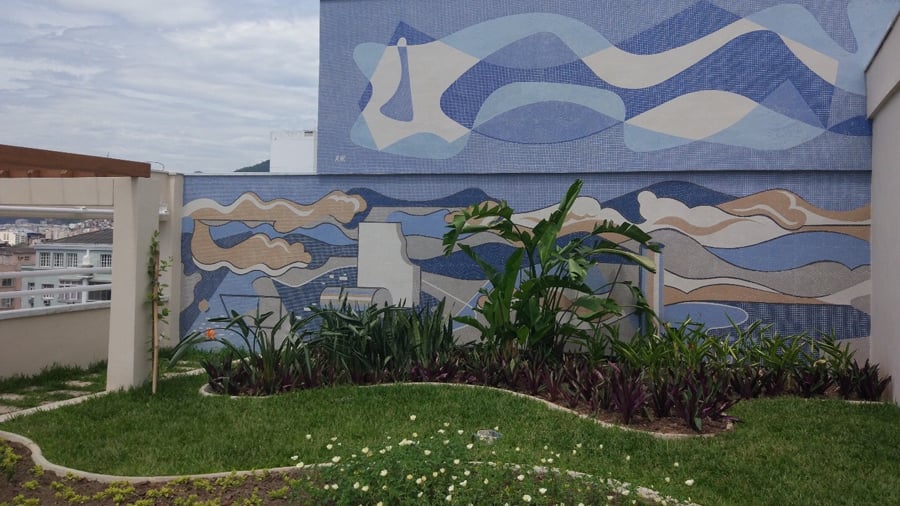 June 21, 2017
In Rio, Saving the Remarkable Midcentury Murals of Paulo Werneck
The grandchildren of muralist Paul Werneck, who collaborated with Oscar Niemeyer and Roberto Burle Marx, restore a Rio de Janeiro terrace to its original, funky glory.
Working alongside the great Brazilian Modernist architect Oscar Niemeyer and landscape architect Roberto Burle Marx was their longtime collaborator, the muralist Paulo Werneck. He provided the iconic azulejos for Niemeyer and Burle Marx's Church of Saint Francis of Assisi in Pampulha, Brazil, which is now part of a UNESCO World Heritage Site. But precursors of those blue mosaics—Werneck's earliest and most complex work—executed between 1942 and 1944 for the terrace of the Brazil Reinsurance Institute (IRB) building in Rio de Janeiro had long been lost.
"Over the years, the terrace had been enclosed and destroyed," says Werneck's grandson Gaspar Saldanha. "Three years ago, we were approached by the IRB to start over." Saldanha and his sister Claudia, who is now the director of the Paço Imperial Museum in Rio de Janeiro, have been working to restore and preserve their grandfather's legacy at a number of such historic sites. Here they teamed up with the Instituto Burle Marx to re-create the murals and gardens.
"In our archive we had six original paintings for the murals. There were seven in total, so there was one for which we did not have the original gouache study," Gaspar says. "We also had a question about where the murals were placed, physically."
---
More from Metropolis
---
Research at the National Library of Brazil (by Claudia) and Columbia University's Avery Architectural and Fine Arts Library (by Gaspar) was useful, but didn't solve the problem. Then someone suggested they look at photographs in gossip magazines from the era, since the IRB used to host dinners on that terrace.
That was how Gaspar and Claudia were able to locate the murals on the walls and supply the missing design; they then turned to the question of the ceramic tiles used to build the murals. "Our family inherited my grandfather's atelier with everything intact, so we had samples of the tiles," Gaspar says. "We worked directly with the original manufacturer, which still exists in São Paulo, and found tiles close in color and texture to the original."
The project was completed this past February, and the IRB has opened the terrace for private tours so visitors can see the masterpieces in all their glory.
Gaspar's work, however, never ends. He has been collaborating with furniture company Etel on a series of Werneck- inspired products, now available through the retailer Espasso. And with his sister, he is restoring their grandfather's largest mural, running the entire height of the multistory Banco do Brasil building in Recife.
If you liked this article, you should check out our article on Roberto Burle Marx: The Man Who Elevated Landscape to Art.