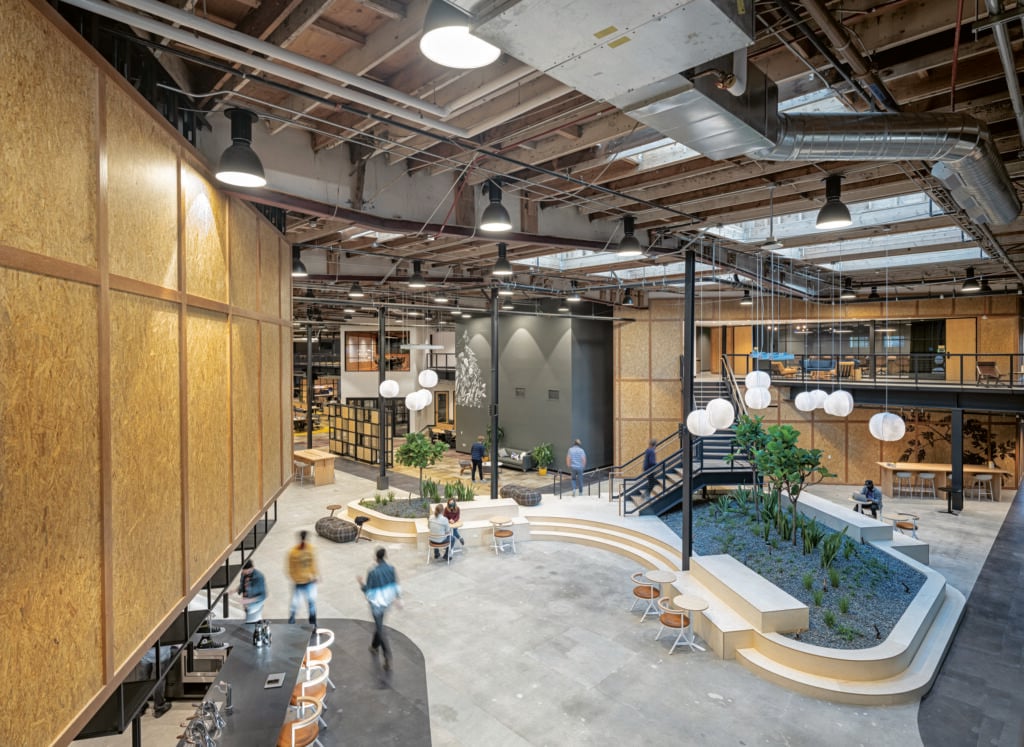 November 22, 2021
A Santa Monica Headquarters by RIOS Supports Hybridized Work Routines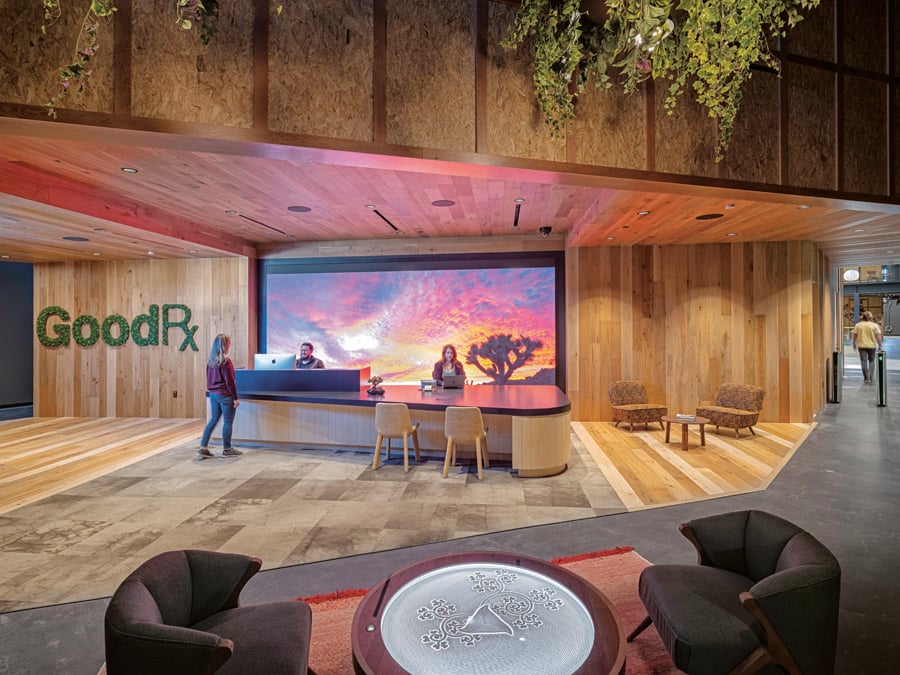 "Much like all of our work, [the approach] was borrowed from urban design," Lantz explains. He envisioned engagement in the workspace as "functioning more like a city" than a static setting where schedules and patterns are firmly set. Akin to a crossroads, the lobby leads into an expansive, naturally lit atrium that fills visitors with a sense of serendipity and discovery. Describing the different sections of the project, Lantz uses terms like "Main Street" and "Central Park."
---
More from Metropolis
---
Given that employees are "juggling a work-from-home-and-at-the-office model, I think they want to be more social," Lantz observes, noting that the heart of the office is a café and juice bar that helps foster organic interactions among staff. The café contains custom tables and seating by Klein Agency, alongside ample skylights, lush indoor plants, and stepped risers. The sourcing and supply chain challenges during the pandemic turned into a silver lining; 97.8 percent of the furnishings were made within 30 miles of the site.
"The perception of a pharmaceutical company is very sterile," says Andrew Barrett-Weiss, GoodRx's director of workplace experience. Co-CEOs Doug Hirsch and Trevor Bezdek wanted the effort to be about "creating an environment that feels human." Because working from home has demonstrated how workers can feel stuck when spending the entire day in a single location, the team recognizes the need to support new habits. With flex desks, 80 percent of the seating is unassigned, so employees can reserve a seat before heading into the office.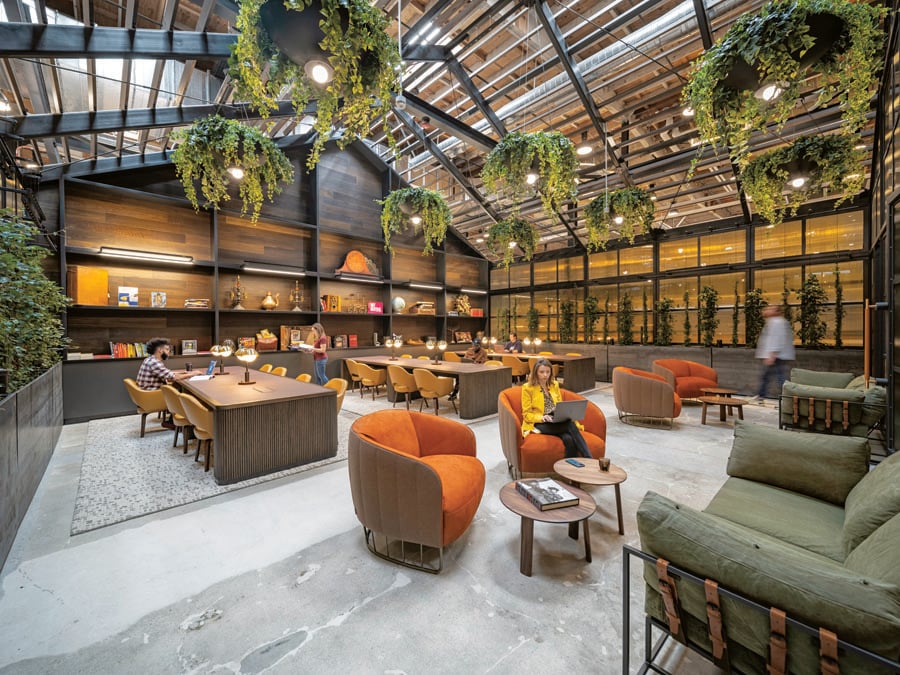 The café area designated as "Central Park" transitions to the "all hands" quasi-auditorium, which features a stagelike platform, digital wall, and path to additional meeting rooms and workspaces. The RIOS team carved out a corridor with corduroy-upholstered banquettes and enclosed meeting rooms lined with cork acoustical panels, as well as textile selections reminiscent of American fiber wall art from the 1960s and '70s. "We were really obsessed with corduroy," Lantz notes. "We like to be very tactile."
From an architectural and engineering standpoint, the greenhouselike library is essentially a building-within-a-building. Sofas by L.A. designer Stephen Kenn and Eero Saarinen Executive leather armchairs offer comfortable lounging, and a backdrop of 150 square feet shelves with books, accessories, and vintage games adds to what Lantz dubs a "high-low" sensibility.
In a structure of this size, wayfinding is key. Downstairs, a black band stained into the concrete floor serves as a visual marker of a traffic loop." Upstairs, a series of elevated walkways connects the offices and suites. Since GoodRx's app-based technology matches consumers with competitively priced pharmaceuticals, the executive offices and collaborative areas literally and figuratively emphasize the company's mission of transparency.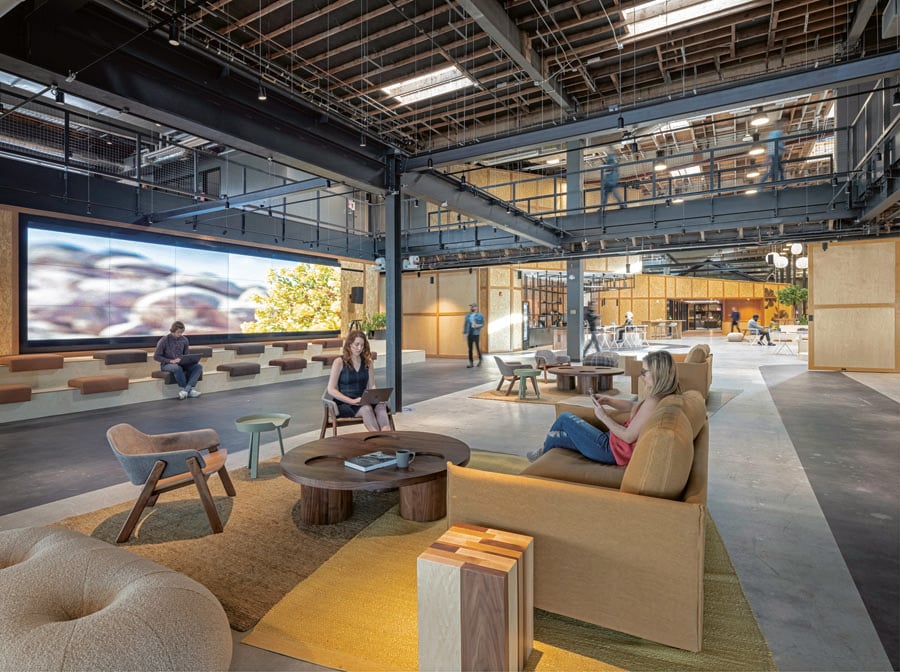 A minimalist wellness room can host yoga and meditation classes and has even hosted company blood drives. The dedicated mothers' room provides space for two to three mothers if they want company and conversation.
A hidden janitor's closet with cheeky knickknacks leads to what Lantz calls "the pièce de résistance." There's almost a sacred air inside the speakeasy centered on the vintage bar that Scottish designer and architect Charles Rennie Mackintosh originally designed for the St. Mungo Vintners Pub in Glasgow, Scotland, sometime during the early 20th century. When the bar closed in the 1970s, antiques importer and dealer Mitchell Litt shipped the treasure to Los Angeles, where it waited for its next home. Millworker Art Carrasco of Artcrafters spearheaded the bar restoration and installation. New elements, such as Aperture series sconces by Allied Maker and gold-leaf-on-cork Cubism collection wallpaper from Innovations, add to the room's layered look and feel. It's a unique perk of an unorthodox workplace that avoids the clichés of tech company culture.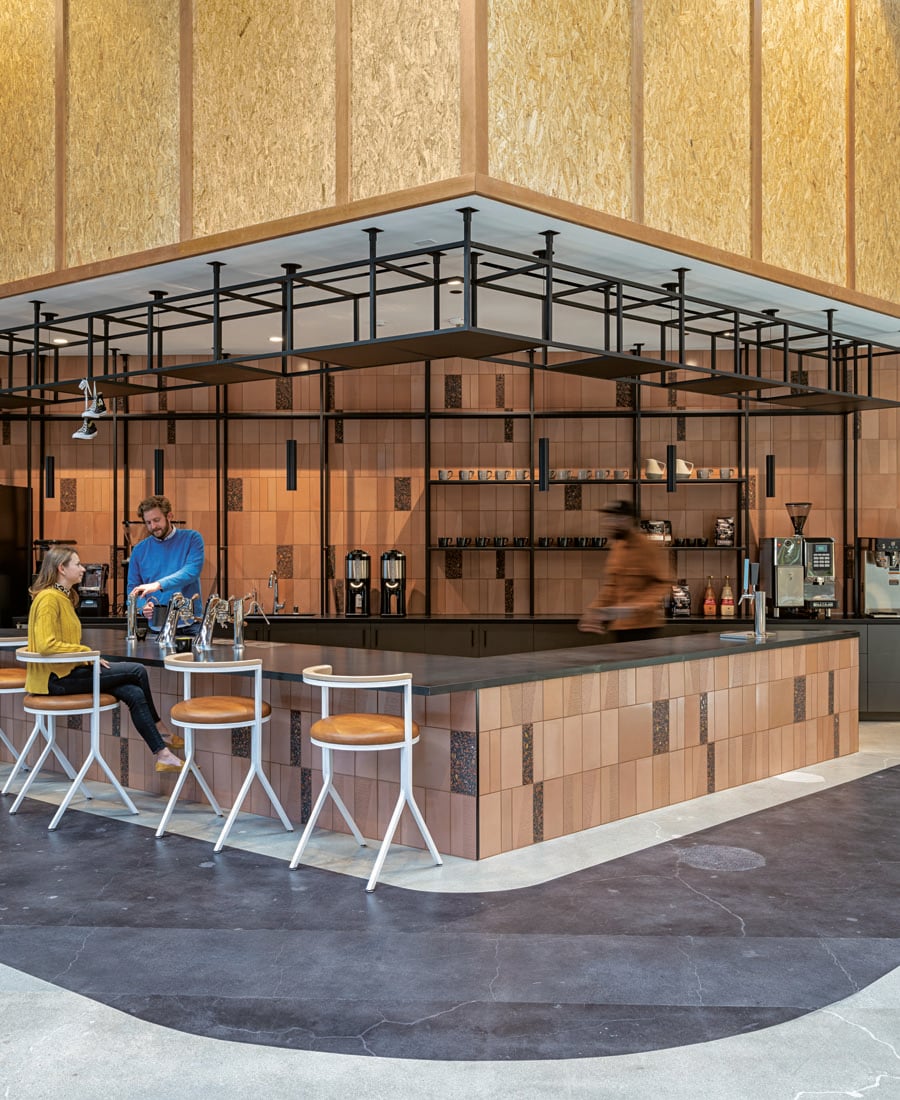 Would you like to comment on this article? Send your thoughts to: [email protected]