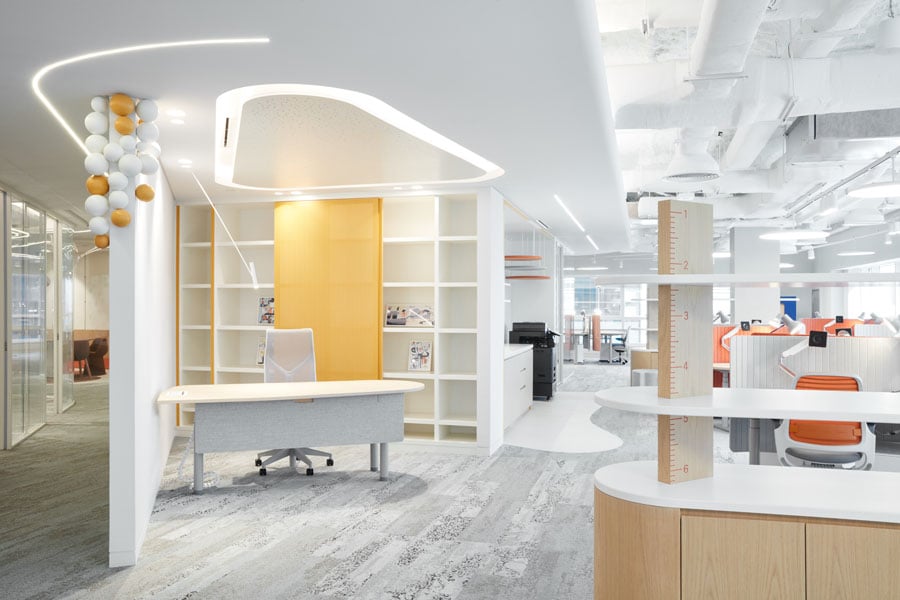 July 26, 2021
Color Comes to Play in the Early Childhood Authority HQ Designed by ROAR Studio
Pallavi Dean's Dubai-based studio designed a joyful office space in Abu Dhabi fit for people of all ages.
---
How do you design a space that is child-like but not childish? That was one of the main questions asked by Pallavi Dean, founder of Dubai-based architecture and interior design firm, ROAR Studio, when she was hired to design the Early Childhood Authority's (ECA) new headquarters.
Set in Al Mamoura tower in Abu Dhabi, the 1,800-square-foot office holds the 100-person team tasked with establishing the future of learning for the city's children. "We had to keep in mind that we were not designing a space for children; it is a space for adults who are making decisions about children," she says. Filled with vibrant hues, whimsical patterns, and uniquely shaped furniture, the office space inspires its employees and is "the antithesis" to the other more formal government offices in the tower. There's even a fluffy blue monster, Big Blue, that greets guests.
---
"As a designer, you can get stuck in the cliche applications of things," Dean says. "With this project, it's all about making each element playful, vibrant, and full of personality but that still has the ergonomics and layout that works for an office setting."
---
More from Metropolis
---
Throughout the highly collaborative process, Dean met with stakeholders to craft a design scheme that looked to both education studies and color psychology to develop space planning and color placement.
The floor plan is highly organic, modeling the pattern of how synapses fire in the brain when children learn. "It has sinuous lines and is very dynamic. There's a real organic flow to it," she says. "One of the most important things we took from this project is that there are no straight lines in nature, and while architects tend to have this linear approach to space planning, nothing is perfect." That fluidity is further showcased through the furniture, lighting, and art choices.
---
Dean custom-designed an exhibition stand with a funhouse mirror that shrinks adults to the size of children, and in lieu of traditional staff photos, handmade ceramic faces line the walls. "It looks as though children have created these comical faces with playdough," she says.
A breakout space includes a 3D art display with a variety of shapes and a wavy light fixture, while the meeting rooms include a felt map of the United Arab Emirates, while another features indigenous animals like an oryx and gazelle. Plus, there's a children's play area accessed through a child-size doorway. "As adults, you walk into a space that is all to your scale, but the little doors and archways make it more intimate for children," she says.
---
To maximize each area, Dean infused color according to color psychology and used the eight tones of the ECA's branding. Yellow appears in the creative centers, while a calming green is for the human resources department.
While the project provided fascinating learning opportunities, "it was also a logistical nightmare," Dean says. "It was hard to find furniture because of COVID-19 and the blockage of the Suez Canal, but we managed to finish the project on time and on budget." Dean and her team worked with approximately 35 different brands, including Driade, Vitra, Herman Miller USA, and Steelcase, to fill the space with various fabrics and finishes. The spirited headquarters is now a testament to creative design and the benefits of color psychology and unconventional space planning.
You may also enjoy "Tri-Lox Designs With Forest Health in Mind"
Would you like to comment on this article? Send your thoughts to: [email protected]
---
Register here for Metropolis's Think Tank Thursdays and hear what leading firms across North America are thinking and working on today.