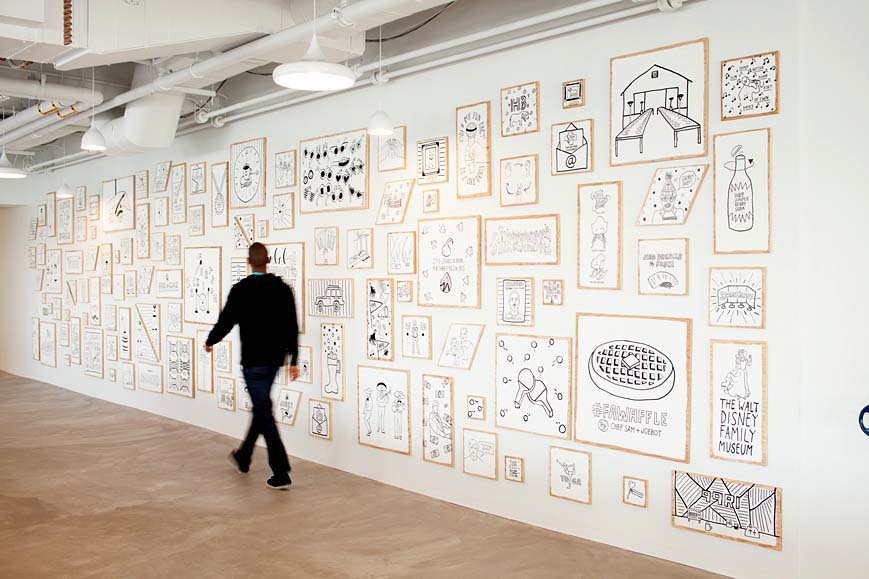 December 2, 2013
Airbnb's San Francisco HQ Embodies a New Spatial Blurring
The Airbnb Headquarters in San Francisco may be the ultimate reflection of both the brand, and the tech world's new way of working.
A green living wall anchors one end of the atrium, opposite the conference rooms.
Courtesy Carlos Chavarria
While it's not a prerequisite for Airbnb employees to have seen the 1964 Stanley Kubrick movie Dr. Strangelove, which features as its visual centerpiece a famous—and famously anti-conflict—War Room, it does help the layout of the company's conference room make a lot more sense. "It was one of those spaces where we had the chance to do a cylindrical room," Airbnb cofounder Joe Gebbia says. "And when the concept was revealed, everyone's face turned into a huge smile." There were two other possibilities that Gensler floated to their clients, but nothing delighted the late-20s/early-30s employees who by now have spread out across every differently designed inch of this 72,000-square-foot space in a recently renovated building in San Francisco quite like the Strangelove look.
---
More from Metropolis
---
Design isn't only about making all the employees smile, though; it's about making things work. "What happens is that you put people at a level playing field," Gebbia explains of the white circular table surrounded by comfortable gray chairs, an exactingly referential nod to the War Room's aesthetic. "And then it's less hierarchical and more collaborative." He's quick to say that the company was that way even before their meetings took place at circular tables, but of course it's always better when the design not only reflects what was an existing value, but pushes new ideas into sharper play.
And that's what the design of the new Airbnb office does: It represents the young and fast-growing company's ethos of openness, collaboration, and constant enterprise, while at the same time encouraging even more happenstance, randomness, and play. The San Francisco office, which currently has more than 200 employees and adds on in the neighborhood of four programmers, developers, analysts, or designers a week, took over one and a half floors of 888 Brannan Street. The 96-year-old warehouse building in the city's rapidly developing SoMa neighborhood had just undergone a renovation at the hands of Gensler, the global design firm that did both the entire shell and bones of the structure and significantly assisted Airbnb in the redesign of their office space. The look is one part new Internet bubble, one part San Francisco–handmade, one part newly iconic brand, and one part design school chic. Together, the parts are emblematic of not only the new economy but also a new spatial blurring: one in which features that used to be considered part of home—a kitchen, a library, a nerd cave, a place to nap—are now integrated into both the space and practice known as work.
The company's founders, Joe Gebbia, Brian Chesky, and Nathan Blecharczyk, pose in the President's Room.
Courtesy Shidume Lozada
There were two Gensler teams at work. One, led by Lisa Bottom, was embedded with Airbnb for four months, and worked closely with two of the founders—Gebbia and Brian Chesky, both Rhode Island School of Design graduates with serious eyes towards design (Gebbia's official bio mentions his history as a designer for Chronicle Books and his dual degrees in graphic and industrial design; Chesky received his BFA in industrial design); the other was focused on the overall building. "It was sort of this poor old thing on the corner where they had painted over all the windows," Bottom says, explaining that the curious cover-up of light (in a city so overrun by fog, it's rare to see anyone purposely block it out) was because one of the building's original tenants needed bright, artificial lights to make its rubies, diamonds, and cubic zirconia sparkle in its jewelry mart. Not only were there repurposable windows, but there were also skylights, something that the Gensler team wanted to work with.
The building also offered a massive central atrium reminiscent of Brad Cloepfil's game-changing adaptive reuse project for Wieden + Kennedy in Portland, Oregon—all seating possibilities and extruded frames that, even if abstractly, represent different Airbnb listings across the world, as well as walls of glass that offer peeks into the conference rooms that un-abstractly represent the company's listings. "We wanted to use the atrium as a front door to the Airbnb space," Bottom explains, a process that led to another major design move: the decision to use existing Airbnb listings, as the company calls the properties it features, to inspire the office's aesthetic and visual organization.
Airbnb employees have the freedom to work wherever they want. The 72,000-square-foot facility contains few fixed workspaces. Here, employees hold an impromptu meeting in the Ate Ate Ate cafeteria (the name is a cheeky play on the address of the building, 888 Brannan Street).
Courtesy Carlos Chavarria
The Milan living room and the Milan 2 dining room were both inspired by an active Airbnb listing.
Courtesy Airbnb
Airbnb was founded five years ago as a way of connecting people who had more space than they needed with people who either couldn't afford regular hotel rooms or wanted a much more intimate travel experience. The basic premise is this: Guests, as they're officially called, receive access to not only a place to stay but also, in some cases, a personal guide to the city's neighborhoods, restaurants, and other hot hangouts. Hosts—as the company officially calls those who rent out rooms, apartments, and houses—receive access to (putting it bluntly) money. Airbnb currently has more than half a million individual listings on the site, is expected to generate close to one billion dollars in sales this year, takes between three  and 12 percent of all transactions on both the guest and host side, and has recently been subpoenaed by the New York State Attorney General in an ongoing dispute over what the government is claiming are unpaid hotel taxes. More than connecting travelers to hosts, though, Airbnb is part of the new post-crash, post-recession, post-stability mini-economy, in which bartering has become standard practice and the share economy has replaced the former American dream of individualized ownership.
While the type of person who uses Airbnb varies, it quickly becomes clear that there's both an ideal Airbnb host and an ideal guest. The listings the company chose to translate into work spaces—there's an official listings librarian who keeps track of everything—are studies in effortless hipster cool. There's a Danish Modern loft that, on a Wednesday in October, hosted a couple Airbnb employees intently looking at their MacBooks. There's a Milan room (each room is named for the city that's home to its inspirational listing)—temporary home to a three-person meeting in which the word "granular" is used to describe the level of analytical detail the team is going into in regards to either sales or listings numbers—and a San Francisco room, a replica of the original apartment in which the company was founded. There's also an air mattress, deflated and crumpled up in the corner, that's a direct nod to an air mattress that provided the first-ever Airbnb guest experience, right in Gebbia and Chesky's apartment.
And that share economy? Totally in play here, where rather than a sense of individual ownership over corner offices or middle cubes, everyone's physical location feels random, ad hoc, and completely improvisational. Coders are as likely to be found wearing enormous noise-canceling headphones in a dimly lit Haight-Ashbury–inspired room called the nerd cave; teams working on projects simply take over a plot of indoor real estate, throw up some walls, and call it a pop-up office; and the library has a No Talking sign, for when a designer really doesn't want to be interrupted. It feels individualized and mutable—like a home.
For the interior designers, the goal wasn't slavish replication, but a close approximation of the look and feel of the source.
Courtesy Leslie Williamson
Kassin Laverty of the San Francisco–based interior design firm Interior Design Fair worked on the rooms. She met the Airbnb team in 2011 and began emailing with the office manager, Jenna Cushner, who worked as the liaison between Airbnb and the design teams, and whose official title is Ground Control Lead. "I had no idea what she was talking about when she first contacted me," Laverty says, but a series of emails slowly began to morph into a conversation about the more public spaces being inspired by the international scope of the company's business.
Cushner knew that Airbnb wanted to do something creative with the offices, and everyone was thinking in a global direction—"making a room look Japan-themed or Iceland-themed," Laverty recalls. Once they got momentum with that idea, they refined it even further, getting even more granular. Laverty met with Cushner at a local Whole Foods and they came up with a plan: replicating some of the site's most aesthetically pleasing listings as conference rooms. The main design problem then was, as Laverty puts it, "How do you pull all that together and still keep it super authentic?"
Courtesy Carlos Chavarria
It's one thing to say that you're designing a conference room to look like a home (one that actually exists), but quite another to pull it off without falling into what could be called the Ikea Effect: where a room is so carefully designed, laid out, and executed that even as there are nods to the idea that it could be a home—there might be a cabinet, or a table, or a stack of books lovingly and disheveledly piled—it still looks like a design work, like a showroom. Instead, these conference rooms do look like the apartments that inspired them. Laverty cites the process as fundamental to the projects' success: starting with the material palette and lighting, and then working down to the level of customized detail, like a cactus they got someone in the Midwest to make and send them. Sourcing elements from around the world was one way of avoiding a kitschy look. So was the idea of paying close homage to the listings without directly one-to-one copying them, by keeping what Laverty calls any "knee-jerk" high design ideas out of the mix.
The President's Room is a restoration of the building's original 1917 president's office. Anyone can use the room (Airbnb doesn't have any presidents). It's the only traditional space in the building. Gensler engineered the new windows, in which the central panel slides open.
Courtesy Carlos Chavarria
The Dr. Strangelove–inspired conference table.
Courtesy Leslie Williamson
There are nods to cool design-y spaces, the kind that might appear in a "greatest hits of the second bubble" collection—such as a Skee-Ball machine that anchors a game-filled section of the same floor that houses the cafeteria, winkingly named Ate Ate Ate (a pun after the building's 888 name)—but just when it seems that the office might start veering into the cute or too-referential, a story comes up. The Skee-Ball game, for instance, is based on one of the site's earliest listings in which the host offered his Skee-Ball machine as a potential sleeping space. And once again, authenticity—even when it's ironically inspired—prevails.
The fact that the two founders came from RISD is essential to the DNA of the company. It's one thing for the leaders of a tech company that's based in San Francisco to say that they care about design—but the ways in which design principles and, more importantly, methodologies are deeply embedded into every physical and conceptual aspect of the company come through. "We spend the majority of our lives at work," Gebbia says, acknowledging the realities of working at the company, a reminder that part of  the reason the office is so welcoming is that Airbnb employees have to spend a tremendous amount of time at, if not their desks, then a desk. "Why wouldn't it be as comfortable or as inspiring as your own home?" he asks, at one point referencing the Eames studio as a kind of spiritual inspiration.
A close-up of the crit room's bookshelf, where cookbooks and design magazines share space with old-school tools and up-to-the-minute reference manuals. The facility's three crit rooms are where visual material gets mocked up/cut out/produced. They feel like design school studios.
Courtesy Carlos Chavarria
An old table, reclaimed from the RISD studios, anchors a seemingly random collective space—there are multiple ad hoc meetings taking place on this Wednesday morning—and a crit room is filled with the kind of Taschen books that are every architecture and design nerd's dream, as well as scraps of paper visually expressing various Airbnb projects and principles pinned to the walls. Across the massive open-plan room, meanwhile, is another temporary space: two walls that angle toward each other to meet in the middle, each detailed with storyboard-style images that the founders are calling Snow White (after a project, whose details are being kept under wraps) that show, in images, just how on the one hand (wall) the guest experience and on the other hand (wall) the host experience can, in an ideal universe, go.
Drawings by the graphic designer Timothy Goodman line the walls of the Ate Ate Ate cafeteria. The company plans to exhibit work from a rotating cast of artists.
Courtesy Carlos Chavarria
The office is an offline flagship for a company that exists entirely online, and that's where the magic is. "We view this as our listing, as if this was our Airbnb," Cushner says. She goes on to list the variety of spaces contained within this floor and a half: there's open work space (the collection of long tables filled with Mac screens that are so necessary for any 2013 tech company), collaborative space (those conference rooms), quiet focused space (designed to look like a library that features a No Talking sign), social space (the Ate Ate Ate cafeteria, which hosts weekly happy hours), exhibition space (the gallery that surrounds the war room), and brasstacks business space (the round penultimate Dr. Strangelove room). Speaking of the entire project, Gebbia describes it as a metaphor. "We're designing not just for a digital product, but for the transition from the digital product to the offline world," he says. "How can we take something that we see on a screen every day and make that physical?" Wallpaper by wallpaper, air mattress by air mattress, conference room by conference room, they have.
The central atrium at Airbnb's San Francisco headquarters, designed by Gensler. The conference rooms, visible Rear Window-style, were inspired by actual Airbnb listings.
Courtesy Shidume Lozada