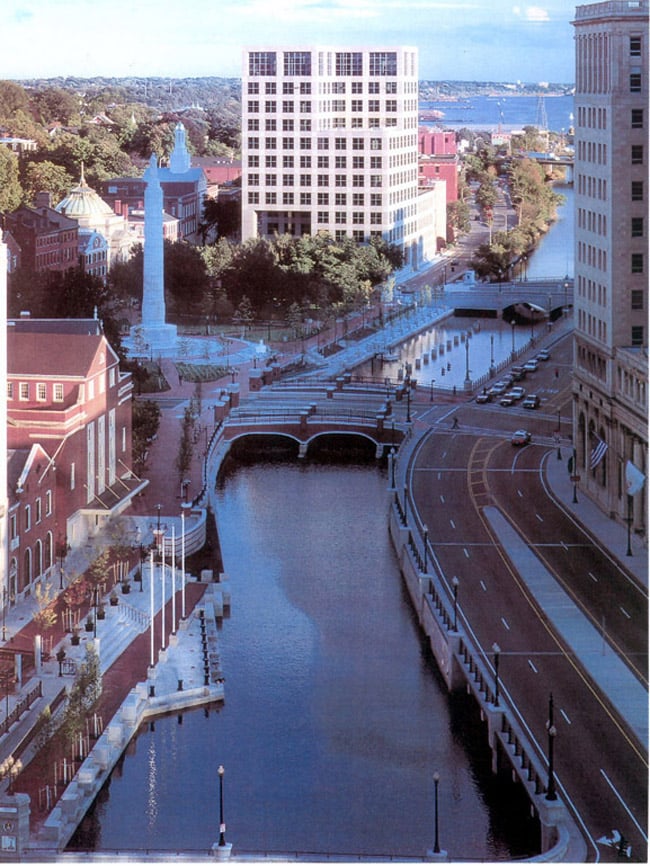 July 23, 2013
Rudy Bruner Award Advances the Conversation on Making Cities Better
It takes more than great design professionals to create great places; it takes community
Looking back on my first year as director of the Rudy Bruner Award for Urban Excellence (RBA), I am reminded that this particular award is more than an accolade for distinctive American placemaking. It is about advancing the conversation to create a better understanding of cities and how to improve the places we share within them. It takes more than talented designers—architects, landscape architects, urban designers, and planners—to create great urban centers. It takes a community.
I was reminded of this last month at EDRA44, the annual conference of the Environmental Research and Design Association, held in Providence, Rhode Island this year. EDRA is an international organization that seeks to improve interrelationships between people and their built and natural surroundings, fostering environments responsive to human needs. Although this was my first EDRA conference, the RBA has a long history with the organization—it was conceived over a meal at EDRA16 in New York City when Simeon Bruner challenged several EDRA members to explore how the Bruner Foundation could apply its mission and evaluation focus to urban projects.
---
More from Metropolis
---
The rivers and waterside park define Downtown  Providence today.
Courtesy Bruner Foundation
This year at EDRA, the Bruner Foundation presented "Healing Places and People: The Providence River Relocation Project and the Rudy Bruner Award for Urban Excellence." The conference session included an overview of the project—which received an RBA Silver Medal in 2003—as well as a panel moderated by Robert Shibley. The panel of three representatives, all directly involved in shaping the project and the city at large, as well as our RBA team, included Simeon Bruner, Richard Wener, and me.
This plan illustrates the relocation of the rivers, new park, and development parcels.
Courtesy William D. Warner Architects and Planners
The 2003 RBA selection committee cited the Providence River Relocation as "a heroic project with epic proportions." The effort, led by the late architect William Warner, dramatically changed downtown Providence. It entailed uncovering and relocating two rivers—moving the Northeast Corridor railroad tracks underground in the process—as well as the construction of new highway interchanges and a railway station. A new waterfront park with riverside walkways and pedestrian bridges served to re-connect the city's street grid and downtown with the Rhode Island State House and College Hill. The project, which required more than 30 years of bold, cooperative planning initiatives by public and private entities including local, state, and federal agencies, re-established the city's historic relationship with its rivers and recast its identity as a 21st century urban center, resulting in over $1 billion in private investment.
Before the river relocation project, nearly 70 percent of the rivers were covered over, and railroad tracks and surface parking lots dominated the area.
Courtesy Bruner Foundation
The project reconnected downtown with Capital Center and College Hill, and attracted nearly $1 billion in mixed-used development.
Courtesy Bruner Foundation
Personal experiences reflections on the initiative and its impact were shared by Congressman David Cicilline, Waterfire creator Barnaby Evans, and Ed Wood, former director of Rhode Island Departments of Transportation and of Environmental Management. They revealed its extraordinary complexity and the inventiveness of its development process. They spoke of new uses of federal program money, remarkable levels of cooperation across city, state, and federal organizations, and creative ways of bringing the private sector into the process following key public infrastructure investments. These panelists remembered the many unheralded people who played a role in the regeneration of downtown Providence, and audience members spoke movingly of their excitement at seeing their city center come alive again. As I listened, I realized that these personal perspectives, stories, and conversations about the long-term value of successful urban placemaking are precious resources for professionals and the public alike, and we need to do more to share them.
This photograph illustrates conditions before the project, including a confusing traffic rotary known as "Suicide Circle."
Courtesy Bruner Foundation
An "after" view from the same perspective showing opened rivers and a new network of bridges, boulevards, and pedestrian walkways that improved pedestrian and automobile access.
Courtesy Bruner Foundation
Cities are complex organisms, constantly evolving in response to economic, environmental, social, and political changes. The RBA seeks to highlight projects that succeed in addressing these challenges, document and share their stories, and spark dialogue about how we can do better. The award itself is simply the point of departure, or catalyst, for this conversation.
Bob Shibley moderates the EDRA panel discussion with Congressman David Cicilline, Barnaby Evans, and Ed Wood.
Courtesy Bruner Foundation
Waterfire events attract residents and visitors alike for evening celebrations in the riverfront park.
Courtesy Bruner Foundation
The Bruner Foundation is in the process of planning 2013 RBA ceremonies this fall in Chicago, Dallas, Louisville, New York City, and Providence for this year's medalists. Complementary events will celebrate each project and its impact, engaging the local communities in conversations, like the one we had in Providence, about how we can work together to improve our cities nationwide. The first event will take place on September 12 at Chicago's Garfield Park Conservatory to honor RBA Gold Medalist Inspiration Kitchens – Garfield Park, and the others will follow over the course of the next six weeks. Stay tuned for more details.
Anne-Marie Lubenau, AIA, is director of the Rudy Bruner Award for Urban Excellence (RBA) for the Bruner Foundation in Cambridge, Massachusetts. An architect and advocate for educating and engaging people in design of the built environment, she is a graduate of Carnegie Mellon University and was a 2012 Loeb Fellow at the Harvard Graduate School of Design.
This post is part of a series written and curated by RBA that focuses on placemaking in American cities. The blogs offer a detailed look at the 2013 award selection process and site visits, case studies from past award winners, and highlights from events such as the Bruner-Loeb Forum.