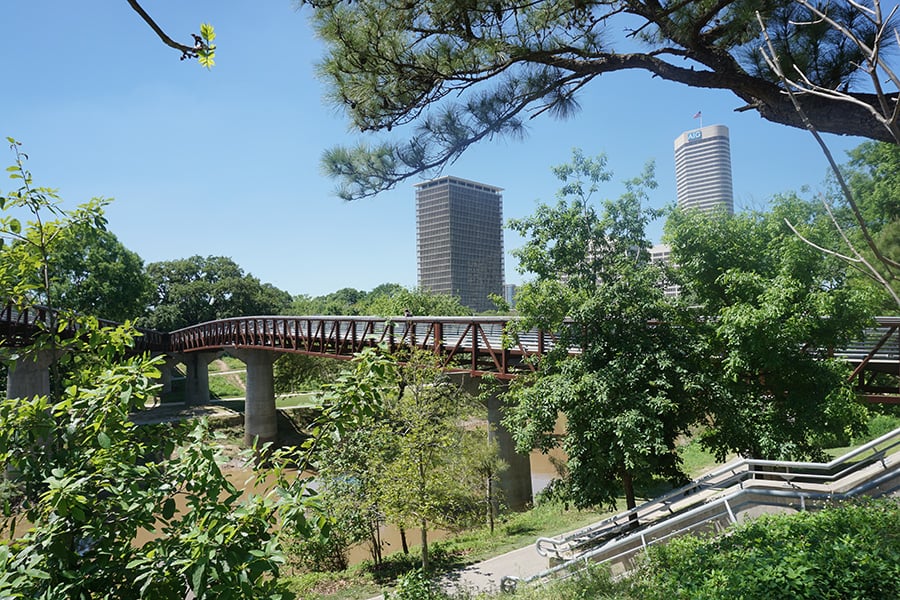 May 23, 2019
In Houston, a Resilient Public Greenspace Reconnects "the Bayou City" to the Neglected Waterway Where It Was Founded
The $58 million, the 160-acre park integrates new trails, amenities, and native ecology with critical stormwater management and mitigation.
---
Metropolis has partnered with the Rudy Bruner Award for Urban Excellence (RBA) to showcase the program's five finalists for 2019 Gold and Silver Medals, which will be announced in June. RBA director Anne-Marie Lubenau is the author of this series.
For most of the twentieth century, Houston turned its back on its primary waterway and most significant natural resource—the bayou on which it was founded. As the city grew and concerns about flooding escalated, Buffalo Bayou and its surrounding watershed network were relegated to drainage, becoming overgrown and largely forgotten.
In 2010, the Kinder Foundation approached the Buffalo Bayou Partnership—a non-profit dedicated to improvements along the river—with a $30 million catalyst gift to redevelop a 2.3-mile long portion of the bayou into a new civic greenspace. Designed by SWA Group and Page and completed in 2015, Buffalo Bayou Park offers an extensive network of pedestrian and bike paths on both sides of the bayou—including four new pedestrian bridges—that connect to a larger 15-mile trail network and link downtown and adjoining neighborhoods.
---
More from Metropolis
---
The renovated park includes visitor centers that offer boat tours and bicycle rentals as well as other amenities, such as a restaurant, a skateboard park, a dog park, and event/performance venues. Public art is interspersed throughout the site, where meadows and woodlands featuring native plants and ecology. A 87,500-square-foot underground water cistern (originally built in 1926) now serves as an art installation venue.
The park's infrastructure is designed to withstand regular flooding and minimize its impact on its structures, paths, and amenities. After 2017's Hurricane Harvey dropped more than 51 inches of rain on the city and flood height in the Bayou reached a record 39 feet, the venue's hike and bike trails were rapidly cleared and returned to use in a few weeks.
Hosting a variety of interpretive programs, tours, and large community events all year long, the park draws residents and visitors alike into the city for outdoor recreation and activities. Each evening at sunset, people gather to watch up to 200,000 Mexican free-tailed bats emerge from their colony beneath the Waugh Drive Bridge.
Owned by the City of Houston, the park is maintained by the Buffalo Bayou Partnership and funded by an annual $2 million maintenance commitment from the city's Downtown Tax Increment Reinvestment Zone. The park has been a catalyst for new development as well as new thinking about open space in the city. Houston voters recently passed a citywide bond initiative that included $100 million to support Bayou Greenways 2020, which will transform more than 3,000 additional acres of underused land into public green space.
"This renovation has made Buffalo Bayou Park the city's most beloved greenspace in the minds of many Houstonians," says Jamie Gonzales from the Nature Conservancy. It has "reconnected the city to the bayou that gave birth to our community."
You may also enjoy "In Sulphur Springs, Texas, a Community-Driven Vision Sparks Downtown Revitalization and Pride."
Would you like to comment on this article? Send your thoughts to: [email protected]