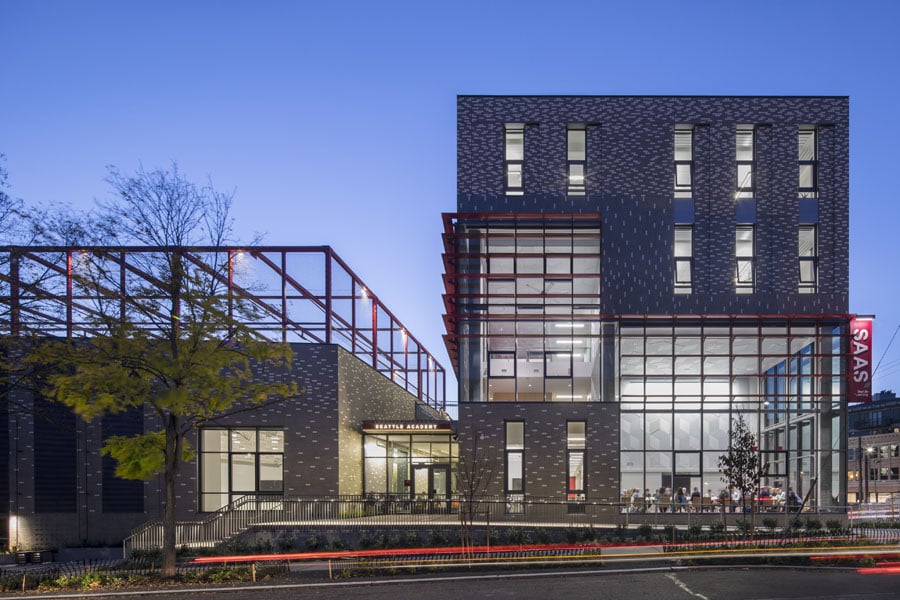 April 20, 2021
Seattle's SAAS Middle School Connects Students and Their Surroundings
LMN Architects worked with SAAS's educators and middle schoolers to create a sustainable and inclusive educational facility.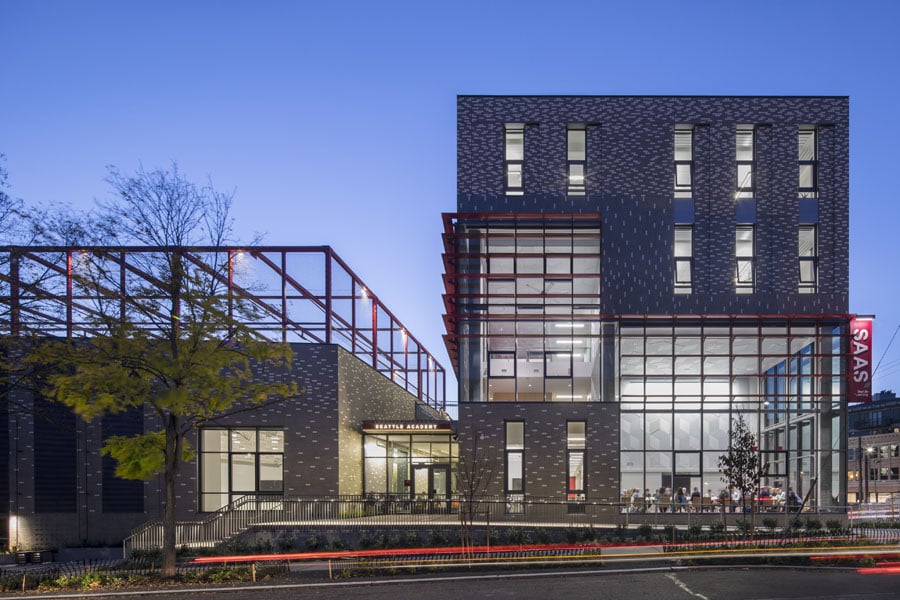 The Seattle Academy of Arts and Sciences (SAAS) is not a typical middle school building. The six-story, 69,900-square-foot 2019 addition to the academy's campus, designed by LMN Architects, mirrors its surrounding urban landscape so well, you might not even recognize it as a school. The main façade of gray and cream-colored brick accented by red sunshades and shining windows takes its tonal cues from the restaurants and businesses of Capitol Hill, the bustling neighborhood where SAAS resides. But the porous building offers glimpses into the lives of the students inside—seated in light-filled classrooms, playing basketball in an airy gymnasium, gathered in warm, wood-paneled communal spaces. You might even hear voices drifting overhead from the rooftop playfield.
While LMN Architects were influenced by the urban setting, the independent school's distinctive approach to learning was equally informative to the building's design. Attended by around 1000 students in grades 6-12, SAAS has a pedagogy that emphasizes inclusivity and connectivity to the surrounding neighborhood. The middle school building's classrooms are stacked vertically, with the top three levels of the building each devoted to one grade. Threaded between the classrooms are what LMN refers to as "collaborative spaces"—a series of stepped, double-height communal rooms that cascade between floors and provide opportunities for students to interact across grades. "The collaborative spaces become vehicles by which students can understand their place in the broader environment," says Wendy Pautz, principal at LMN. Referring to the expansive windows augmenting the rooms, she continues, "Your spatial experience is about hearing, sub-sensing, and feeling the activity of the city."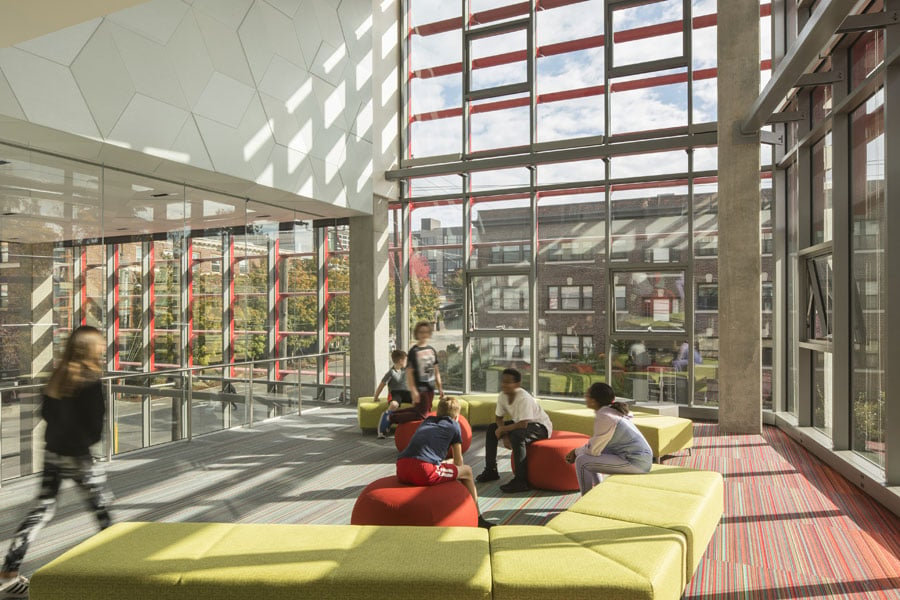 The architects also learned much from their young clients, soliciting their input on a number of features. One that became particularly important was the bathroom design. LMN has often included all-gender restrooms in recent higher education projects and was considering the possibility for the SAAS middle school. "We were constantly thinking about where the students are in their development cycles, how they're starting to really think about their identities and about how they're different," Osama Quotah, partner at LMN, explained. The students turned out to be very supportive of the idea, so LMN moved forward. Upon the project's completion, it was among the features most highly praised by the middle schoolers, who gave written feedback at the time: "This talks about our community. This is for all of us."
---
More from Metropolis
---
The exchange of knowledge between the SAAS community and the architects also continues now, through the project's sustainable design. LMN used building analysis modeling early in their process to position classrooms and labs in ways that take advantage of optimal daylight, solar exposure, and natural ventilation. Rather than making such systems fully automated, students and staff must make manual adjustments, extending these features into learning experiences. Quotah explains, "The cafeteria has a large sliding door that they can open and that allows them to hear and breathe and feel like they're a part of the neighborhood."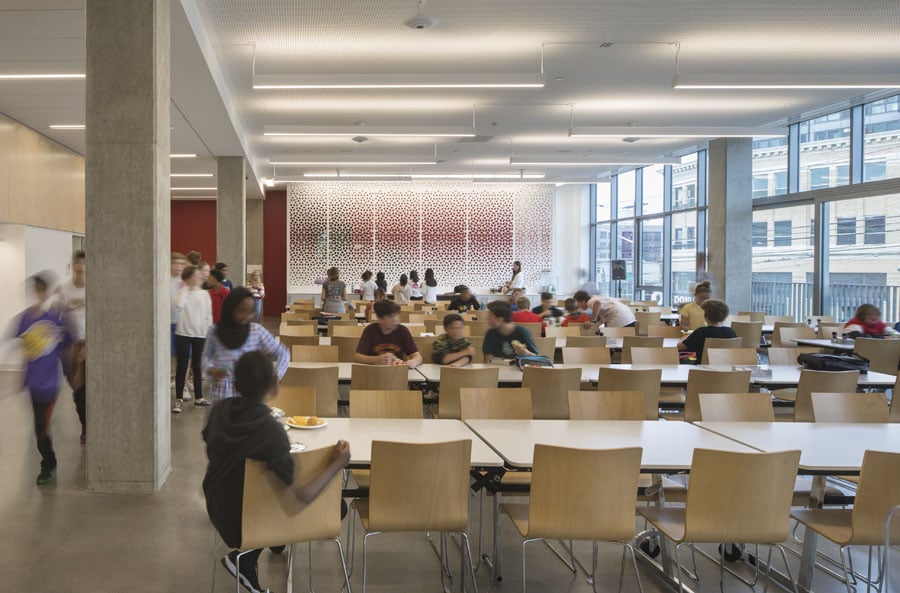 LMN also worked with the school to incorporate use of their Post Occupancy Data Devices (PODDs). These sensors housed in playful, transparent boxes can track, store, and upload environmental conditions such as measurements of air particles, temperature and light levels. Although the PODDs saw limited use before the pandemic altered conditions at the school significantly, the architects are optimistic about future data collection. "We want to understand how the students and faculty are using the operable systems," says Quotah. "We can try to apply what we learn to the next project, and we can also think about how we can improve the systems that we have in place at SAAS."
You may also enjoy "ANSYS Hall Weaves Advanced Technology into a Historic Campus"
Would you like to comment on this article? Send your thoughts to: [email protected]
---
Register here for Metropolis's Think Tank Thursdays and hear what leading firms across North America are thinking and working on today.