March 25, 2021
Neri&Hu's Schindler City Elevates a Factory Campus
The Chinese firm's master plan for Schindler's Shanghai headquarters seeks to counteract the prevailing bleakness of industrial architecture with a human-scale suite of amenities.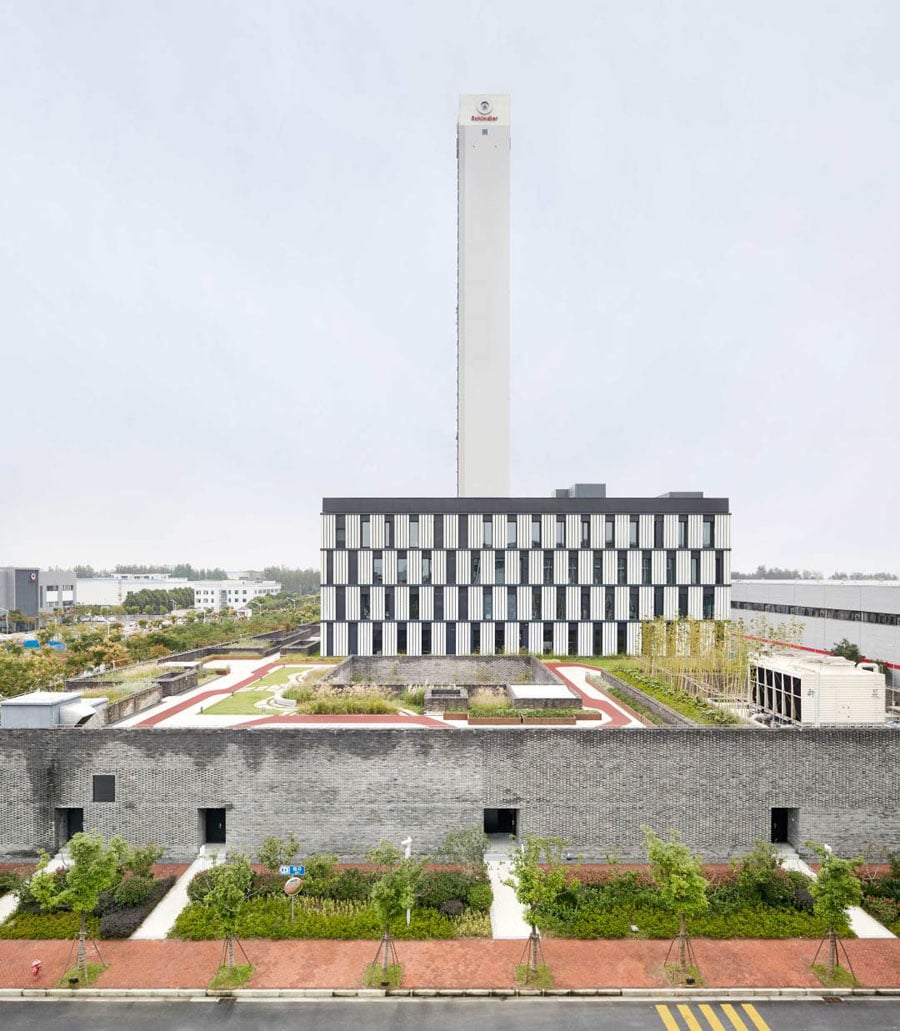 Rising like a tiered fortress in Jiading, an industrial outskirt of Shanghai, the new Schindler City facility cuts a formidable figure based on first impressions. On closer inspection, its myriad of public spaces and meandering walkways makes it feel approachable. Developed as a 350,000-square-foot corporate headquarters for the Swiss multinational elevator manufacturer, this rectilinear complex masses as a unified podium with outdoor spaces interspersed among different extruded lightboxes. 
Local practice Neri&Hu sought to design this massive facility with a human-centric scale in order to cultivate an even flow of movement. The firm's layered program bypasses the all-too-common pitfalls of anchoring office blocks with loose undefined greenery and aimless pathways. The integrated landscaped artery provides a vital connection between a 600-person canteen, a 200-seat auditorium, lounges, showrooms, cafes, and 75,000-square-feet of occupiable gardens. A 3,000-foot passageway featuring Schindler's proprietary moving walkways links everything together. 
At the core of this monumental yet intricately detailed citadel is the Research & Development facility which is characterized by shifting volumes. Sitting catty-corner to this inviting monolith are three glass office buildings that house 800 employees. Each incorporates a multi-story atrium that helps foster dialogue and interaction between different departments. 
---
More from Metropolis
---
The vision of making this hulking mass more personable is also achieved in the implementation of two contrasting material palettes. Recycled gray bricks—a common building element in China—clad the podium's exterior in an ample array of textured patterns, imbuing the structure with a delicate interplay of contemporary precision and ancient resourcefulness. By working with these materials, Neri&Hu was able to align the foreign company with the local vernacular and situate the campus within its surroundings. The four internal buildings were constructed using bright, minimal translucent channel glass sections and white aluminum-framed, a nod to Swiss architecture. 
Working in all mediums, Neri&Hu positions itself as one of the leading architecture firms in Shanghai. Part of its overall mission is to help China's economic capital transform into a global hub while still honoring its complex history. Operating within this jarring contrast, the practice often produces experimental yet nuanced projects that both challenge and celebrate context while also introducing innovative elements. 
You may also enjoy "A Striking Winery Takes Shape in the Russian Countryside"
Would you like to comment on this article? Send your thoughts to: [email protected]
---
Register here for Metropolis's Think Tank Thursdays and hear what leading firms across North America are thinking and working on today.