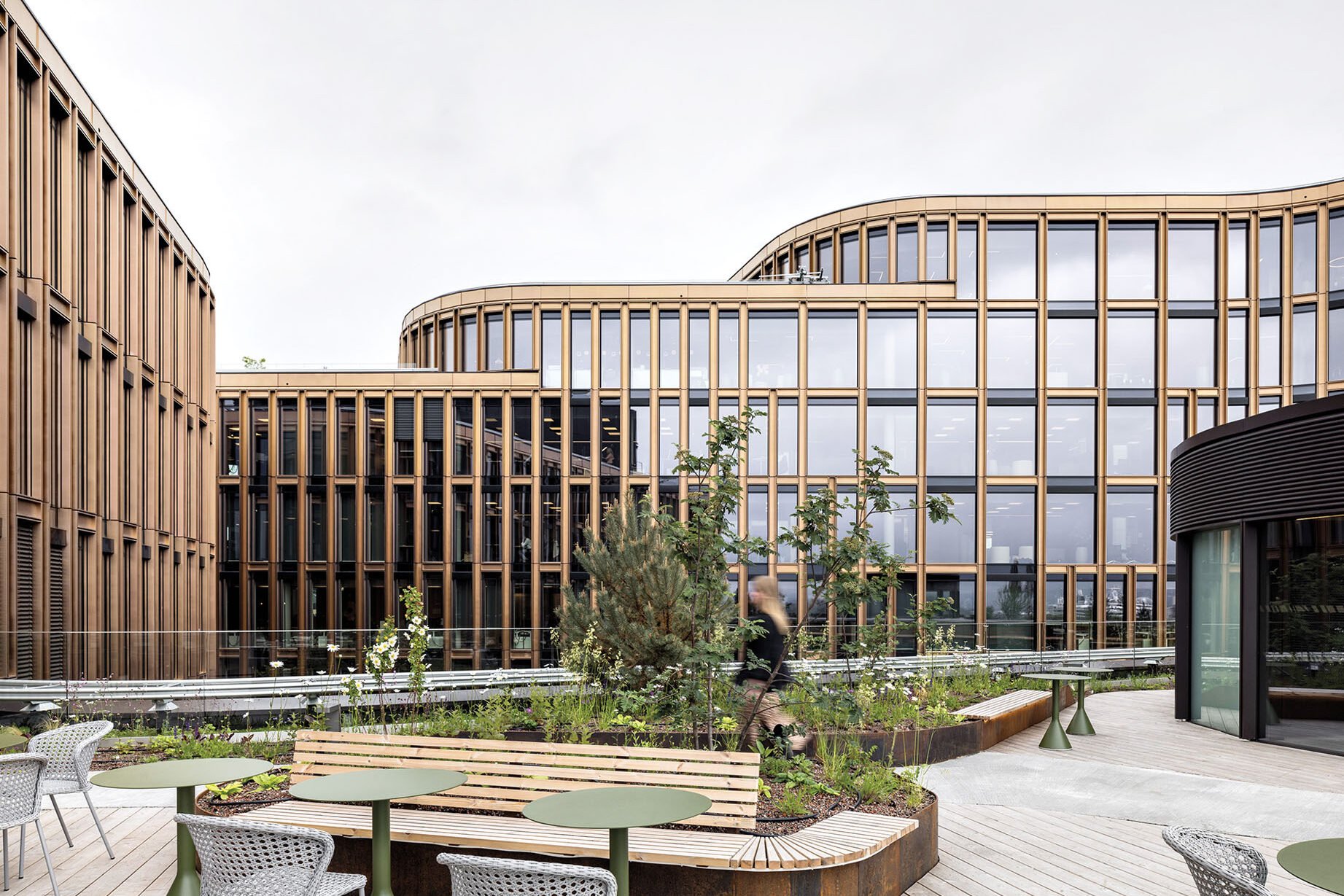 May 22, 2023
Schmidt Hammer Lassen Creates a New Urban Shortcut in Oslo
Passageways, courtyards, and clearings bisect a new sculptural commercial complex in the heart of the Norwegian capital, Oslo.
The property, VIA, is certified BREEAM-NOR Excellent by the Norwegian Green Building Council for its sustainable design. That's the work of Danish architects Schmidt Hammer Lassen (SHL), who describe the project as "a symbolic focal point connecting people, places, and professions" in the city's central business district.
Not far from the Royal Palace, National Theatre, and modernist City Hall, the contemporary building is surrounded by every typology from castles to cafés. Despite that architecturally significant location, previous developments in the same footprint were unloved, says SHL design director Kristian Ahlmark. "The building before this did nothing to create connectivity to its surroundings. It was billed as an 'introvert shopping mall,' " Ahlmark says. It was also plagued by half-empty offices continually being rebuilt through the '60s, '70s, and '80s.
Creating a New Urban Shortcut
The SHL team (whose design was selected in a 2014 international competition) was excited to unleash the site's hidden potential as a mediator of congestion by adding a route through its center. Ahlmark calls it "creating a new urban shortcut."
---
More from Metropolis
---
The completed 630,000-square-foot structure has a fluid form, subtly inspired by the way water cuts through land over time, and is accessible from all sides, offering pedestrians a peaceful route between two thoroughfares, Ruseløkkveien and Munkedamsveien. The passageway, covered by a reflective stainless-steel ceiling, leads into a courtyard surrounded by shop fronts and anchored in the center by a window overlooking the building's lower levels.
"It is a bit like being in a forest and coming to a clearing," explains Ahlmark. "You see the sky above you suddenly open up. The window in the middle is like a reflecting pond. The idea with every detail is to create a place people want to return to," he adds. "We hope it is an act of urban generosity."
Would you like to comment on this article? Send your thoughts to: [email protected]