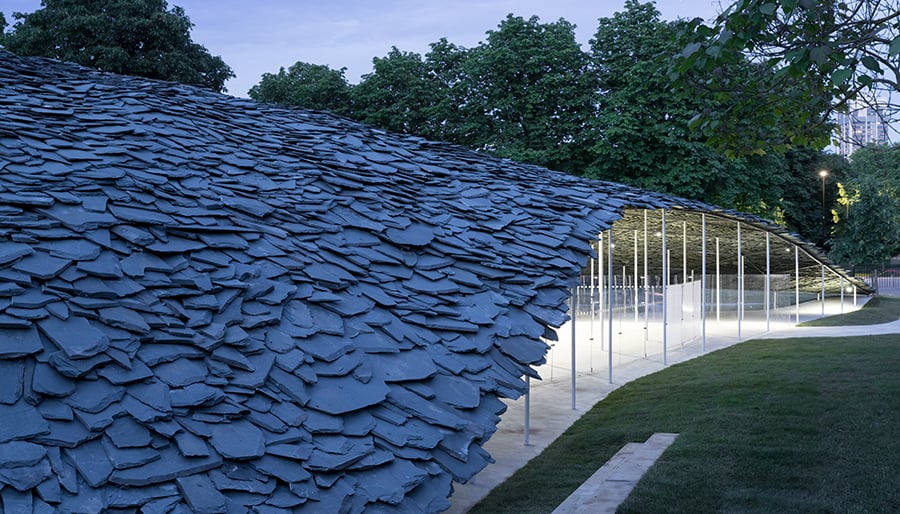 June 18, 2019
Junya Ishigami's Stone-Canopied Serpentine Pavilion Is Set to Open
The Japanese architect's undulating slate-clad mass creates an airy space for contemplation, though the project was hampered by building regulations and the question of unpaid intern work.
---
Just as Serpentine Galleries' ex-CEO Yana Peel flies the coop over a cyberweapons scandal, a new Serpentine Pavilion has landed at the galleries' hallowed Kensington Gardens. For this year's design, Japanese architect Junya Ishigami has conjured an undulating slate-clad mass held aloft by a forest of impossibly thin poles. Coated in 67 tons of Cumbrian slate, the nimble structure feels at once like a swooping wing and a solemn raincloud. "I wanted to create a duality between a heavy stone shell and an inner lightness," says Ishigami, who took inspiration from the traditional Japanese stone roof. "The pavilion is a metamorphic creature that transitions with the weather and your mood."
Entering the pavilion on a rainy day, visitors will feel an immediate sense of security, as if hiding beneath a tree canopy during a rainstorm (a likely scenario in England). Or, as Ishigami sees it, they will be raised alight, as if tucked underneath a gigantic wing. "To me, it's like a big bird flying in a rainy London sky," he adds.
Sourced from the only working mine left in England, the slate cladding covers the pavilion in two layers that are bonded together with a waterproof membrane. The tiles, arranged by hand to maximize the drama of their organic shape, are fixed to a steel grillage that forms the roof's supporting structure. More than 100 pin-ended columns drop down from the stony canopy, tunneling into a foundation of eight-inch-thick concrete. Lily pad–shaped steel seating, designed by Ishigami, contributes a whimsical lightness and lends the feeling of walking on water.
---
More from Metropolis
---
The pavilion's delicacy belies its structural muscle. Slate is much heavier than sandstone or other conventional building materials, and the design's 17 tons of steel seems barely able to restrain the jagged mountain of metamorphic rock above. Stepping into the pavilion's embrace is equal parts breathtaking and frightening, and this nervous exhilaration grows the longer one lingers, as more unnerving details appear.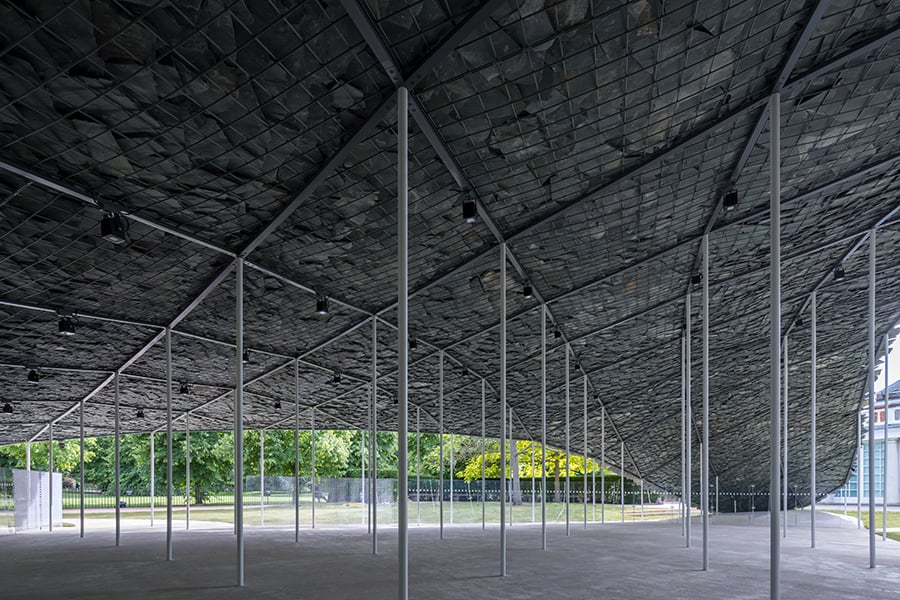 ---
"That sense of dangerous instability was precisely what Ishigami was pushing for," confirms Amy Koerbel, regional director of project engineers AECOM. Since 2013, AECOM has served as engineers for the Serpentine Pavilion, but Koerbel confirms that Ishigami's pavilion was the most challenging to date. "He thinks more like an artist than an architect, which is more fun and also more dangerous."
Unfortunately, Ishigami's artistic flair and boundless imagination was ensnared in the warren of U.K. health and safety regulations. The forest of columns feels overcrowded, despite being an impressive feat of engineering. A wind study conducted by AECOM found the pavilion required a buffer to make it hospitable for sponsor banquets as well as the hoi polloi, which resulted in the addition of clunky polycarbonate screens tattooed with white dots that prevent human collision.
In a attempt at subtlety, the screens at the pavilion's two entrances are perforated to diffuse wind flow, but they cultivate the sense that the pavilion is a fenced-off enclosure. These "design solutions," while necessary to achieve planning permission, place a chokehold on Ishigami's ideas of "free space" in architecture and will complicate movement throughout the pavilion during peak attendance this summer.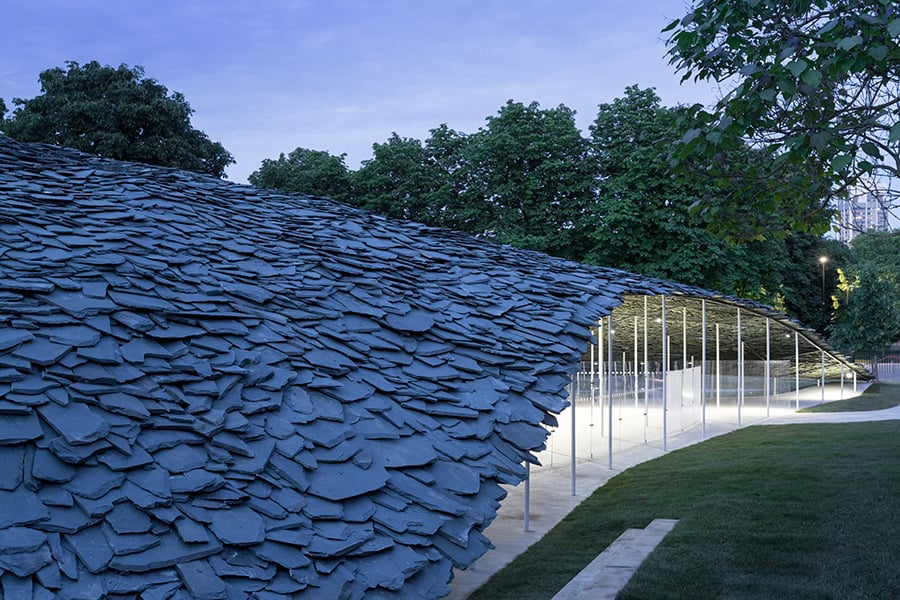 While the arcane whims of health and safety permissions can be held partially accountable, such heavy-handed modifications should call into question the entire operatic logic of the pavilion. "We get less than two months to coordinate logistics," explains Koerbel. The design brief for the pavilion was finalized in December, and the cat-and-mouse game of achieving building permission began in February. "When you're working with architects who are nine hours ahead of you, this is a huge challenge," she says.
And then there's the matter of unpaid intern work that has loomed over this year's pavilion. "The interns are coming from university programs," Ishigami tells Metropolis in an interview. "The articles criticizing my use of unpaid interns were very simplistic and don't reflect upon what we have to say about the situation. To explain that, I would need to be interviewed for an hour." (Whether the rules regarding unpaid internships are so complex as to warrant an hour-long discussion is another matter.)
As the nineteenth edition of the annual Serpentine Pavilion, Ishigami's raw creation exudes a sense of mute tranquility similar to last year's structure, a courtyard comprised of concrete tiles conceived by Frida Escobedo. Although the Serpentine Pavilion has become a blue-chip affair in recent years, with internationally renowned architects completing pavilions to the tune of $1 million, it has maintained its policy to only commission architects with no prior project history in the U.K. For that reason, it is still considered a door-opener, and billed as a major opportunity for the chosen architect. It's a shame that, despite the resources available to the gallery and selected designers, the dark cloud of unpaid and unrecognized interns hangs thick over the project, an inexcusable rain on the Serpentine's tumultuous parade.
You may also enjoy "50 Years After Design With Nature, Ian McHarg's Ideas Still Define Landscape Architecture."
Would you like to comment on this article? Send your thoughts to: [email protected]