December 13, 2017
Fumihiko Maki–designed Design Society Opens in Shenzhen
Working in collaboration with London's V&A Museum, the institution aims to be a "social space" for the local community and design professionals alike.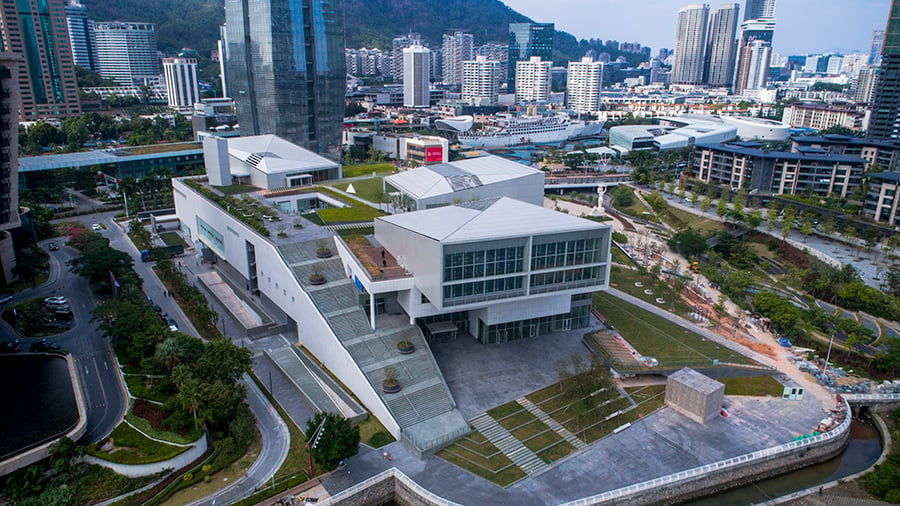 China's first major design complex marks the accelerating transformation of Shekou, an area at the southern tip of the nascent design city Shenzhen, from heavy-industry powerhouse into cultural hub.
Backed by the state-owned China Merchants Group in collaboration with the Victoria and Albert Museum (V&A) in London, the Fumihiko Maki–designed Design Society is intended to be a "social space" for the local community and design professionals from the region and abroad.
The project also highlights a move away from what Chinese president Xi Jinping calls "weird architecture": The complex is a relatively low-slung Modernist form, hunkered down between neighboring high-rise towers. "I didn't want to use the iconic form of architecture that is very popular today," explains the 89-year-old Pritzker-winning Japanese architect. "I think it is very important to always consider the ordinary people, not just architects."
---
More from Metropolis
---
His objective was to go beyond a traditional repository of objects and Architecture House of Design encourage a wide range of activities. It seems to have succeeded for the Shenzheners lounging on the cascade of steps flanking two sides of the building and leading to a rooftop garden. Three striking cantilevered volumes also serve to maximize sea, city, and mountain views.
Inside, the meandering path through three cavernous atria avoids a shopping mall feel, Maki says, although 167,185 square feet of the 764,237-square-foot total floor space spread over six floors have been set aside for retail use.
There are six galleries of varying sizes, including a Sam Jacob Studio–designed space reserved for the V&A—an official collaborator until 2020—currently showing an inaugural exhibition of 250 design objects from the British institution's collection. Another presentation space, the Park View Gallery, is exhibiting a retrospective of Maki's career, including sketches and models of the initial building concept.
"Design Society is not only a place. Its name is also an appeal," notes founding director Ole Bouman. "The duality between the name Design Society as a noun and verb is important to become more creative and allow creatives, who have already embraced creativity, to be inspired."
You may also enjoy "At Princeton, Steven Holl Juggles Well-Tested Formulas and Experimentation."