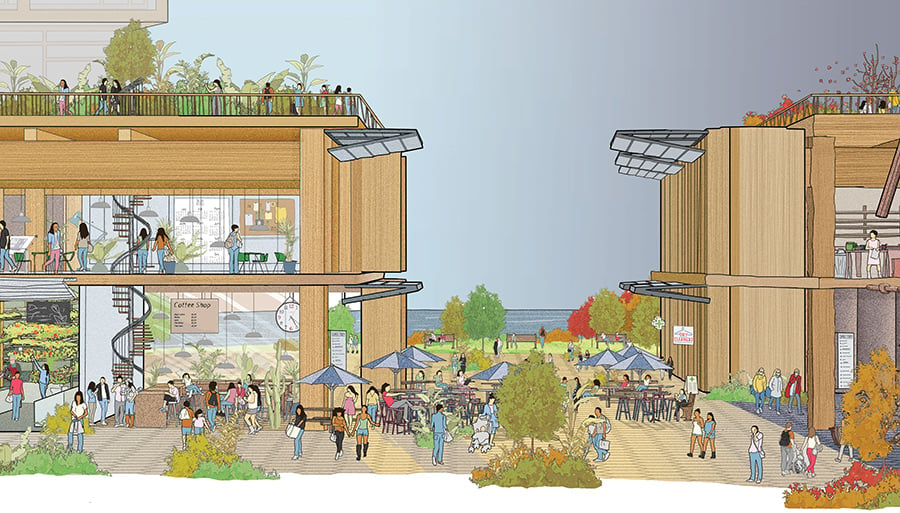 August 23, 2018
Alphabet's Sidewalk Labs Reveals What Its Toronto Smart City May Look Like
While questions surrounding data collection loom, the renderings hint at what the technology company hopes to achieve on the Toronto waterfront.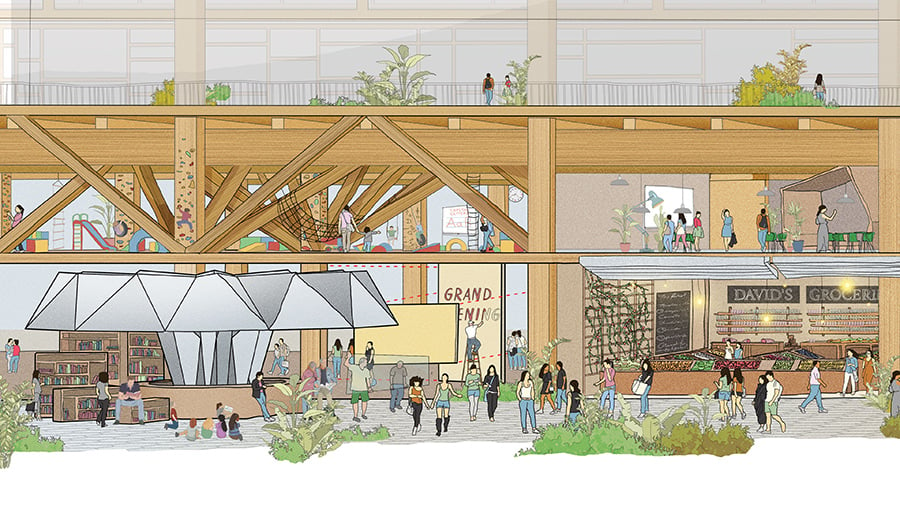 ---
Last October, the urban technology company Sidewalk Labs, part of Google's parent company Alphabet, announced its marquee project, Quayside: a ground-up development on the Toronto waterfront that would serve as a testing ground for new urban infrastructure, urban design, and building technologies. Back then, questions abounded: What products would be tested at Quayside? What would the buildings look like? What sort of data would Sidewalk Labs gather on Quayside's residents, workers, and visitors? While the latter question remains unanswered, a recent public presentation by Sidewalk Labs gave strong hints as to the project's look and feel.
The reveal occurred at meetings held last Tuesday and Wednesday at the Quayside site, the third gathering in a series of five public round table discussions that Sidewalk Labs is using to solicit feedback from Torontonians. These round tables will conclude early 2019, after which Sidewalk Labs will consult with various government agencies. The "Final Master Innovation and Development Plan" will be revealed Spring 2019.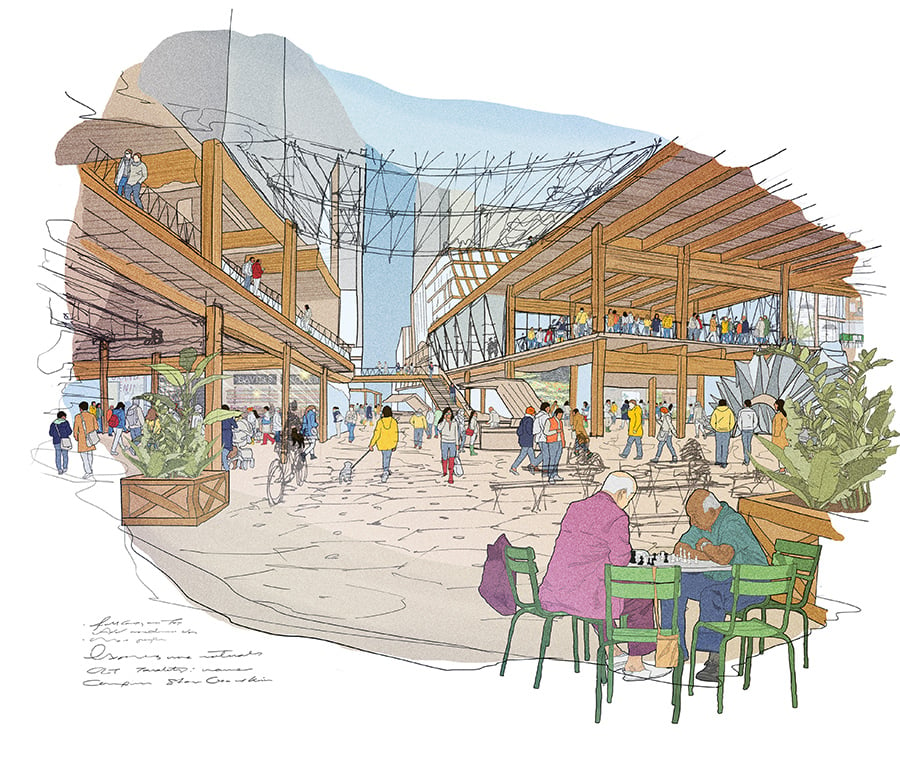 ---
From a wide-angle urban planning perspective, Sidewalk Labs' presenters said Quayside aims to be a vibrant, eco-friendly neighborhood that will complement the other public amenities on Toronto's revitalizing waterfront. Quayside's well-located 12-acre site, like many post-industrial waterfront areas, is poised for significant growth: Sandwiched between an expressway and Lake Ontario, the development is zoned to host around 3 million square feet of new construction. While Sidewalk Labs has the option to build skyscrapers, its planners said they hope to build a collection of mid-rise towers set among ample public sidewalks and green space. (There were no further details on the total square footage planned.) While this big-picture vision seems well-meaning and relatively unremarkable, the project's main promises begin with its new technologies—most of which are aimed at landscaping and the public realm.
---
More from Metropolis
---
The first such technology is a collection of high-tech concrete pavers that aim to make roadways safer and more adaptable. The hexagonal pavers—whose prototype was designed by Sidewalk Labs in collaboration with architect Carlo Ratti—would be embedded with LED roadway lighting that could change colors to quickly redraw sidewalks, roads, and bike paths. The pavers could anchor various street furniture (such as seating for a lounge or public performance venue), and, in a nood to Toronto's bitter winters, be electronically heated to melt ice and snow.
Sidewalk Labs also announced the development of "building raincoats," essentially a system of screens that would protect various public outdoor areas from rain, wind, and midday sun. (Sidewalk's director of public realm, Jesse Shapins, said that these raincoats could double these outdoor areas' usable hours, though the exact metrics of what made outdoor spaces "usable" weren't clear.)
---
The line between outdoors and indoors would further blur thanks to large open areas on the ground-floors of Quayside's buildings. These voluminous commons would be made possible by beefy mass timber buildings. In each building, the wood structures would form a three-dimensional grid of bays—each approximately 40-foot square and 20 feet tall—that would be partitioned by timber wall panels. Inspired by easily-adaptable 19th and 20th century industrial buildings, this capacious grid is designed to be re-purposed as needed—such as for retail, industry, or community services (such as a library). Karim Khalifa, Sidewalk Labs' director of buildings innovation, called this "radical mixed use." To ensure these disparate programs could coexist, Khalifa said an array of building sensors would monitor for noise, air quality, foot traffic, and building structural stresses (such as those caused by heavy machinery).
Lastly, Sidewalk's representatives described the various approaches they may take to transit—how certain streets might accommodate some combination of light rail transit (LRT), autonomous vehicles (AVs), bicycles, and pedestrians. The possibilities are expansive for the tabula rasa site: "We don't have to respect any existing uses because it's almost a greenfield," said Rohit Aggarwala, Sidewalk Labs' head of urban systems. However, Aggarwala's team implied that, by using the company's experimental pavers, Quayside's narrower streets could be easily turned into pedestrian-only zones depending on commute times, outdoor events, or the day of the week.
---
Taken as a whole, this latest reveal suggests that Quayside will dodge the shortcomings that have rendered other high-tech, ground-up utopias like Masdar or Songdo sterile and isolated.
By building on a desirable site within a booming metropolis, Sidewalk Labs will plug Quayside into an existing landscape of people, businesses, and transit. By making flexible architecture and public space its backbone (and avoiding high-tech silver bullets), Quayside can respond to how people want to live, work, and play.
While the neighborhood promises to be a benign evolution of the modern city, it faces the same challenge plaguing every successful global city: affordability. If the affordable housing component isn't robust, Quayside could become a Lake Ontario outpost of San Francisco's white collar, white-hot housing market.
But there's another major unknown that went unexplained during the presentation. Curiously, the urban design and mass timber strategies that create this urban flexibility aren't new or exclusive—this template could just as easily be repeated elsewhere, even with concrete or steel. While the "building raincoats" and pavers could be proprietary inventions, why build a ground-up neighborhood for them? The biggest question remains: How will Sidewalk Labs and Alphabet collect, share, and analyze the data it gathers from its buildings and streets? Thus far, that's the only significantly profitable innovation that couldn't be easily duplicated anywhere else.
You may also enjoy "Smart Cities Conference Raises Concerns About Those Left Behind by Technology."