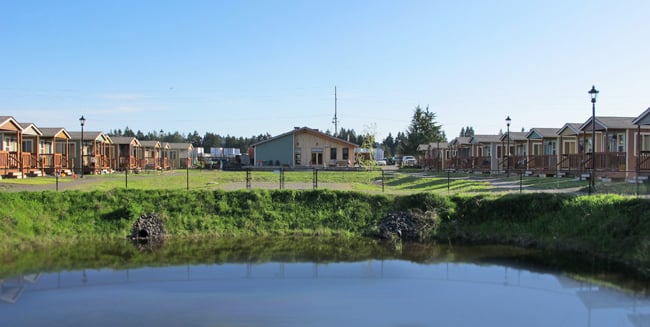 April 20, 2015
Site Visit: A Tiny House Village in Olympia Offers a New Model for Housing the Homeless
Quixote Village is a self-managed community that provides permanent, supportive housing for homeless adults.
Quixote Village in Olympia, WA
Courtesy Panza
After visiting Miller's Court in Baltimore, the Bruner Foundation team headed to the west coast to visit another of the five 2015 Rudy Bruner Award for Urban Excellence finalists.
---
Located in Olympia, Washington, Quixote Village is a two-acre community of tiny houses and a common building that provides permanent, supportive housing for homeless adults, including people suffering from mental illness and physical disabilities and recovering from addiction.
---
More from Metropolis
---
Common building and cottages open onto a central green space.
Courtesy Bruner Foundation
Completed in December 2013, the village is comprised of thirty cottages wrapping around a central open space and retention ponds, along with a 2,640 square foot building that houses a communal kitchen and gathering room, showers and laundry facilities, staff offices, and a meeting room. Each compact, 144-square foot house provides just enough room for a single bed, a desk and chair, powder room, and closet. Front porches encourage interaction and contribute to the sense of community, as do personalized decorations and small "door gardens" at the entries of many cottages.
Each resident lives in a 144-square-foot cottage with a powder room, providing a balance of privacy and community.
Courtesy Bruner Foundation
The concept for Quixote Village emerged from a group of homeless adults that formed a self-governing tent community in a parking lot in downtown Olympia in 2007 in reaction to a new city ordinance forbidding the blocking of doorways and storefronts. After the City of Olympia threatened to remove the camp, a local church offered to host the community on its grounds. The city passed another ordinance regulating "temporary camps" and requiring the presence of onsite, 24/7 "hosts," and the removal of the camp after three months. Over time, seven faith communities in Olympia and the adjoining cities of Tumwater and Lacey stepped forward to organize volunteers and host what became known as "Camp Quixote," as it moved more than 20 times over seven years.
Quixote Village originated as a self-governed homeless camp in downtown Olympia.
Courtesy Panza
Panza, a nonprofit organization named after Sancho Panza, Don Quixote's faithful servant in the novel by Cervantes, was formed to find and build a permanent place for Camp Quixote. It secured a plot of land from Thurston County in an industrial park at the edge of Olympia, bordering the city of Tumwater. Garner Miller of MSGS Architects, a local architect and Camp Quixote volunteer, led a series of workshops with camp residents that considered different design options. These led to the "tiny house" idea—providing a basic, conditioned shelter for each resident with shared bathing and cooking facilities rather than a room or apartment within a larger building—and resulting building and site development.
Workshops with Camp Quixote residents informed the designed of the site and buildings
Courtesy MSGS Architects
Washington-based Community Frameworks served as the nonprofit affordable housing developer, helping Panza with a feasibility study and development plan, fundraising, design and construction, and property management. Financing for the $2.6 million development was provided by Washington State Housing Trust, HUD Community Development Block Grants from Washington State, the City of Olympia, Thurston County, and individual and private contributions including donated professional services.
Like the original camp, Quixote Village is self-governed, with Panza serving as the legal landlord responsible for admitting and evicting residents. An executive committee convenes weekly resident council meetings to address community concerns and advise Panza on new applications. Each resident is expected to pay one third of his or her monthly income as rent, participate in regular council meetings, and share responsibilities for cleaning and maintaining common areas and a shared vegetable garden and berry patch. Two full-time staff, a program and facilities manager, and a resident advocate, provide support for the community including property management, local transportation and programmed activities, as well as individualized counseling that connects residents with education and employment opportunities, local services, and state and federal government aid.
Residents and visitors enter through the common building, which has a shared kitchen, showers, and laundry.
Photograph: Garner Miller/MSGS Architects
Panza and other advocates for Quixote Village suggest that its design and self-governing model offer a more cost effective and empowering alternative to traditional methods for housing the homeless, especially in less urban settings. The per-unit cost was about $88,000, approximately half the cost of a conventional studio apartment. It has also dramatically improved the lives of its residents, providing permanent shelter within a supportive and empowered community, enabling them to regain their footing and pursue paths towards long-term personal stability. It has also made an impact on the community as a whole. Hundreds of volunteers took turns serving as camp "hosts" and moving the camp, getting to know residents and forming friendships. According to more than one source, the village "has changed the way our community thinks about homeless people and homelessness." Since its completion, Quixote Village has attracted the attention of many entities interested in tiny houses including nonprofits and private developers as well as the media, including the New York Times.
Next, we're heading to Michigan to visit Grand Rapids Downtown Market, a new public space promoting local food producers and community events, entrepreneurship, and education about nutrition and healthy lifestyles.
Noteworthy News:
---
Anne-Marie Lubenau, AIA, is director of the Rudy Bruner Award for Urban Excellence (RBA) for the Bruner Foundation in Cambridge, Massachusetts. An architect and advocate for educating and engaging people in design of the built environment, she is a graduate of Carnegie Mellon University and was a 2012 Loeb Fellow at the Harvard Graduate School of Design.
This post is part of a series written and curated by RBA that focuses on advancing the conversation about placemaking in American cities. The blog offers a detailed look at the 2015 award selection process and site visits, winners' case studies, highlights from events such as the Bruner-Loeb Forum, and broader observations.