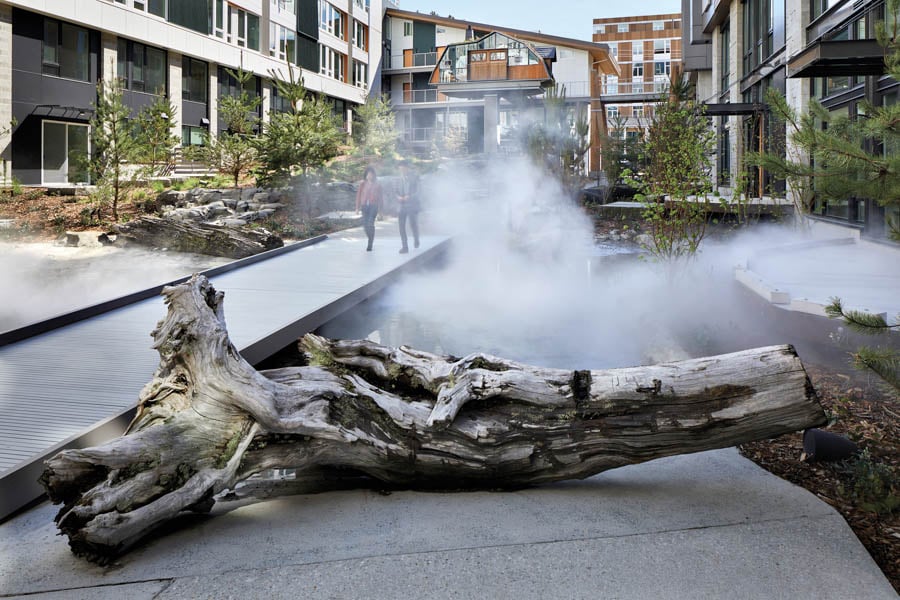 December 10, 2020
In Seattle, the Sitka Is Raising the Bar for Environmental Design
The LEED Platinum multifamily housing complex designed by Runberg Architecture Group comprises three cabin-like buildings.
---
Ask Washington State residents to describe their landscape, and many will recite a list that includes mountains, meadows, forests, and waterways. It is apt, then, that virtually all of those elements figure prominently in the whimsical design of the Sitka, a new seven-story, 384-unit multifamily housing development in Seattle. Designed by local firm Runberg Architecture Group, it comprises three cabin-inspired buildings that line the perimeter of a block in the city's bustling South Lake Union neighborhood, adjacent to the downtown business district.
Given the topography, sustainability is uniquely important here, according to Brian Runberg, the firm's founder. "People want to live in urban environments and they want a sustainable strategy built into it. It doesn't matter if you're coming from Yakima, Washington, or Atlanta—there are specific reasons you decide to move to Seattle, where we have an urban lifestyle but also the idea of the region."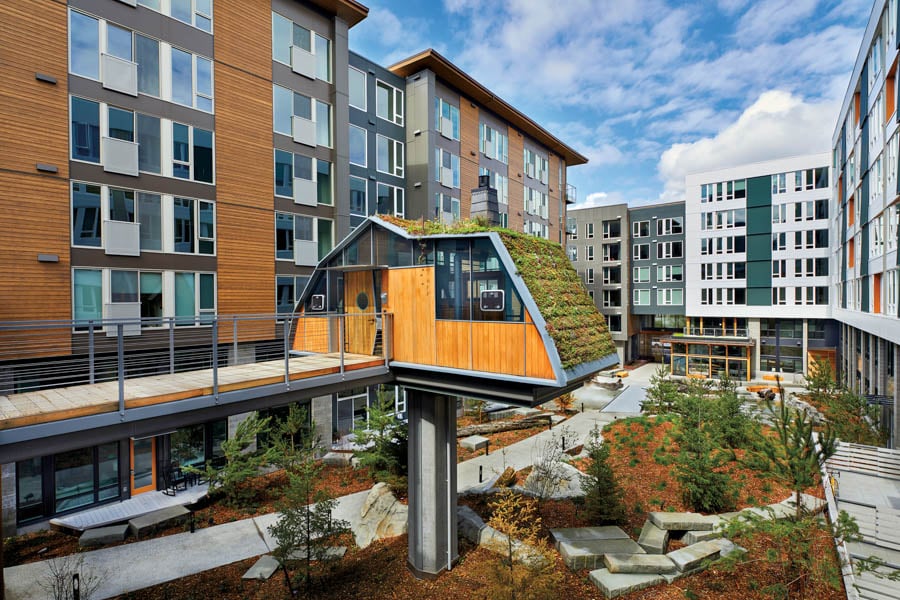 ---
The Sitka, like the area around it, is decidedly green: The complex is certified LEED for Homes Platinum, is a 2020 winner of the U.S. Green Building Council award for outstanding multifamily project, and has an energy use intensity rating of just 16—one of the lowest of any apartment building nationwide. And then there are those Northwest elements in the courtyard, where street-level entrances merge: Natural light spills over each building's sloped roof-top into the courtyard, and a stream weaves throughout it, between rock walls and quivering conifers. A central, communal "tree house," created by Seattle artists Lead Pencil Studio, rises two stories overhead, offering residents a place to cozy up to a fireplace as they take in views of the court-yard below. On the apartments' roofs, a community garden combines lush greenery and additional common areas for entertaining.
---
More from Metropolis
---
Many of the most sustainable features are hidden. For example, Runberg's collaborative intervention with Seattle energy consulting group Ecotope incorporated a wastewater heat-recovery system into the design at an early stage: Residual heat from residents' gray-water runoff from dishwashers and showers gets extracted and reused to heat the next day's hot-water supply. The system uses standard boilers that are run in reverse to extract the heat, an innovative use of available technology that kept the cost within budget, Runberg says: "We're incorporating off-the-shelf products to use [existing] systems in unique ways. And Ecotope has also been working with manufacturers to improve their materials. I want to dispel a belief within the industry that this [kind of solution] isn't affordable."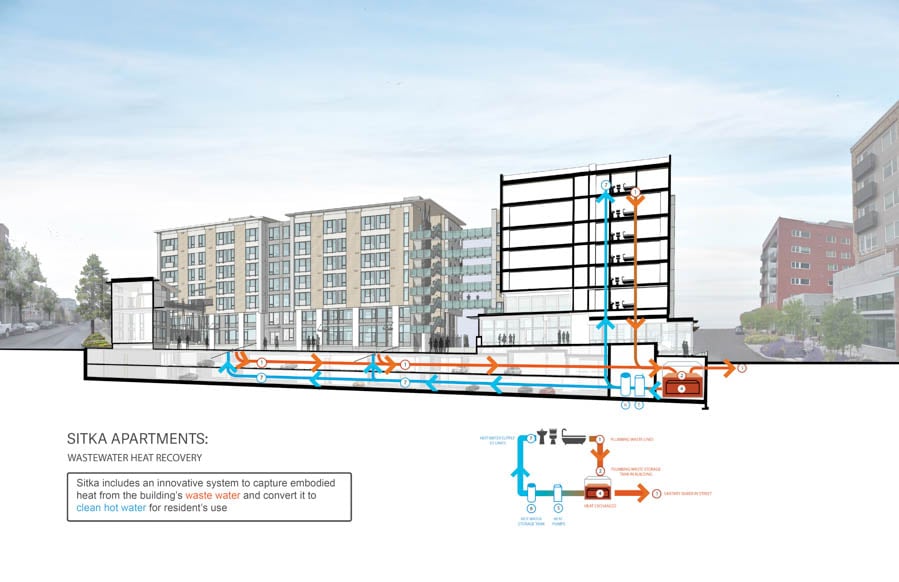 ---
Runberg points out numerous smaller interventions: Bioretention planters in the courtyard and the rooftop garden collect rainwater runoff; and a gray-water harvesting system diverts more water from showers and laundry to the complex's irrigation system. The ethos extends to the individual residences, which include single- and two-bedroom units configured in over 90 different floor plans. (By law the Sitka also has apartments designated for low- and moderate-income residents.) In each unit the open configuration and floor-to-ceiling windows provide natural warmth and day-light. Units are also finished with ecofriendly details such as LEDs, Energy Star appliances, and low-flow water fixtures. In addition, hallways and common spaces are illuminated by daylighting from the strategic placement of windows.
As Runberg Architecture Group turns to future projects, the firm expects to continue improving on the practices developed for the Sitka. "The multifamily sector has this prescriptive methodology and proclivity to work within the same design," Runberg says. "Just because the widget works doesn't mean we have to keep using it. We want to constantly improve ourselves and keep pushing the industry."