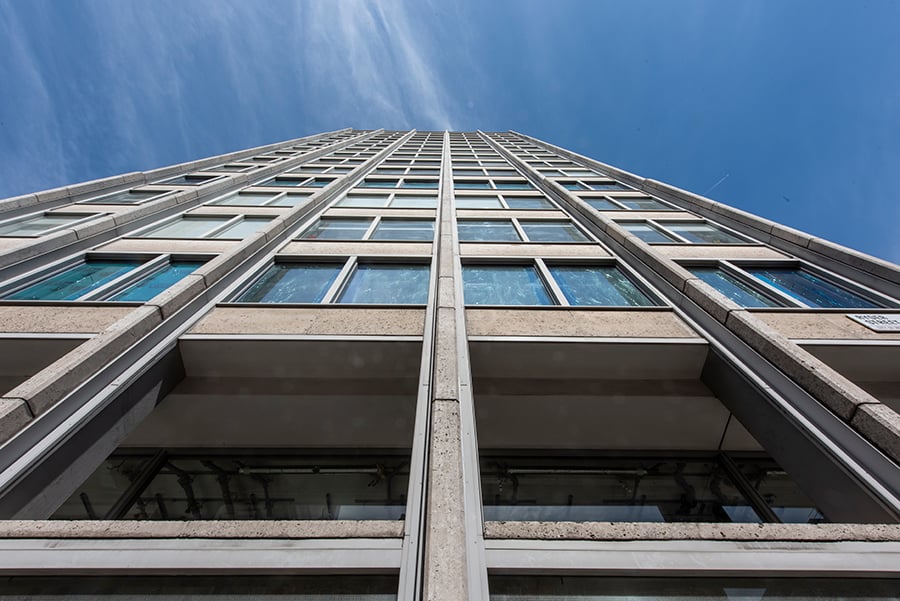 June 8, 2018
The Smithsons' Brutalist Tower is Restored in London
Embedded within a posh district, the Smithsons' renewed Economist Building aims to give back public space—but can it?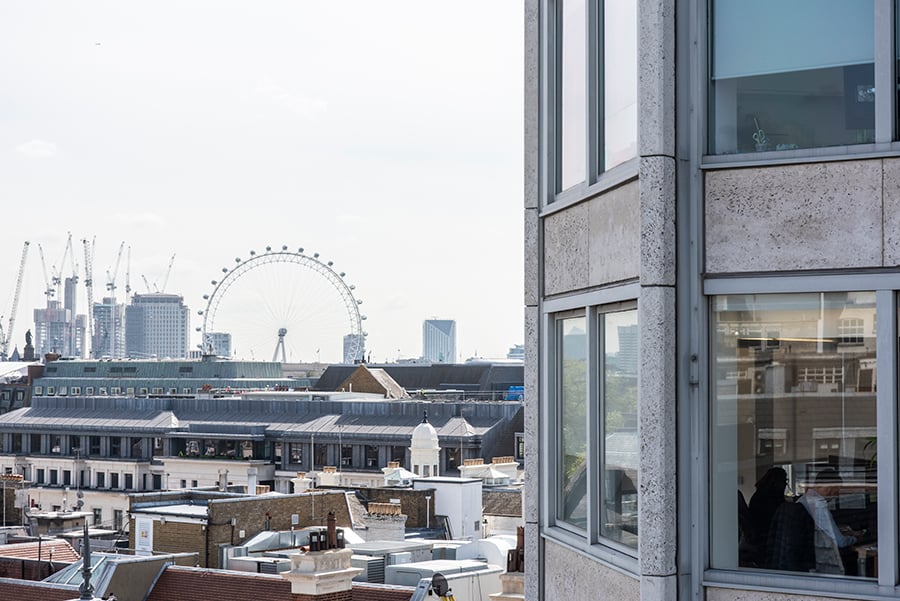 St. James is one of those districts of London, even the U.K., where the British aristocracy really makes itself visible. Rather than sequestered in country estates, or rearing its head for the odd wedding pageant, aristocracy in St. James is on full display, from the upmarket retailers of "Gentlemen's attire" to royal cheesemongers, making the nation's upper class seem yet more ridiculous (and powerful). All the more bizarre then, that the last London building by Alison and Peter Smithson—two of the most progressive and experimental architects to emerge from the U.K., if anywhere in the twentieth century—should be here.
The couple were commissioned in 1960 by Peter Dallas-Smith, managing director of the Economist, to construct their editorial offices along with new premises for their neighbors: a gentlemen's club, a bootmaker, a pharmacy, and a bank. Having only constructed the Sugden House and Hunstanton School by this point, the Smithsons were a rogue choice, especially in a slice of the city so riddled with traditionalism.
The resulting constellation of buildings were the 15-story Economist Tower, five-story Bank Building, and an eight-story residential building arranged around a small plaza—one of London's first infamous privately owned public spaces. Each structure is a square with chamfered corners and an external frame constructed from Roach stone, a rugged relative of the district's more familiar Portland stone—brutalist sensibilities transposed into more bourgeoisie digs.
---
More from Metropolis
---
Typically, the building was highly experimental. It was technologically advanced, the first office building to incorporate air conditioning in London, and subtly egalitarian: its narrow form allowed stunning views across the city for everyone, "be she editor or assistant" as the Economist put it in 2016.
Home to the Economist for over 50 years, the ensemble was bought by a New York based real estate developer Tishman Speyer (whose portfolio includes Rockefeller Center and Yankee Stadium, no less) in 2016 and the magazine moved on. Following the acquisition, Tishman Speyer appointed London-based architects DSDHA who have been engaged in what director Deborah Saunt describes as a "sympathetic conversation" with the original structures. Adaptations to the complex by SOM in the '90s have taken place since its construction, and this latest, ongoing interpretation is described by Saunt as a step closer to the Smithsons' original intent.
So as well as updating the buildings thermal performance with double glazing and a new heating and ventilation system, the elevators have had their stone interiors restored and a minimalist lobby with a cafe will welcome visitors to the newly renamed Smithson Tower. More significantly, Tishman Speyer and DSDHA are aiming to reinvigorate the plaza—also renamed Smithson Plaza—with a program of public art and a new pocket park in the neglected northern corner of the space.
This is of course an admirable ambition, but it seems unlikely to succeed, especially when publicly owned private spaces—a growing speciality of London's city center—have a tendency to make themselves particularly unwelcoming. Even during a preview of the building, one of the construction workers carrying out the ongoing work was shooed away from the square while trying to eat his lunch.
If, as Saunt points out, the plaza will contribute to the "vibrancy of St. James," it's worth remembering this is a neighborhood grounded in privacy and exclusivity. Whether it's the Smithson's experimental approach, or DSDHA's sensitive and well-researched alterations, it seems there is little that architecture alone can do to change this.
You might also like, "The Smithsons' Robin Hood Gardens Becomes a Cautionary Tale at the Venice Architecture Biennale."