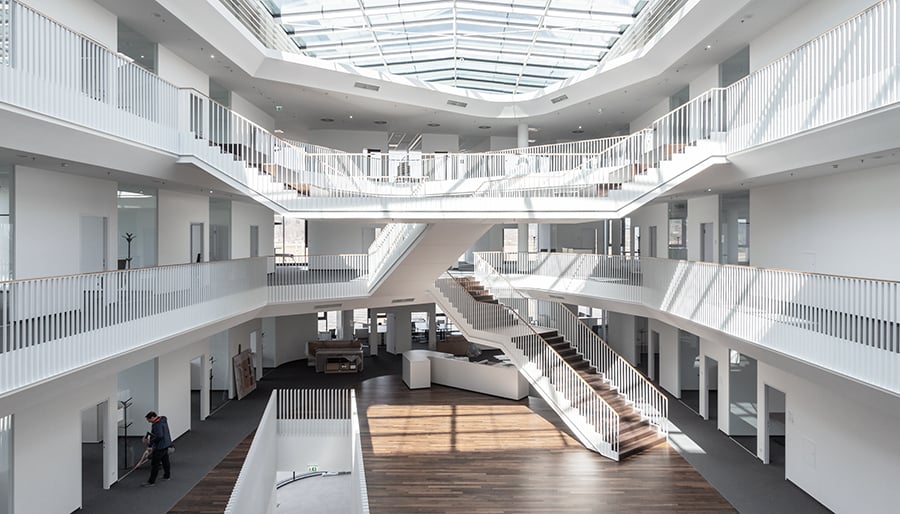 August 8, 2019
Some Place Studio Designs a Sleek Sunlit Office for an Austrian Factory
For its first built project, New York and Vienna–based firm Some Place Studio injects some unpredictability into a company specializing in precision manufacturing.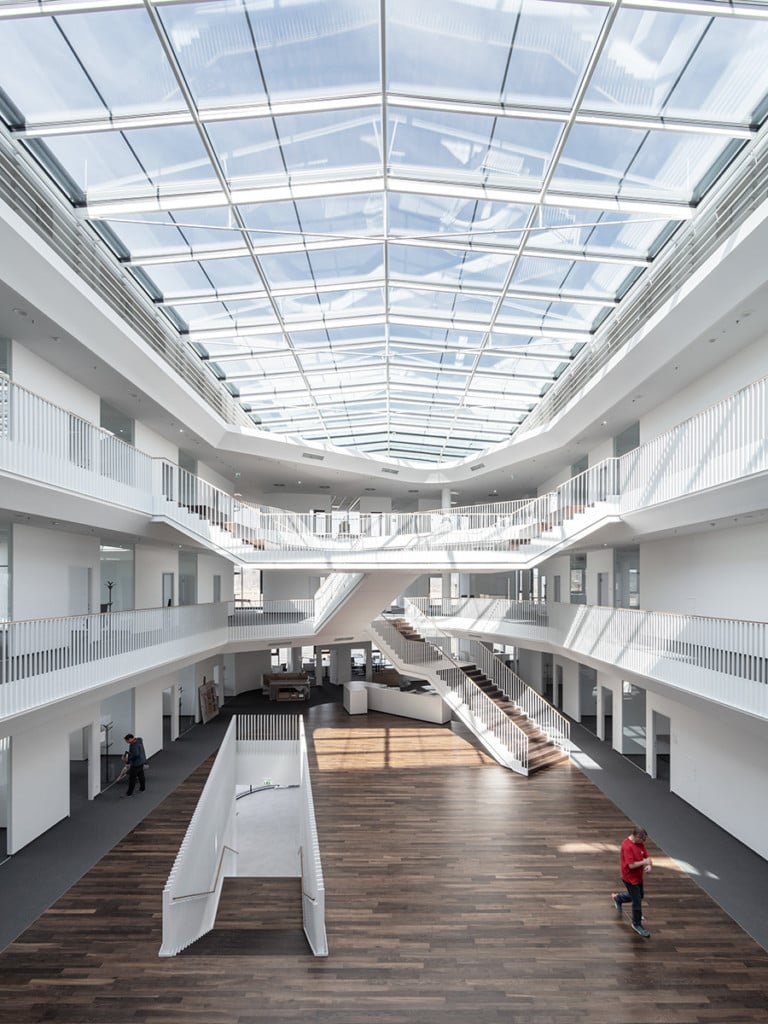 ---
Women are indispensable members of the design community, yet their contributions are still often taken for granted. This week on Metropolismag.com, we highlight women who are doing innovative and probing work in the fields of architecture, design, and urban planning.
At the new factory of Austrian manufacturing company SML, precision and predictability are the order of the day: finely-tuned, house-sized machines create films, yarns, and coatings with fraction-of-a-millimeter exactitude and consistency. (SML is a leader in extrusion manufacturing, the technology that creates disposable plastic cups, sportswear, and window seals, among countless other products.) But when Some Place Studio was tasked with creating a headquarters to anchor SML's new 450,000-square-foot factory, the office's founders Bika Rebek and Daniel Prost saw an opportunity to inject some of the "unexpected" into the project using places for casual meetings and "chance encounters," as Rebek tells Metropolis.
Initially, the manufacturer wanted to let its highly structured tendencies shape the office. "What [SML] had in mind was just long hallways with offices left and right," says Rebek. The architects pushed for a scheme with common areas that could coexist alongside more traditional enclosed offices. "We started with the idea of a courtyard, which essentially created a closed loop with offices circling around the center," says Rebek. The result is a light-flooded atrium bisected by a sculptural staircase that doubles as a venue for company events and casual impromptu socializing. The staircase and floors are clad in a oak; the wood's earthy hues are further accentuated by the building's cool blue, white, gray, and metallic tones.
---
More from Metropolis
---
---
The courtyard isn't the only place that aims to delight employees. The architects placed the HQ's new on-site training facility adjacent to the factory floor, where a large floor-to-ceiling window (originally slated to be blocked off) reveals the plant's impressive machinery. Consequently, says Rebek, "students have a visual connection to the showroom and feel inspired and closely interconnected to the larger campus."
On the building's exterior, perhaps the most eye-catching feature is the facade's curved corners. It's there, on the second and third floors' northern corner, that Rebek and Prost placed multifunctional spaces. Each features a kitchen, printing center, and custom-designed table for meetings, casual hangouts, and meals. "We wanted this space to be really flexible, but also have a playful and a bit more feminine, rounded sensibility," Rebek tells Metropolis. A circular curtain can be drawn around the table to make meetings semi-private while still leaving the room's other amenities accessible. "The design is all about contrast; you are working in a rectangle and then you go in there [when you] want to feel a little different."
You may also enjoy "Meet the Designers Behind The Wing, the Coworking Company Creating Spaces For and By Women."
Would you like to comment on this article? Send your thoughts to: [email protected]