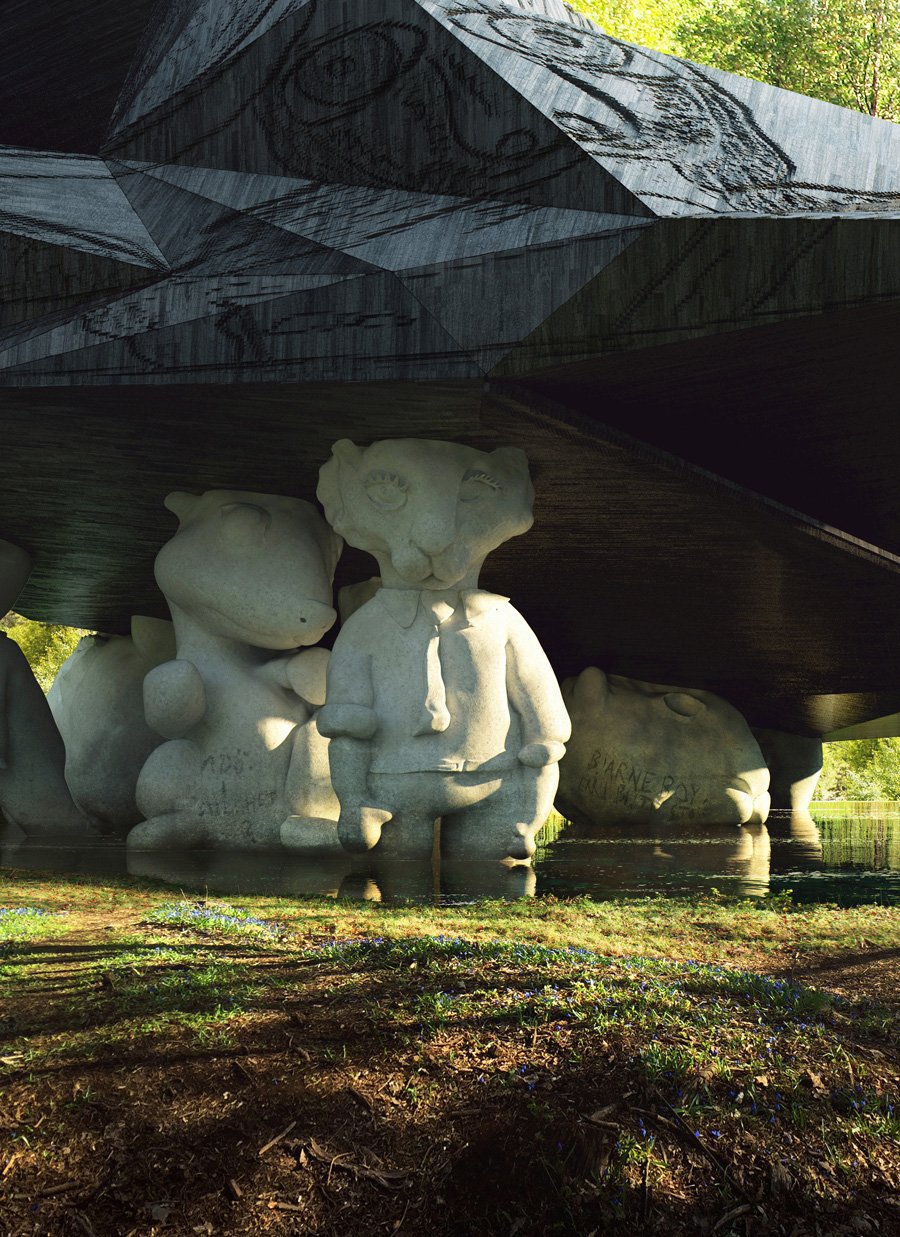 March 29, 2018
Inside the Design of Norway's Most Controversial Building
Snøhetta's House to Die In has become one of the most buzzed-about architectural proposals in recent years. Find out how it came to life, and why the controversy cuts so deep into Norwegian culture.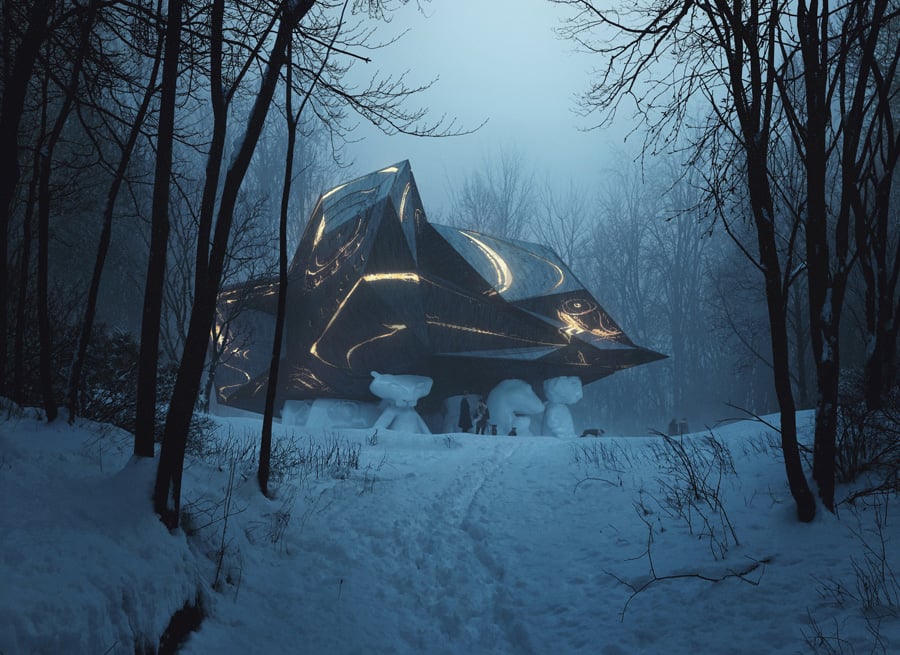 ---
The sun is setting fast over a half-frozen hill about five miles west of Oslo. Named Kikkut after a now-demolished villa, the site neighbors Ekely, the old estate of Edvard Munch (itself now half razed), and save for some graffiti-covered detritus and an early crop of spring wildflowers, its peak is totally barren. Squinting northward to Munch's Winter Atelier some 500 feet in the distance, it's hard to believe this is the proposed site for A House to Die In: one of the most controversial building proposals in recent Norwegian history.
The brainchild of Norway's enfant terrible artist Bjarne Melgaard, the proposal for "A House to Die In" is a luminescent, UFO-like living sculpture that doubles as a studio and home for Melgaard and his parents. With financial backing from two of the most powerful property developers in the country, the Selvaags and Sealbay A/S—longterm friends of the artist who also supplied the plot of land on the outskirts of the city—the Oslo-based Melgaard approached local Norwegian firm Snøhetta in 2011 with his idea for a combined artwork, studio—and final resting place.
With its ambiguous forms and incorporation of landscape, Snøhetta's work has often betrayed a penchant for the weird and whimsical. It's little surprise, then, that the architects found a perfect match in Melgaard's notoriously saucy and controversial practice: an ever-growing list of scandals that includes a 2014 sculpture dubbed the "racist chair" by news outlets, and an ongoing project titled The Casual Pleasure of Disappointment, in which Melgaard appropriates the aesthetics of Narcotics Anonymous to critique celebrity and fashion culture (even taking a dig at Rihanna in 2017).
---
More from Metropolis
---
Perhaps equally unsurprising, Melgaard's signature paper trail of negative press has followed "A House to Die In," lobbying criticisms which architects from Snøhetta say are largely unfounded. "It's shocking to read these reports of the project from journalists who haven't engaged with us or Melgaard at all," marvels the project architect Martin Brunner, on a recent afternoon in Snøhetta's offices in central Oslo.
"Many suggest we are building directly upon Munch's estate, or just next to his property, when in fact the site for the House is across the road and over 500 feet away," adds the second project architect Jenny Osuldsen, who came on board in 2013 following the proposal's first rejection at the national level. "The so-called 'facts' are all made up. It's literally fake news," she insists.
A trio of models in Snøhetta's office are evidence of the nearly decade-long engagement between architects and artist; only one of them looks anything like the initial renderings. Although the project architect Martin Brunner admits to serving "like Melgaard's secretary" at times, he regards the otherwise collaborative process as an immeasurably valuable lesson in architectural synesthesia. "All of our standard procedures and tools had to be reconsidered," says Osuldsen, "We were basically interpreting Melgaard's work like musicians."
---
Working closely with the opinionated artist, Brunner and Osuldsen were forced to re-think their design approach, which had at first consisted of translating Melgaard's sketches into three dimensions in Rhino—deemed by the latter as too obvious a solution. They slowly developed a more iterative procedure conveyed in a series of dizzying, a posteriori tapestry-like diagram charts that track the movements of ideas. Melgaard's bullet-point comments within the drawings—"too neat," "too repetitive"—prompted changes to the house's silhouette, for example. Snøhetta ultimately arrived at a design that retains about 10 percent of their initial proposal, which involved a house that looked "too much like a house," according to Melgaard.
Yet they eventually found their groove, with Snøhetta transforming Melgaard's signature candy-colored stuffed animals into "half Cubist, half teddy bear" columns for the amorphous vessel above.
Before the first year of their partnership was out, the team had a solid design in place. They submitted it to the city municipality for approval: Bingo. They then took a victory leap to the national heritage council, who rejected it "totally without reason," says Osuldsen. "We had to ask them, 'Is this about our proposal, or is this actually about not building on the site at all?'"
Yet local press begged to differ, with the Norwegian Morgenbladet blasting the "paranoid and monumental death architecture… a subjective dream world supported by an apparently boundless approach to money," shortly after the project was exhibited at London's ICA in 2012.
---
As they were to soon discover, the reason was buried deep in the cultural memory of the landscape that anchored the House's design. "We were dealing with a pro bono plot of land with plenty of historical baggage," explains Osuldsen. "It's not so simple as just relocating the project, or building it somewhere else. The site and the project have always been seen as one."
Unfortunately for Snøhetta and Melgaard, that way of thinking is a two-way street. The proposal has been met with opposition from local artists, who, according to Brunner, view the project "as a desecration of holy ground because of its connection to Edvard Munch."
Things have become heated, even taking the form of ad hominem attacks (including homophobic graffiti slandering Melgaard). But the dissent has largely been civil, with opponents drawing attention to an endangered species of flower recently discovered on the site, which has landed the project back into planning purgatory.
The House's third and current redesign is a considerably shrunken permutation (even smaller than the original Kikkut Villa demolished 28 years ago) that does not encroach on the public side of the hill, a space which the artist always intended to be public. And despite the convoluted restrictions and huge overhaul of the House's design, Melgaard and Snøhetta are delighted with its final form, a jagged, crystalline mass of charred timber, complete with glowing engravings and perched on cubist creature-shaped columns. "I don't want to say the process was a pleasure, but the design has definitely benefited from all the constraints," Brunner shares with a sly smile. "It's really matured."
Melgaard's whimsical structural figurines, arguably the most endearing part of the final design (and the architects' own favorite), were once hidden underground in a secret studio space. Now, they emerge from the woodland. It's a detail that is sure to appeal to students of the elementary school nestled at the base of the hill.
Moving beyond its general silhouette, many of the proposed building's once inward-facing delights are now extroverted—like Melgaard's own creaturely etchings upon its burned wooden exterior, which will now be fitted with backlit glass. The intended effect is a sort of tapestry of glowing illustrations whose black background blends into the starry sky above: An astronomical change to the hermetic original design.
Today, the proposed project once again finds itself up against the heritage council. This will be its final lap around, whichever way the cards might fall. Even if Munch "has not—and never—played a role in the process, or Melgaard's practice," according to the Snøhetta and Melgaard, who has openly denied an interest in Munch's legacy—one can't help but notice the uncanny similarities between the two artists, whose creative visions have always shared an outsider's space on the fringes of society. Even if A House to Die In seems to cultivate more of a hedonistic crash pad for a contemporary art star than the melancholia of Munch's frugal tomb, it wouldn't seem so odd for the artist's final resting places to converge here, too.
You might also enjoy, "Omar Gandhi's Minimalist House in Nova Scotia Immerses Its Residents in a Serene Coastline."