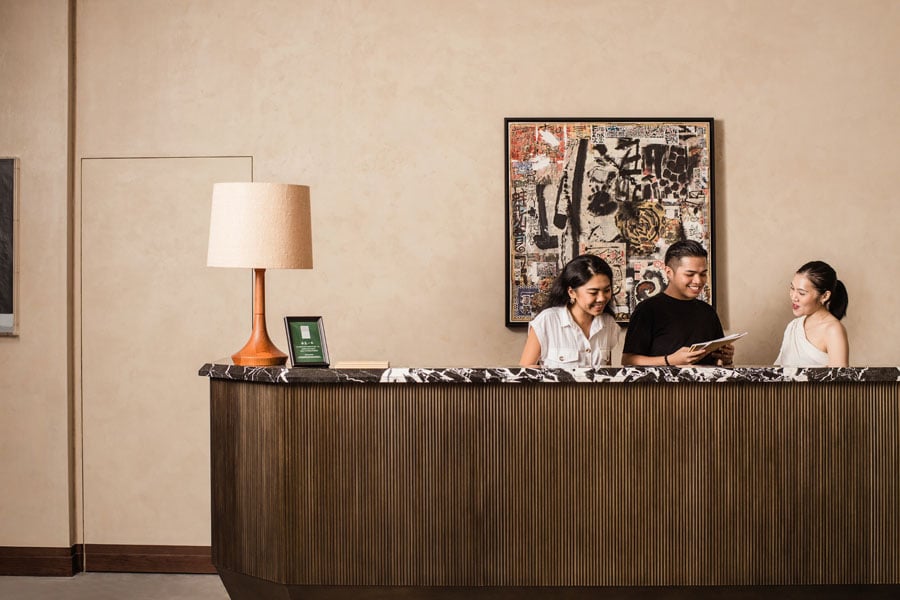 December 12, 2019
Well-Heeled Creatives in Hong Kong Find a Home in Asia's First Soho House
An outpost of the exclusive members' club opened last summer, offering locals, expats, and visitors a buzzy space for working and socializing.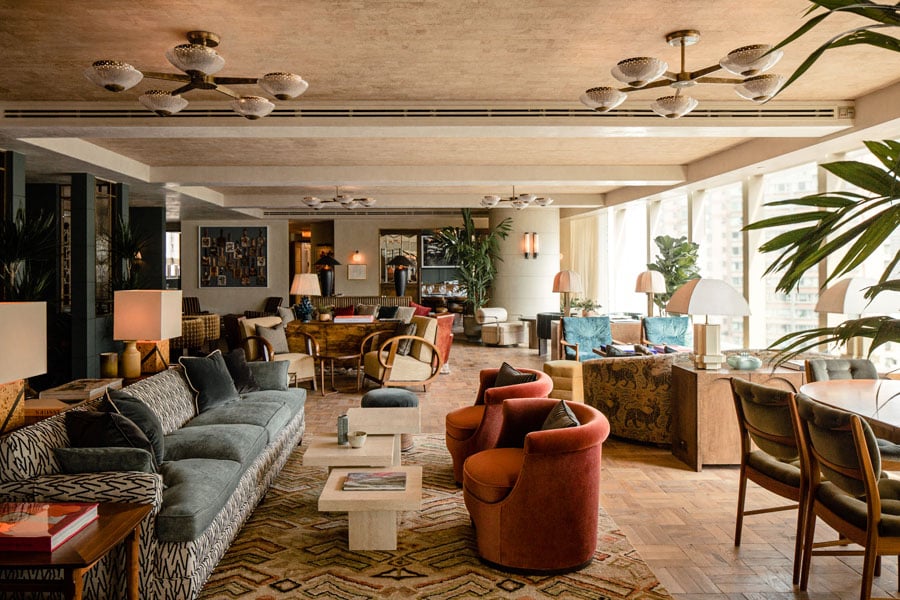 ---
A wave of applications from artists, collectors, designers, and their acolytes followed the opening of Soho House in Hong Kong this summer, located in a nondescript 28-story building on the gritty, eclectic waterfront west of Central. 
The private members' club has 24 sites worldwide across Europe, North America, and—now—Hong Kong, which at 120,000 square feet, is their largest yet, and the first in Asia. 
The idea behind the brand is seductively, even deceptively simple: to provide "a comfortable home from home for a community of like-minded people," which in design terms translates into a space conducive to creativity, borrowing some features of a classic members' club (minus the suit and tie). Membership is at two levels, providing either local or international access.
---
More from Metropolis
---
The new outpost's careful blend of International Style with certain local touches was created by Soho House Design, the in-house team led by Linda Boronkay. The permanent art collection—a fixture of Soho House locations—comprises works by international and local artists, and was curated by head of collections Kate Bryan.
There has been a growing interest (and economic value) in art and culture since global mega-fair Art Basel anointed Hong Kong as the Asian art world capital, and Hong Kongers are already familiar with private clubs. But apart from Ilse Crawford–designed bar and exhibition space Duddells, no place else targets creatives with the designer interiors, art, and sense of exclusivity that Soho House has become known for.
---
The Hong Kong location also served as a testing ground for new concepts, like a retail store on the ground floor, which will offer Soho Home and Cowshed products, as well as items designed by members.
Meanwhile, a white-box House Studio on the first floor will host exhibitions and events, and the second and third floors have a lounge and private rooms. The gym, called Soho Active, occupies another three floors, linked by an internal staircase. When coworking space Soho Works opens in the spring, it will be spread over nine floors. 
But the main attraction is on floors 25–30, where spaces include a solarium-inspired 1970s Pool Room, with a swim-up bar and spectacular panoramic views. Below are a spacious bar and lounge with a stage for performances. The House Brasserie serves classic fare alongside local favorites such as dim sum and Peking duck. There are plenty of other options for members to dine, retreat, relax, and entertain. 
A rich and eclectic collection of work by regional artists and craftspeople suffuses the multi-level space, with pieces by Ho Fan, Lee Kit, and Tsang Kin Wah, and locally made designs such as hand-embossed basket-weave ceilings and bronze screens. Interiors also reference iconic Hong Kong films such as Wong Kar-wai's In the Mood for Love. Throughout, the mood varies from light, bright spaces in jade green and burnt orange to darker, more sophisticated color palettes. 
Soho House Hong Kong is novel in that it's the first to to integrate workspace, a gym, and general House space within one building; it also, unlike the others, does not offer accommodation. But one thing it does have in common with the rest of the fast-growing club network is its keeping of high quality design at the very center of its ethos.
You may also enjoy "Junya Ishigami's New Park Turns Moscow's Polytechnic Museum into a Public Offering."
Would you like to comment on this article? Send your thoughts to: [email protected]