December 17, 2021
A SOM-Designed Bank in China Provides Fresh Air During Mild Months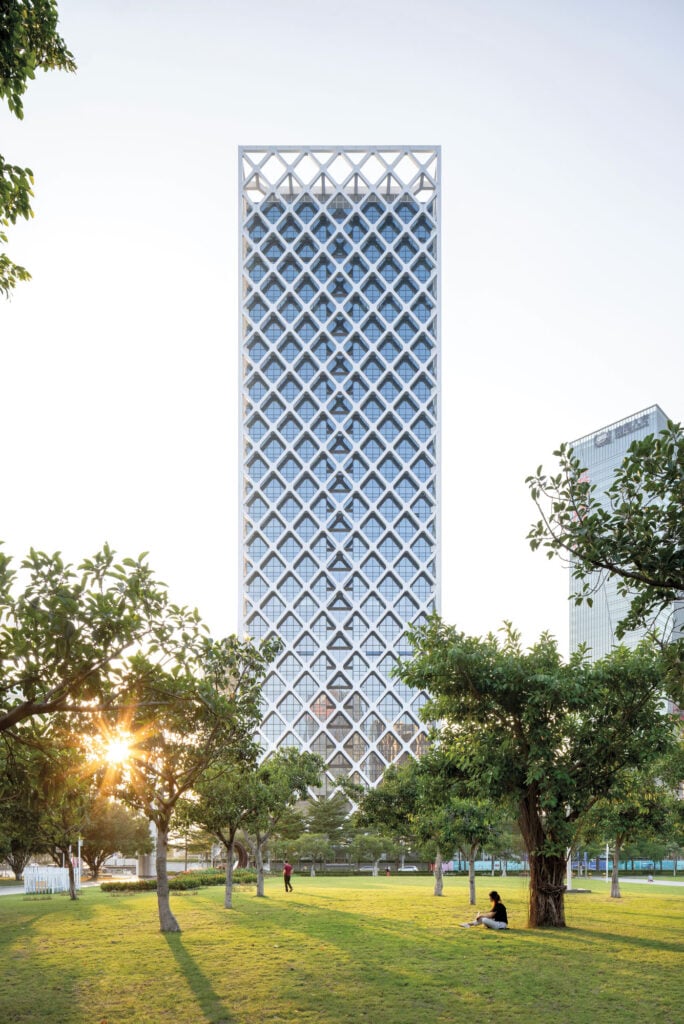 Atria on the east and west sides of the building extend its core zone to the perimeter, effectively splitting the tower in two. Incorporating open stairwells, these atria run vertically through the entire height of the tower, providing—via natural air circulation, automated louvers, and mechanized window vents—fresh air into and out of the structure. (Return air louvers inconspicuously incorporated into the atria walls are always open and provide a direct air path to exhaust.) During Shenzhen's hot, humid summers, a conventional chiller plant in the basement provides cold water to fan-coil units in the building's open office ceilings when needed. It's a flexible system that allows some tenants to use mechanical conditioning while letting others rely on natural ventilation.
The building's steel diagrid structure creates a uniform lattice across the entire facade, minimizing its framework and creating column-free interior spaces. Chuck Besjak, SOM's structural engineer for the project, says the diagrid is nearly 15 percent more efficient than a conventional tower frame. Clad in white panels to provide a consistent aesthetic, the diagrid plays multiple roles. Primarily, it addresses gravity and lateral loads for the building, tying back to the concrete core on every other floor with a ring truss. Secondarily, it acts as a solar shade, reducing heat gain by an average of 35 percent on the envelope and thereby expanding the seasonal effectiveness of natural ventilation.
---
More from Metropolis
---
Shenzhen's outdoor air quality is a concern at times, but the building's control system monitors particulate and VOC levels for indoor air and adjusts between ventilation modes accordingly.
Would you like to comment on this article? Send your thoughts to: [email protected]