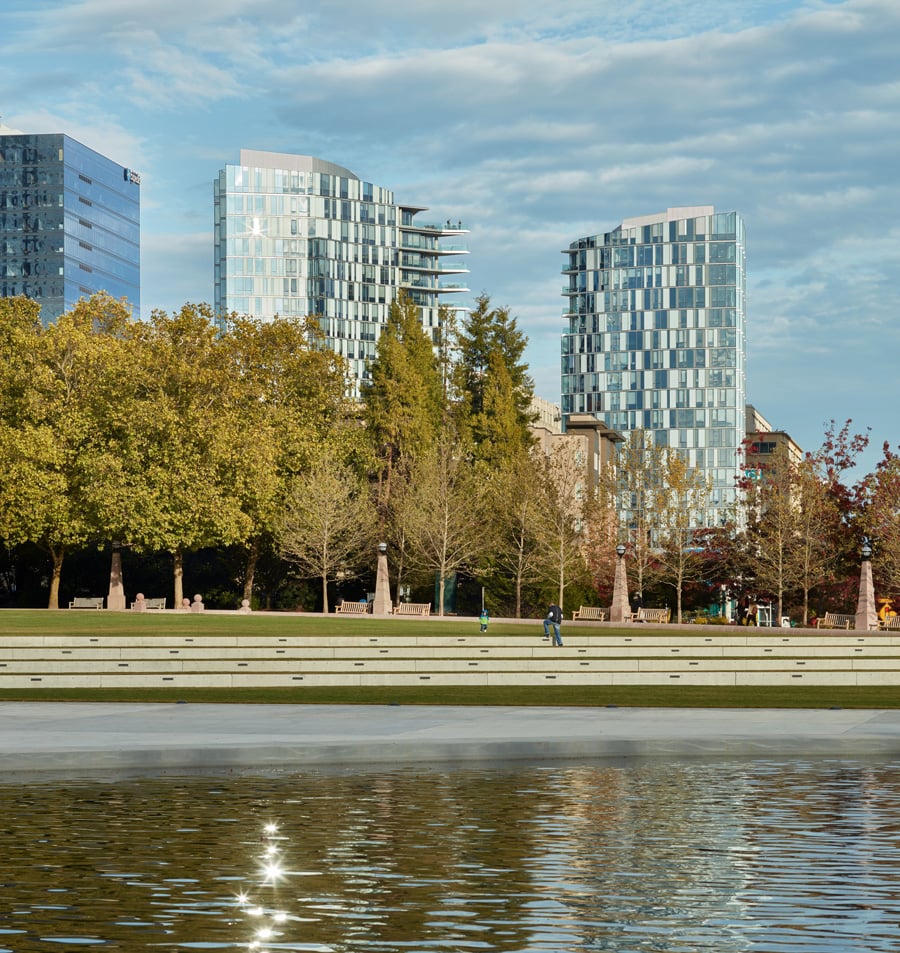 August 29, 2018
Bohlin Cywinski Jackson's Soma Towers Add to Greater Seattle's Skyline
The two-tower scheme, located in Bellevue, Washington, seeks to draw locals in with a public podium and a spectrum of amenities.
Like Seattle to the west, Bellevue, Washington, is experiencing rapid development—and an accompanying housing crunch. Young white-collar workers have swelled the population of the affluent and diverse municipality in close proximity to Microsoft's campus in Redmond and other companies such as Expedia and Nintendo, and this steady growth is evidenced by a boom in downtown construction. Today, cranes and high-rises loom over the urban core, suggesting a much bigger city than Bellevue— the fifth largest in the state—actually is.
At the southern end of downtown, a new mixed-use complex explicitly emphasizes community interaction. Designed by Bohlin Cywinski Jackson (BCJ), Soma Towers is a warm, whimsical counterpoint to the rest of Bellevue's emerging skyline. The intention was "to do something a little outside the box," says Robert Miller, a principal at BCJ, which was tapped by local developer John Su for the project precisely for its relative lack of experience with tall-building construction.
"There is a lot of redundancy in high-rise design, perhaps a bit of a formula to it," Miller says. The architects broke that formula in two, designing a pair of asymmetrical towers, one 21 stories tall, the other 18. The towers turn inward, as if in conversation, and are connected through a public plaza and three-tiered podium. The multilevel base was designed specifically to "pull people in," says project head Kirk Hostetter, with public programming that includes retail, an art gallery, and event spaces. A sculptural circulation cone that carries pedestrians up the podium and a dramatic leaf-shaped canopy help signal place— important, as the architects envision a farmers' market and crafts stalls to periodically enliven the adjoining plaza.
---
More from Metropolis
---
As might be expected from a firm as technical as BCJ (which broke through with its designs for Apple's first generation of retail stores), the architects looked to the qualities of building materials to inform structural and formal applications. The results create playful moments that, being grounded in structure, are not mere caprice. For instance, the mosaiclike facades are partly lined with balconies that bend upward at the edges, like the pages of a book caught in a breeze. The effect is made possible by the post-tensioned concrete-slab floor plates, which Su has used extensively in his other Bellevue developments. The curvature of these floor plates responds to stresses produced by the cantilevered sections; the "crispness"of the slab, according to Hostetter, is preserved by moving the glazed walls a few inches in from the edge. Features such as these might strike people as "eccentric," says Miller, "but they turned out to be very efficient. For us, it was a matter of looking at each material, what it could do, how it wanted to react—and then trying to take advantage of that as a design element."
The architects also took inspiration from Bellevue's natural surroundings. On the facades, they mixed clear, translucent, and opaque glass that together simulate the elusive, mercurial light unique to the area. The 273 apartments break down into one- and two-bedroom units, with each residence designed in either a warm or cool palette, realized through details such as granite-slab countertops, accented wall colors, and modern finishes. The complex's amenities offer a spectrum of social spaces that reflect the Pacific Northwest lifestyle, including a penthouse lounge and gym with mountain views on clear days, as well as a screening room and library for curling up on rainy nights.
On a sunny Sunday, a quiet stillness pervaded the public plaza, despite the development's full occupancy. Most activity in the area was clustered inside Just Poké and Fika House Kafé, two local businesses that form part of the "marketplace," a food and wares hall embedded in the podium that is meant to promote Bellevue's diversifying population. The hall is still under construction, but Miller is hopeful that it's already "on its way to becoming a hub"—one that will "reinforce some civic character to the city."
You might also like, "Alphabet's Sidewalk Labs Reveals What Its Toronto Smart City May Look Like."