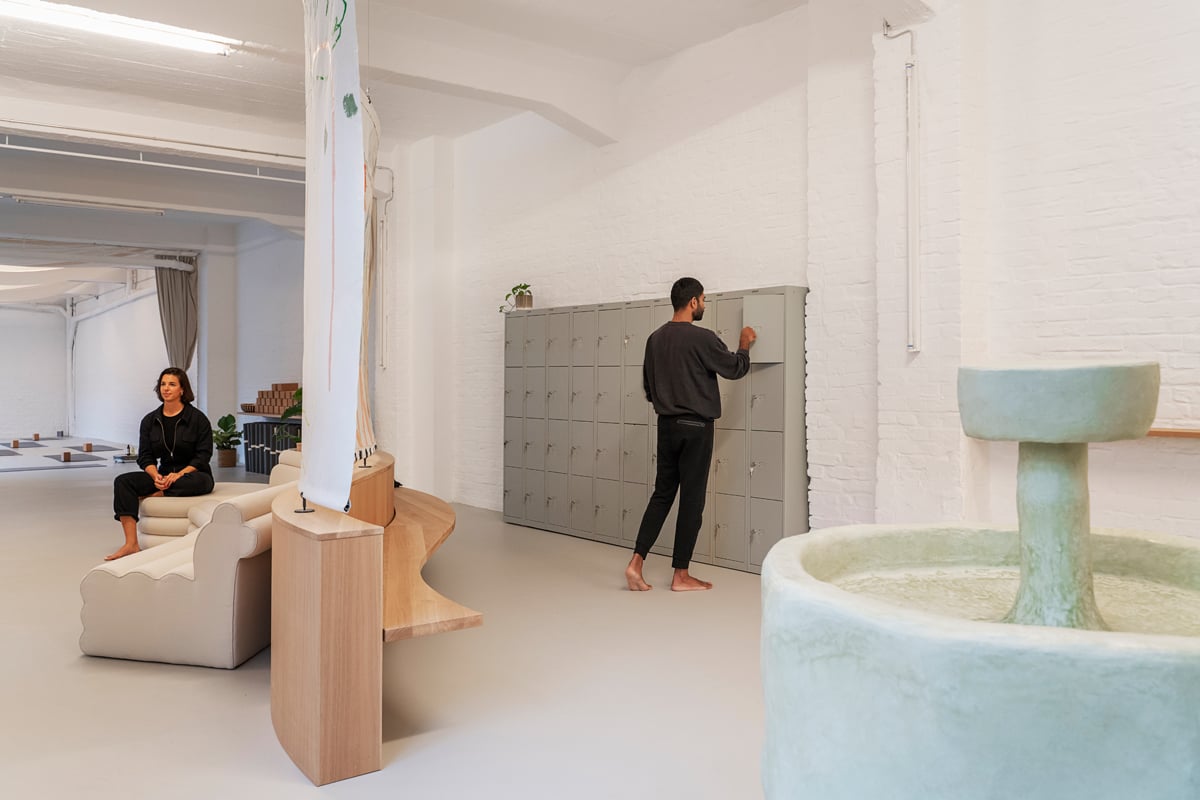 January 19, 2021
Some Place Studio Designs A Berlin Yoga Sanctuary for Right Now
The up-and-coming designers transformed an expansive traditional Hinterhof warehouse into a retreat with flow and personal space in mind.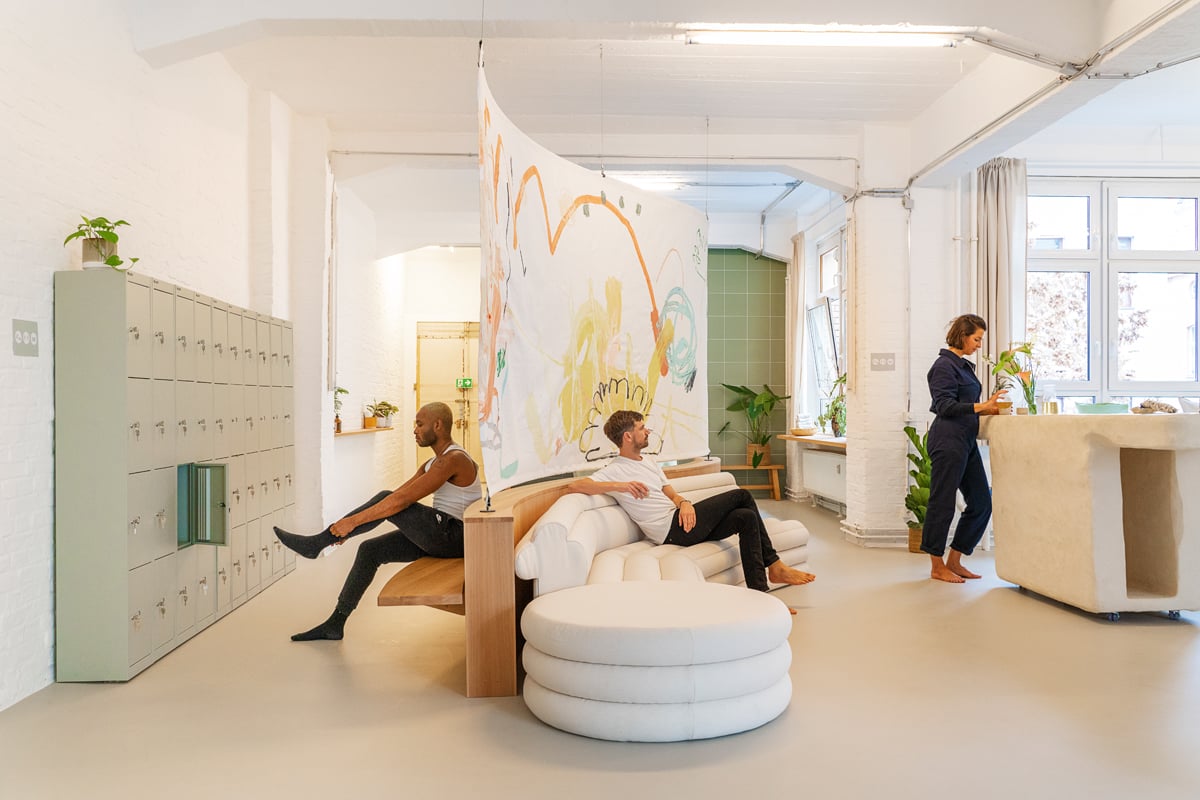 Berlin's Kreuzberg neighborhood is known for its alternative and ad hoc character. Though gentrification has taken hold of the area in recent years, many of its large historic buildings still play host to gritty restaurants, underground bars, immigrant-run markets, sprawling artist studios, and yes, nightclubs.
In the center of all this activity is the new boutique Original Feelings Yoga Studio, located in a 3230 square-foot warehouse that once served as a church and a car repair shop. Up-and-coming practice Some Place Studio recently converted the light-filled, bare-bones industrial void into a calm, playful, and unpretentious space for spiritual and physical enlightenment.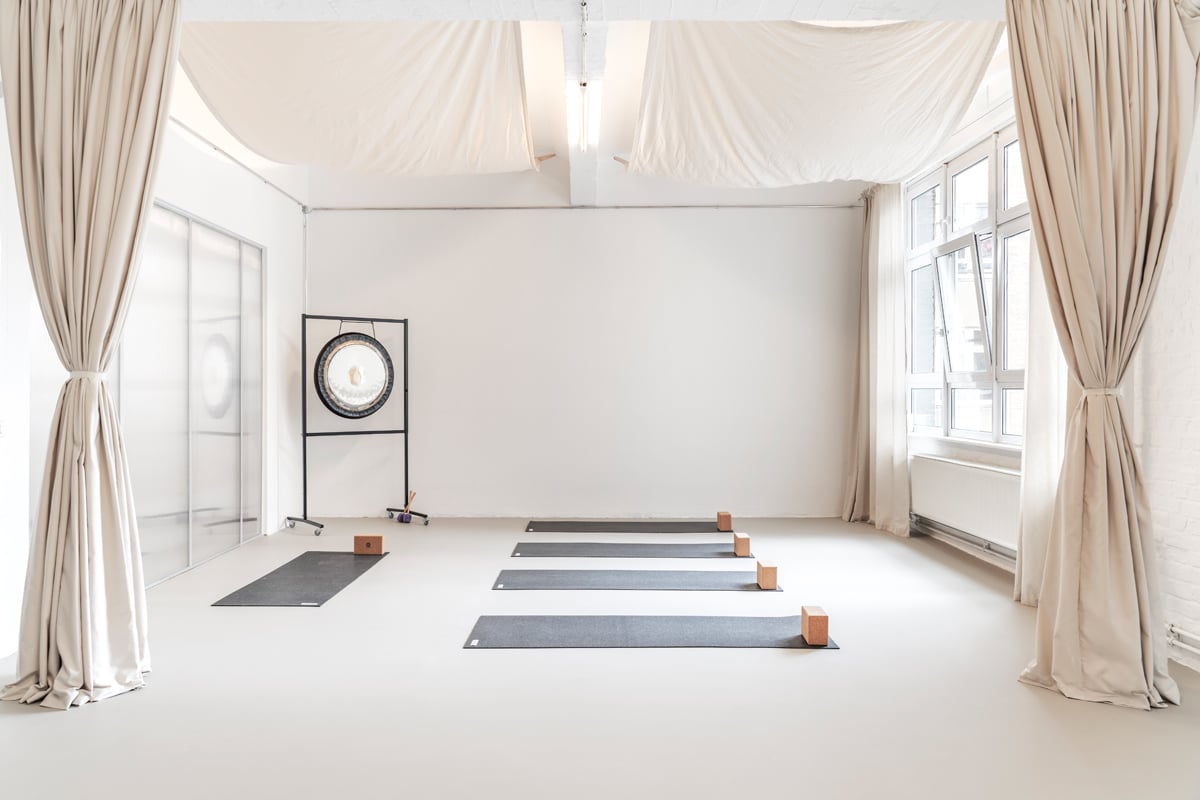 The New York and Berlin-based firm—led by Bika Rebek and Daniel Prost— designed the interior based on the Yoga principle of flow while also introducing distinct details and articulations. "Flow in Yoga is associated with the fluid motion between poses that induces a state of effortless effort," Rebek explains. "It helps you to forget the outside world and focus on the here and now." Some Place Studio aimed to create an environment that allows teachers and students to cut away from the world for a while and break with routine.
---
More from Metropolis
---
This inner sanctum is anchored by "strange bulbous shapes," as Rebek describes. They're  functional sculptures that make the space feel more like a gallery than a typical yoga studio. Rebek and Prost opted for the existing exposed concrete floor rather than standard wooden planks. However, a muted color palette, curved forms, organic surfaces, and playful textures ensure that the yoga studio is comfortable and cozy rather than cold and austere.
Freestanding elements, like a floating canvas mural by young Viennese artist Denise Rudolf Frank and hempcrete furnishings by emerging designer Yasmin Bawa, delineate different areas. While the former serves as a soft barrier between the lounge and changing rooms, the latter—a fountain and front desk cast in pigmented lime plaster—anchor the sprawling void.
Though the project was completed during the height of the pandemic, it required a hands-on approach. Bawa took six weeks to complete her richly textured site-specific designs, while Prost was onsite most days to managing the project. Thankfully, the Original Feelings Yoga Studio is large enough to remain open while still meeting the strictest German protocols for social distancing. There's plenty of room for personal space, and large openings ensure ample ventilation through the ground-floor studio. Still, Some Place Studio's design was conceived for a time post-COVID-19 and will eventually welcome more people.
In many ways, this project solidifies the practice's bespoke and collaborative ethos but also marks a moment in Berlin's ongoing transformation. "We talked a lot about how this kind of project could only happen in Berlin right now," Rebek reflects. "the rent and contractors are still affordable compared to other big cities, while the appetite for something unique and highly designed is healthy."