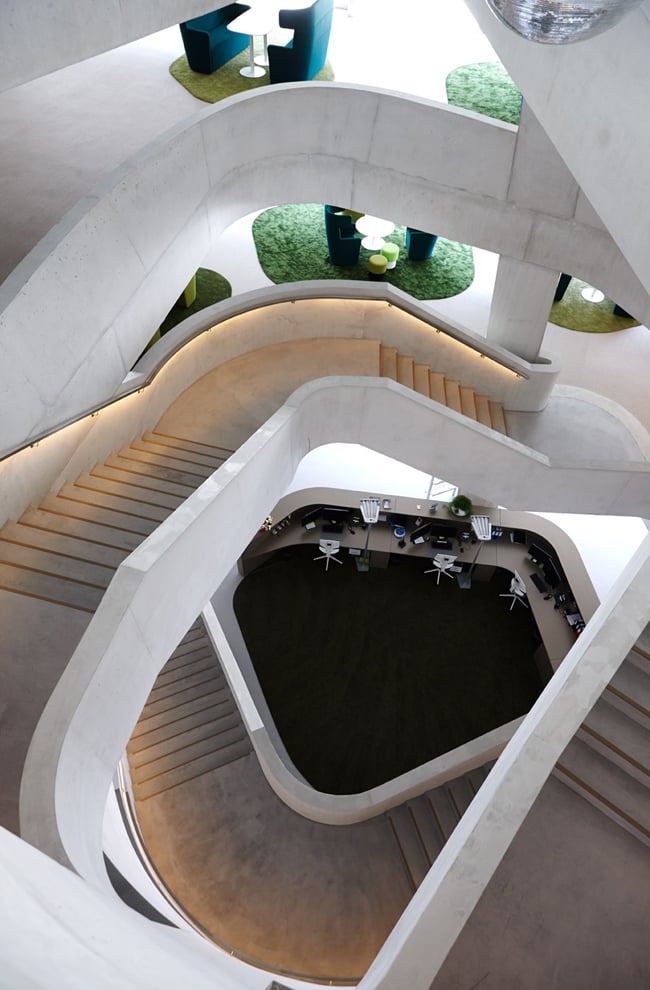 November 16, 2016
Somedia's New HQ Features a Spectacular "Social" Staircase
This workplace's spectacular staircase functions as a sort of piazza, where workers can come together, either for brief meetings or breaks.
"All they knew was how many people would be working there. Everything else we needed to figure out."
As Swiss architect Maurus Frei describes, the new headquarters for Somedia, a regional multi-platforms media conglomerate based in Chur, Switzerland, posed quite the challenge to the designer. But Frei was up to the task: after all, before starting his own practice, he had worked with Peter Zumthor on iconic projects like Therme Vals and Kunsthaus Bregenz.
Because the client did not know what they specifically wanted—beyond consolidating all of their operations (print, TV, web, social media, radio, education) into a single building, the architect decided the space would need to be flexible. That way, the organization could adjust it to their needs as work modes evolved, whether due to new collaborative ways of working or simply new technologies that would imply spatial re-configuration.
---
More from Metropolis
---
To maximize flexibility, Frei opted for an open, column-free floor scheme that used pre-fabricated concrete elements and exposed mechanical services (like digital cables,  electrical lines, etc.), enabling easy work access to them. "We worked very closely [with our clients] as they were basically inventing  themselves and how they worked anew," explains Frei. "When they saw the column-free, open space, they immediately responded to it, realizing that the scheme allowed them to think of new ways they could organize themselves and their workflow."
When it came time to design the main stairs for the 4 story building, the architect saw an opportunity to break from the functional modularity and create an element that would give the design a more subjective sense of place. The company was organizing the space according to zones (the news desk zone, the commercial zone, the education zone, and so forth); in between these zones, there was the meeting zone, where these different departments could get together and communicate. The stairs, then, would function also as a sort of piazza, where people could come together, either to have brief meetings or lounge on their breaks.
Made of poured in-site concrete, each of the stair's floor openings are of different sizes and shapes, allowing for different views. Scattered around the staircase, various furnishings stimulate socializing.
On the ground floor, the reception area can be moved to hold events; an adjustable lighting system can also be moved all the way up to the top of the stairs, when not in use.
At the opening night a mirror disco ball was installed, dappling the whole staircase in a festive light. Seeing how the ball added an unexpected sensory feel to the design, softening the rigid modular structure, Frei purchased the disco artifact and gave it to the company—on the condition that it would hang permanently, as a reminder to balance work and fun.