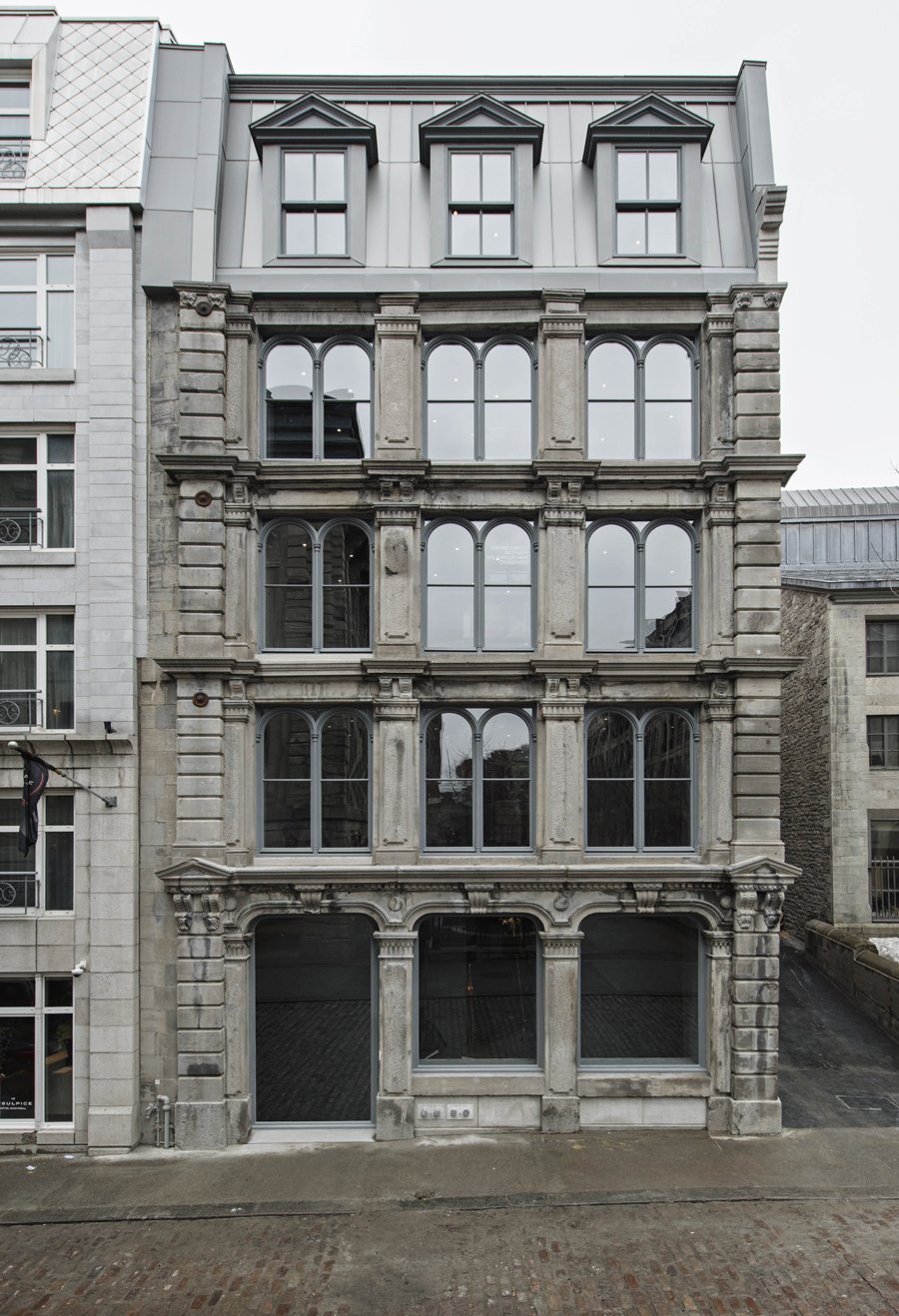 May 24, 2018
David Chipperfield Designs a Stark, Minimalist Store for SSENSE in Montreal
Thanks to its diverse programming, the new store is as much a much a cultural venue as it is a commercial space.
---
The latest whim of the ever-fickle generation of digital natives? They yearn for a tactile experience.
Online fashion platform SSENSE—a darling of the fashion-forward and streetwear-obsessed—has responded with a concept that straddles both the digital and real worlds. Shoppers can create a wishlist of items on the SSENSE website and, within hours, have them waiting for them in a fitting room in the brand's new retail space in Old Montreal.
But the 13,000-square-foot store itself isn't intended for mindless browsing. In fact, there are very few actual garments on display. The inventory of over 20,000 items is stored in a warehouse offsite and delivered to the store on demand, then sorted via a discreet vertical lift module.
---
More from Metropolis
---
SSENSE already had a small store a few blocks away, but the new space, designed by David Chipperfield Architects, was built to be agile—a hybrid retail, community, and curatorial venue for the brand that's as much a cultural space as it is commercial.
As if to firmly make that point, the store's opening party saw the building become the performative playground of Venezuelan musician and artist ARCA (who, aside from his own work, has producing credits for Frank Ocean, Björk, and Kanye West). Audience members could glimpse ARCA's antics—which included writhing half-naked on tabletops and being trapped inside a cage—via surveillance video projected on screens. The building's material palette, comprising mostly concrete and stainless steel, proved an appropriately stark canvas.
"The physical representation of SSENSE," says Chipperfield, "is done with a pure and neutral material, which becomes the real substance of a shop that does not want to be a shop but rather a new generation of retailing."
The store's location in an 1866 stone-and-brick building on rue St. Sulpice posed a challenge in the initial design stages: It was a historic landmark, meaning work on the existing structure would need to be minimal. Chipperfield's solution went beyond that—they would leave the original facade entirely untouched.
He proposed constructing a building within the existing building—a five-story sandblasted black-concrete insertion. It was, as Talia Dorsey, SSENSE's director of retail strategy puts it, "a sequential construction and demolition process happening simultaneously."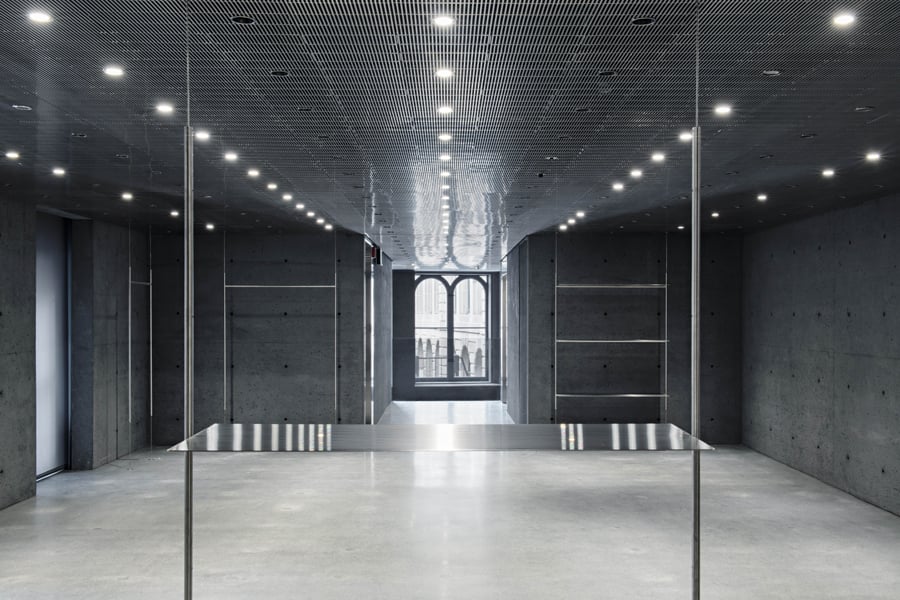 ---
Dorsey, who formerly worked with OMA/AMO, initially joined the project as a consulting architect before taking on her current role. The choice of Chipperfield—a longtime favorite of SSENSE founder Rami Atallah—was an easy one, she says. "There's a particular resonance between the practice of David Chipperfield and SSENSE in many aspects of their culture and working method—a level of rigor, of detail, and also, a certain sobriety. It's not about flashiness, the way that other architects can be. It was about a sort of deeper, more long-game approach to architecture."
The Neues Museum on Berlin's Museum Island, Dorsey says, is a prime example of his sensitivity to a historic context. "Chipperfield has a very specific approach to preservation. Historic is historic, and new is new. And never should one be confused for the other."
As if to make her point, she motions to a section of the wall where the brick of the original building is clearly visible next to the concrete insertion. Though the interior structure serves to stabilize the facade, the fact that the building's original envelope is preserved meant there was an added aesthetic benefit. The sandblasted concrete isn't required to have the usual thermal properties, resulting in an unusually naked texture and materiality to the principally neutral space.
Core to the space's fluidity is a custom display and furnishing system corresponding to a 60-centimeter cable grid. Everything from display tables and fixtures to clothing racks is attached to the suspended cables, which connect to sockets in the concrete walls and floors and stainless-steel grate ceiling. Custom lighting, designed by Chipperfield in collaboration with Artemide, also connects to the sockets and can be adapted from ambient down lights to spotlights with a flick of the wrist.
This nimble, gallery-like approach is not only central to the SSENSE store's genre-bucking ethos, but indicative of the general evolution of the retail experience and what consumers expect of it. "Retail spaces are the new public spaces," Dorsey says. "The reality is that cultural, public, civic, commercial, and social space has become totally blurred and intertwined. To even try to make a distinction between those things, at this point, is moot—especially for our demographic. So we see this space as a constant experiment, but a very deliberate one."