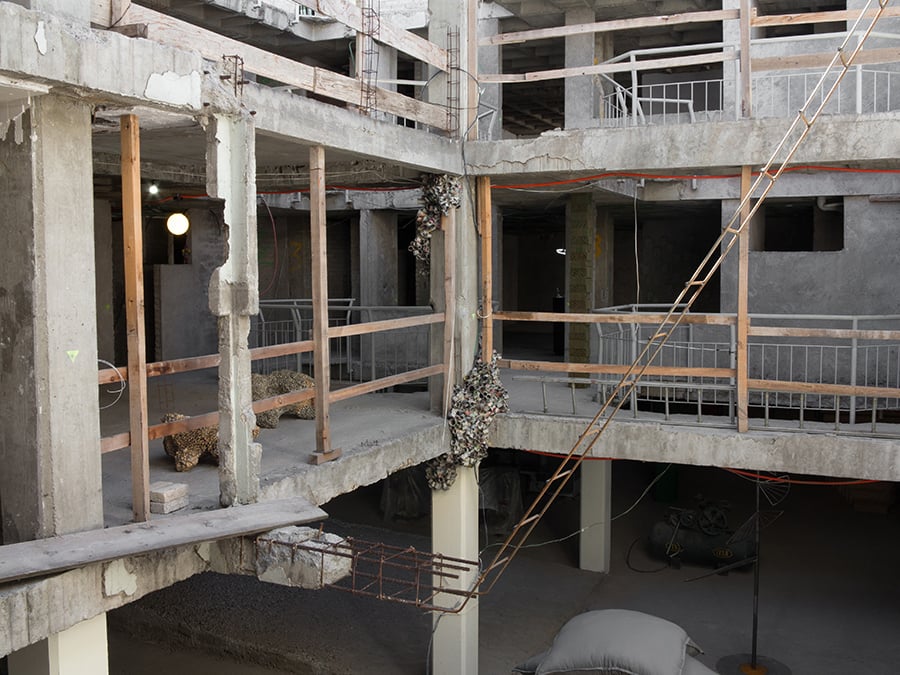 March 1, 2019
Frida Escobedo, Rozana Montiel, LANZA Atelier, and Others Design Artistic Interventions in an Under-Construction Mexico City Building
Organized by itinerant gallery guadalajara90210, the show Pabellón de las Escaleras (Stairs Pavilion) recently opened for art and design fair Zona Maco.
---
Months ago, a four-level apartment building still under construction in the middle of Mexico City's up-and-coming Santa María de la Ribera neighborhood caught the eye of Marco Rountree and Alma Saladin, co-directors of the experimental itinerant gallery guadalajara90210. The building's bare framework revealed a series of stairs that reminded the pair of Edward James's surreal sculpture garden Las Pozas de Xilitla, as well as the metaphysical paintings of Giorgio de Chirico.
With these two references in mind, they invited over a hundred architects, industrial designers, and visual artists to propose their own experimental interventions for the site. Those selected—including architects such as Frida Escobedo, ReUrbano, Rozana Montiel, LANZA Atelier, PALMA, and more—created installations for the show, titled Pabellón de las Escaleras (Stairs Pavilion), which opened to the public during Zona Maco, Mexico City's art and design week, and will run through March 12th.
In stark contrast to most of the exhibitions at Zona Maco, the Stairs Pavilion presents pieces within the confines of a site not built for the purpose of displaying art. It's almost paradoxical: Most galleries change themselves to accommodate existing art, while this uncompleted building represents change that's been frozen—complete with half-encased rebar—to serve as the starting point for new artworks. The raw, exposed building is an actor in and of itself within the exhibition.
---
More from Metropolis
---
---
This sort of exhibitions are in tune with Mexico City's thriving creative scene, and speak to how Latin American artists and designers find constant inspiration in the somewhat precarious built environment of developing countries. Given all this, it's no wonder that Rountree and Saladin decided, for the first time, to include architects and industrial designers in one of their exhibits.
Frida Escobedo's lighthearted contribution drew inspiration from the classic board game Snakes and Ladders, designing a long ladder made out of steel rods that traverses several levels of the construction. Meanwhile, the building's many exposed green PVC tubes were painted to resemble snakes. Elsewhere, in an effort to analyze and lay bare the material realities of construction, Isabel Abascal and Alessandro Arienzo of LANZA Atelier worked with the site's approximately two tons of gravel, arranging its pieces from largest to smallest in a 10-foot by 10-foot gradient on the ground level. Similarly working with materials found on site, the team at ReUrbano built a large mound of rubble underneath an opening in the building's back and placed in it plants that seem to sprout from the actually infertile assortment. PALMA's installation of a rammed-earth staircase embedded in the building's ground floor took on a didactic quality, functioning as a rammed-earth workshop in the days leading up to the exhibition's opening.
Much of the work of the invited artists also deals with the site's unique spatial qualities. For their piece, artist Christian Camacho, artist Alejandro Romero, artist José Arnaud-Bello, architect Mateo Riestra, and architect Max von Werz placed various colored fragments of acrylic atop openings found in the second level's still-unfinished concrete slab, creating a light installation on the ground level. On the roof, artist Marek Wolfryd recreated late Mexican architect Luis Barragán's famous Satellite Towers using painted pizza boxes. And of course, different versions of stairs—the exhibition's eponymous theme—abounded.
You may also enjoy "10 of Our Favorite Designs, Exhibitions, and Hot Spots from Mexico City's Zona Maco."
Would you like to comment on this article? Send your thoughts to: [email protected]